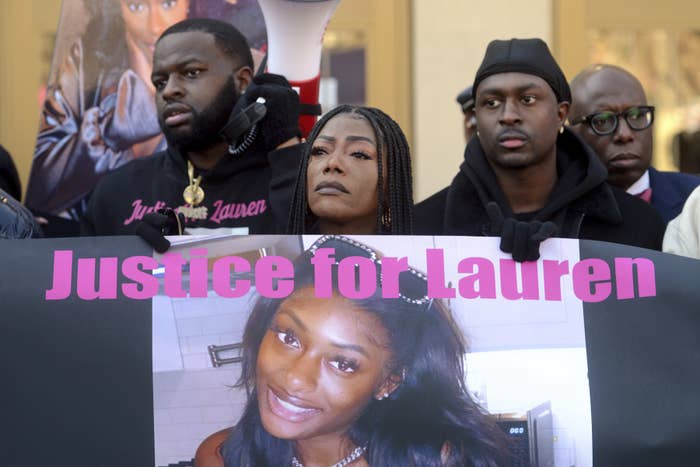 Following weeks of scrutiny over their handling of the case, police said Tuesday they're opening a criminal investigation into the death of a 23-year-old Black woman whose body was found in her home last month after she'd gone on a date with a man she met on an app.
The new probe comes a day after the Connecticut Office of the Chief Medical Examiner released the autopsy results for Lauren Smith-Fields. The office concluded that the 23-year-old died from an overdose of fentanyl combined with prescription medication and alcohol, according to police. Her death was ruled an accident, the autopsy found.
But the circumstances that led to the accidental overdose are now under criminal investigation. The Bridgeport Police Department will be assisted by the US Drug Enforcement Administration as it shifts its query to "the factors that lead to her untimely death," Police Chief Rebeca Garcia said in a statement.
"Once again, we offer our sincerest condolences to the friends and family of Lauren Smith-Fields and ask that anyone with information to please contact 203 576-TIPS," Garcia said.
For weeks, Smith-Fields' family has criticized the department's investigation into her death, saying that officers failed to collect key evidence and did not even notify them that she had died. According to WTNH, police said Smith-Fields died "unexpectedly" on Dec. 12, but her parents didn't learn about her death until two days later after they drove to her home and found a note on the door.

"When I got there, there was a note on the door saying, 'If you're looking for Lauren, call this number,'" her mother Shantell Fields told CBS News.
Citing an incident report, WTNH wrote that a man Smith-Fields had met on Bumble informed police of her death. The man told officers that when he woke up next to the 23-year-old he saw that "blood was coming out of her right nostril" and "she was not breathing." The report said the man told police he had only known Smith-Fields for a few days and that she became sick while they were drinking the night before, according to WTNH. He also said that she went to the bathroom at one point and was there for 10 to 15 minutes before coming out and falling asleep.
A detective later told Smith-Fields' family that they didn't feel the need to reach out to them because "we had her passport and her ID, so we knew who she was," her brother Tavar Gray-Smith recalled in an interview with CBS Mornings.
In their effort to get information about what happened to Smith-Fields, the family said they've been hung up on and told by police to stop calling. The family has said they plan to sue the city.
"No one is going to discard my daughter like she is rubbish," Shantell Fields said during a rally in Bridgeport on Sunday.
The family's attorney, Darnell Crosland, did not immediately respond to BuzzFeed News' request for comment on the new investigation Tuesday. In a statement shared on Twitter before the city's announcement, Crosland said the medical examiner's findings don't "cure any of Bridgeport Police Department lack of process, in fact it makes it worse."
"As a result of a botched investigation this morning we are left with more questions than answers," Crosland wrote.
In a notice of claim to sue filed Friday, Crosland said investigators failed to collect possible physical evidence from Smith-Fields' home, including bloodied sheets, a pill, and a used condom, according to multiple outlets. The notice also says that police have refused to interview the man who reported her death.
"When we asked about this guy, [the detective said] 'he was a nice guy, there was no need to investigate,'" Lauren's father, Everett Smith, told WTNH.
Bridgeport Mayor Joe Ganim announced on Monday that the department's Office of Internal Affairs will be investigating police's interactions with the family. Ganim said he was also working with the police chief to make changes to department policies on notifying family members of a loved one's death.
"There is no tolerance for anything less than respect and sensitivity for family members and their loss," Ganim said in a statement.
The case has sparked an outcry on social media, particularly on TikTok and Instagram, with people calling for justice for Smith-Fields. Amateur true crime sleuths and other TikTok creators have been posting about the case for weeks, sharing local news stories about the family's struggle to get answers and posting photos of the man she went on a date with before her death. Even celebrities like Cardi B are drawing attention to her death.
"This is sooo scary!!!" the rapper tweeted. "A fictional murderer character but in real life!! Justice for Lauren.Connecticut you have failed that young lady!!!"
Whitney Wolfe Herd, founder and CEO of Bumble, the dating app where Smith-Fields connected with the man who reported her death, said in a statement posted to Instagram that she was "eager for her family and friends to get the answers they seek."
"Every parent deserves to know what has happened to their child, and Lauren deserves nothing less than our collective attention and a thorough and serious investigation," Wolfe Herd said. She noted that Bumble has offered its "full support" to Smith-Fields' family and to the police department in their investigation.