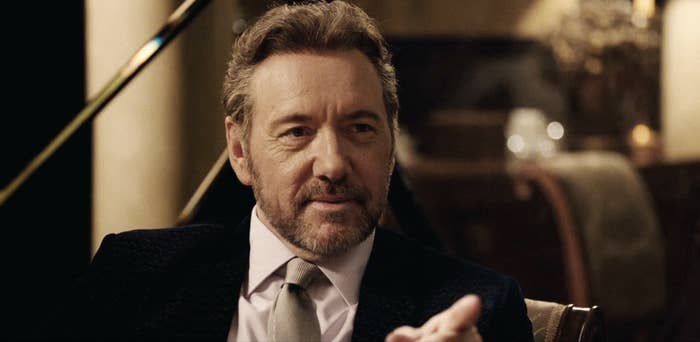 Kevin Spacey's latest film, Billionaire Boys Club, grossed just $618 — yes, you read that right — on its opening weekend at the box office, marking the latest blow to the disgraced Hollywood actor's career since more than a dozen men came forward with allegations that he had sexually harassed or assaulted them.
Billionaire Boys Club — which also stars Ansel Elgort, Taron Egerton, and Emma Roberts — is based on the real-life club that made headlines in Southern California in the 1980s for its "get rich quick" schemes. Spacey plays Beverly Hills con artist Ron Levin.
According to Variety and the Hollywood Reporter, the film was quietly released in 11 theaters across the country Friday, making just $126 on its opening day.
It premiered on premium video on demand, or VOD, in July. Later on Monday, BuzzFeed News learned from a source with knowledge of the release that the movie stands to earn upwards of $1 million to $2 million through digital rentals and sales.
In June, distributor Vertical Entertainment vowed to still release Billionaire Boys Club, saying it was "neither an easy nor insensitive decision."
"We hope these distressing allegations pertaining to one person's behavior — that were not publicly known when the film was made almost two-and-a-half years ago and from someone who has a small, supporting role in Billionaire Boys Club — does not tarnish the release of the film," Vertical said.
It marks a box office low for Spacey and is the latest sign of the power of the #MeToo movement. By comparison, Spacey's last film, Baby Driver, earned $20.5 million its opening weekend in June 2017.

That was just a few months before harassment allegations against the Academy Award winner came to light, following an October BuzzFeed News story in which Anthony Rapp accused Spacey of making sexual advancements toward him in 1986 when Rapp was a teenager. Since then, more than a dozen men have accused Spacey of sexual assault, harassment, and lewd behavior dating back decades.
In a statement responding to Rapp's allegations, Spacey publicly acknowledged that he is gay and offered the younger actor "the sincerest apology for what would have been deeply inappropriate drunken behavior."
In the wake of the allegations, Netflix dropped Spacey from the sixth and final season of House of Cards. He was also replaced by Christopher Plummer in Ridley Scott's 2017 film All the Money in the World, an unprecedented move that required the filmmaker to reshoot scenes already filmed with Spacey.
Authorities in Los Angeles and the United Kingdom have confirmed they are reviewing claims of sexual assault against Spacey.
CORRECTION
Baby Driver earned roughly $20.5 million its opening weekend in June 2017. An earlier version of this story incorrectly said it earned this sum on its opening day.