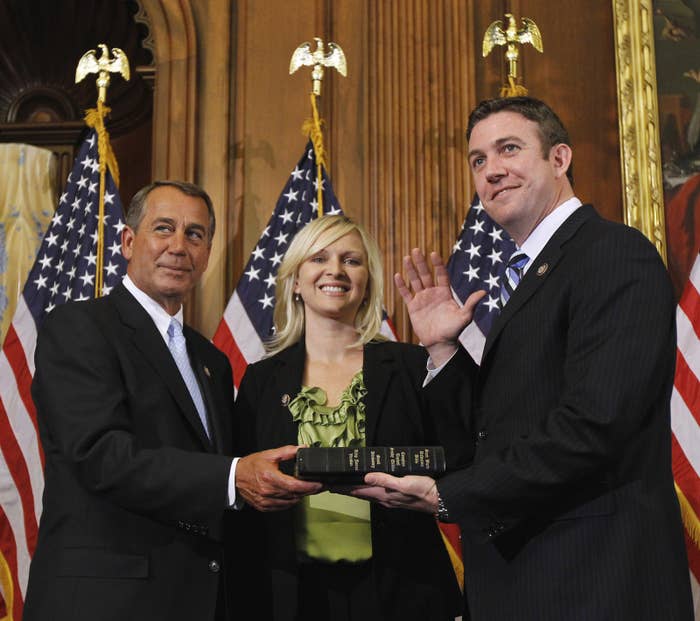 Republican Rep. Duncan Hunter and his wife were indicted Tuesday on charges that they used more than $250,000 in campaign funds to pay for personal expenses, including family vacations, school tuition, and theater tickets, federal prosecutors said.
The indictment, filed in San Diego federal court, alleges that Hunter and his wife, Margaret Hunter, illegally used the campaign money between 2009 to 2016, and then covered it up by falsifying campaign finance reports.
An early supporter of Donald Trump's presidential campaign, Hunter is currently running for a sixth term in Congress. His indictment follows that of New York Rep. Chris Collins, another early Trump supporter who was charged last month with insider trading and lying to the FBI.
The Hunters are scheduled to be arraigned on the indictment Thursday. They face charges of conspiracy to commit offenses against the United States, wire fraud, falsification of records, and prohibited use of campaign contributions.

"The indictment alleges that Congressman Hunter and his wife repeatedly dipped into campaign coffers as if they were personal bank accounts, and falsified FEC campaign finance reports to cover their tracks," US Attorney Adam Braverman said in a statement. "Elected representatives should jealously guard the public's trust, not abuse their positions for personal gain. Today's indictment is a reminder that no one is above the law."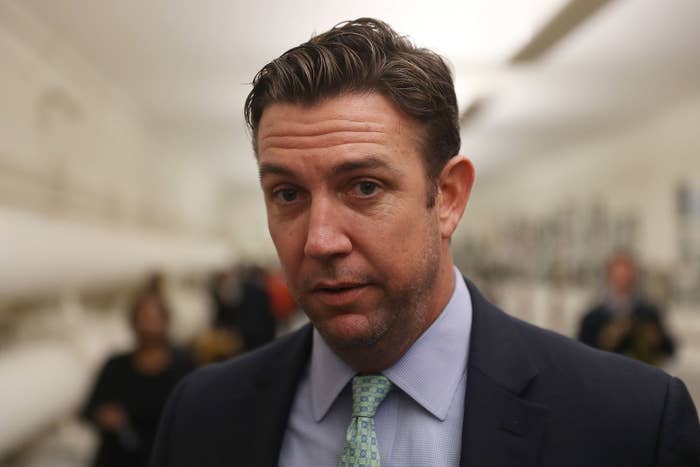 Hunter, a former Marine, has held his conservative inland San Diego County district since 2008 when he succeeded his father, Duncan Hunter Sr., who represented the area for more than two decades. Though the district is solidly Republican — Trump won it by 15 points in 2016 — the investigations into Hunter's finances have made it a target for Democrats in this year's midterms.

In a statement to BuzzFeed News Tuesday, a spokesperson for Hunter, Michael Harrison, said the congressman "believes this action is purely politically motivated."
Harrison also pointed to a letter sent by Hunter's lawyer to the Justice Department, which accuses prosecutors of political bias, and claims the investigation into Hunter's campaign finances arose from his early support for Trump.
The "sudden rush to indict reflects a loss of impartiality and appears to be an effort to derail Congressman Hunter's reelection in the November 6, 2018 general election," the lawyer, Gregory Vega, wrote.
"Indeed, if Congressman Hunter is indicted now under suspicious circumstances
that could swing a solidly Republican seat in the mid-term elections, the harm to both my client and the democratic process will be grave and irreparable," Vega wrote.
According to the indictment, the Hunters overdrew their bank account more than 1,100 times between 2009 and 2016, racking up nearly $38,000 in overdraft and insufficient funds fees. The couple also frequently hit the credit limit on their their credit cards, resulting in $24,600 in finance charges, interest and other fees, the filing said.

"By virtue of these delinquencies — as well as notifications of outstanding debts and overdue payments from their children's school, their family dentist, and other creditors — the Hunters knew that many of their desired purchases could only be made by using campaign funds," court documents said.
Those purchases included hotel rooms, airline tickets, and vacations for themselves and their friends and family to destinations including Italy, Hawaii, Las Vegas, and Lake Tahoe, according to the indictment.
The couple also allegedly used campaign funds to pay for more mundane items, like groceries, fast food, children's books, tickets to the play How the Grinch Stole Christmas, golf outings, an iPod nano, and airline tickets for a family pet.
To conceal the purchases, the Hunters mischaracterized the expenses as "campaign travel," "dinner with volunteers/contributors," "toy drives, "gift cards" for charitable donations, and "gift basket items," among other descriptions, according to the court documents.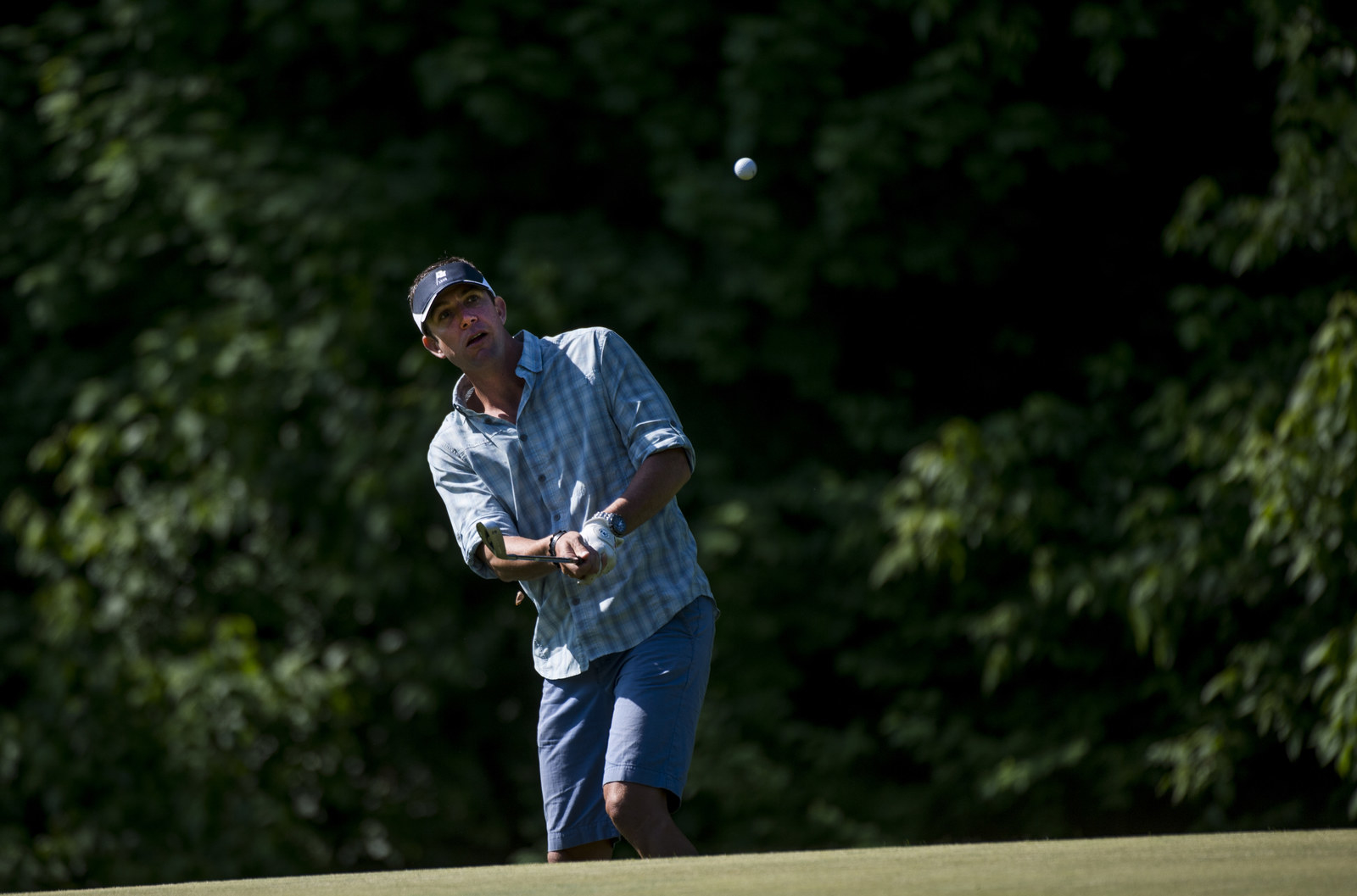 In one instance Margaret Hunter allegedly informed her husband's campaign treasurer that a $835.50 charge for family tickets to see Riverdance at the San Diego Civic Theater in 2016 was for "San Diego for Republican Women Federated/Fundraising."
In another case, when the congressman told his wife he was planning "to buy my Hawaii shorts," but didn't have money for it, she allegedly advised him to buy shorts at a golf pro shop so they could later describe the purchase as "some [golf] balls for the wounded warriors," the documents said.
In an attempt to justify the use of more than $14,000 to pay for a family trip to Italy, Duncan Hunter allegedly attempted to schedule a day tour of a US naval facility in the country. When Navy officials told Hunter they could only provide a tour on a certain date, Hunter told his chief of staff, "tell the navy to go f*** themselves," the documents said.
The tour never happened, but after the trip Margaret Hunter allegedly told the campaign treasurer the charges related to the vacation "were mostly military/defense meet related." In an email, she told a friend that "Italy was amazing. Truly our best trip so far. Like that saying 'if traveling was free you'd never see me again'!"
The congressman and his wife often used campaign funds to pay for food and drinks at social gatherings at various restaurants and bars, according to the documents.
One weekend in March 2016, Duncan Hunter spent more than $1,100 in campaign money to entertain his brother and friends during a bachelor party in Washington, DC. He purchased various food items, drinks, and 30 shots of tequila, the documents said.
That same weekend, Margaret spent $563.78 on clothes from the Emerald City Surf Shop and lunch for a family member and the family member's friends in La Jolla.
The charges present a major opportunity for Democrats looking to win back control of the House of Representatives this fall. California election law does not provide an avenue to replace Hunter on the ballot. His challenger, Democrat Ammar Campa-Najjar, worked in the US Labor Department under Barack Obama, and was one of 81 Democratic candidates recently endorsed by the former president.
"I think we learned today that nobody is above the law, not even a sitting congressman, and justice is running its course," Campa-Najjar told BuzzFeed News following Tuesday's indictment. "Duncan Hunter violated the law and violated our values."
In a statement late Tuesday, House Speaker Paul Ryan called the charges against Hunter "deeply serious," and said the congressman would be removed from his committee assignments while the case is resolved.

Meanwhile, California Republicans urged San Diego voters to allow the judicial process to play out before making their own judgments.
"In our country, individuals are presumed innocent until a jury of their peers convict them," California GOP Chair Jim Brulte said in a statement to BuzzFeed News. "The congressman and his wife have a constitutional promise to their day in court and we will not prejudge the outcome."
On Wednesday, Hunter called the indictment a witch hunt and alleged the prosecutors were biased because they attended a private fundraising event for Hillary Clinton's presidential campaign in La Jolla in 2015.
"We are told that this was at the request of Secret Service to officially assist law enforcement with protection, but this explanation is disputed by former US Attorneys familiar with the responsibilities of their office," Hunter said in a statement. "The obvious question is why would the Secret Service need three prosecutors at a fundraising event? The answer is they are partisan prosecutors."