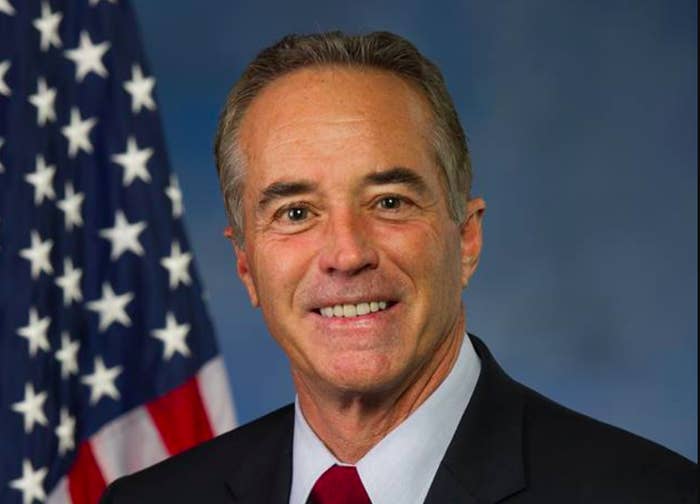 New York Congressman Christopher Collins was charged with insider trading and lying to the FBI, federal prosecutors in Manhattan announced Wednesday.

Collins, a Republican, was one of the earliest supporters of Donald Trump's presidential campaign. He is charged along with his son, Cameron Collins, and Stephen Zarsky, the father of Cameron's fiancé, in a scheme related to the stock of an Australian biotechnology company.
During a brief press conference Wednesday evening, Collins vowed to fight the charges against him, and said he would continue to run for reelection in November as his case makes its way through the courts.
"The charges that have been levied against me are meritless, and I will amount a vigorous defense in court to clear my name," Collins said, his wife standing by his side.
Collins sits on the board of the company Innate Immunotherapeutics.
At the time of the alleged scheme, in June 2017, Innate's primary business was in the research and development of a drug to treat multiple sclerosis, according to the indictment. During the summer of 2017, Innate completed a drug trial that would determine its effectiveness for treating a type of MS that few other drugs have been able to effectively treat. However, the public announcement that Innate's drug was found to be ineffective for treating this illness caused the stock to drop 92%.
Allegedly acting on advance information about the drug trial results, Collins instructed his son to sell off a large chunk of shares before the news broke and the company's stock plummeted.
Collins denied the charges.
"I believe I acted properly and within the law the entire time with my affiliation with Innate," he said.
During the press conference, Collins said he lost millions of dollars after the drug proved to be unsuccessful, having become a majority share-holder in the company.
"When it became clear that the drug I and others believed in fell short of our hopes and expectations, I held on to my shares," he said. "That's OK, that's the risk that I took."
The New York congressman said he was also still "proud" of his affiliation with the drug company.
Collins surrendered to the FBI on Wednesday morning, NBC News reported.
"We will answer the charges filed against Congressman Collins in Court and will mount a vigorous defense to clear his good name," Collins' attorneys said in a statement Wednesday. "It is notable that even the government does not allege that Congressman Collins traded a single share of Innate Therapeutics stock. We are confident he will be completely vindicated and exonerated."
Through 2017, Innate executives expected that the results of the company's MS drug trial would be positive. Then on Monday, June 26, the Australian company announced that the trial had failed.
Four days earlier, Innate CEO Simon Wilkinson sent an email to the company's board of directors, including Collins, notifying them that the trial had missed its mark. "I have some bad news," Wilkinson wrote, and went on to detail the results, according to the indictment.
Collins was attending the Congressional Picnic at the White House that evening, and replied: "Wow. Makes no sense. How are these results even possible???"
Collins then placed a flurry of phone calls to his son, Cameron. At the time, the US market was closed. The next day at 7:42 a.m., according to the indictment, Cameron placed an order with his broker to sell 16,508 shares of Innate stock. The trade was executed when the market opened at 9:30 a.m. Throughout the day, Cameron placed 17 additional orders to sell Innate stock.

On the following Monday, June 26, Cameron placed approximately 36 additional orders to sell Innate. Federal prosecutors claim that phone records show that he discussed these deals with his father. For example, according to the indictment, the feds claim that Cameron was on the phone with his father when he sold approximately 50,000 shares of Innate.
In total, Cameron Collins sold 1,391,500 shares of Innate between the time the company's CEO emailed the board about the failed drug trial and the close of the US market on June 26 when the company announced the results publicly. These sales allowed Cameron to avoid approximately $570,900 in losses.
Other alleged co-conspirators also avoided substantial losses. Zarsky allegedly sold more than 350,000 shares of Innate on June 22 and June 23 to avoid more than $160,000 in losses.
After Innate's stock crashed, reporters asked Collins if he had sold a significant amount of stock before the public announcement. Collins' staff told the media that neither he nor his daughter sold shares "during or after Innate's recent stock halt." The statement added: "Cameron Collins has liquidated all his shares after the stock halt was lifted, suffering a substantial financial loss."
After learning about the trading activity, the FBI asked to meet with Collins, his son, and his son's father-in-law, Manhattan US attorney Geoffrey Berman said at a press conference on Wednesday. During those interviews, Berman said, the men denied that they had engaged in insider trading.
"By lying to the FBI, they compounded their insider trading crime with the crime of criminal coverup," Berman said.
Earlier this year, two GOP lawmakers told the Hill that Collins had bragged about making money for members of Congress by tipping them off about Innate. "He's made members money," one Republican lawmaker told the Hill.

The Buffalo News also reported that Collins had tipped off local entrepreneurs about Innate and made them "millionaires."
Collins denied the reports, telling the Hill, "I've never encouraged anyone to buy the stock. Ever."
Collins also reportedly promoted the stock to former Rep. Tom Price, who was asked about his holdings in Innate during a confirmation hearing after he was nominated by Trump to become secretary of health and human services.
Collins defended Price and himself at the time, telling CNN in an interview, "There was nothing done that was insider trading or unethical."
He confirmed that Price had bought Innate stock, but said he made that decision on his own.
On Wednesday, a spokesperson for Price told Politico that he has not been interviewed by federal investigators about the alleged insider trading scheme.
"Dr. Price addressed his ownership of Innate Immunotherapeutics stock during his confirmation hearings for HHS Secretary and sold any stock he held in February 2017," the spokesperson said.
Collins' activity involving Innate is also the subject of a probe by the House Ethics Committee, which his office called "a partisan witch hunt" in a statement last year.
"The Congressman knew he couldn't sell his own shares for personal and technical reasons," Berman said, including because of the ongoing investigation by Congress.
"The crime he committed was to tip his son Cameron," Berman said.
Collins, his son, and Zarsky all pleaded not guilty to the charges on Wednesday and were released on $500,000 personal recognizance bonds.