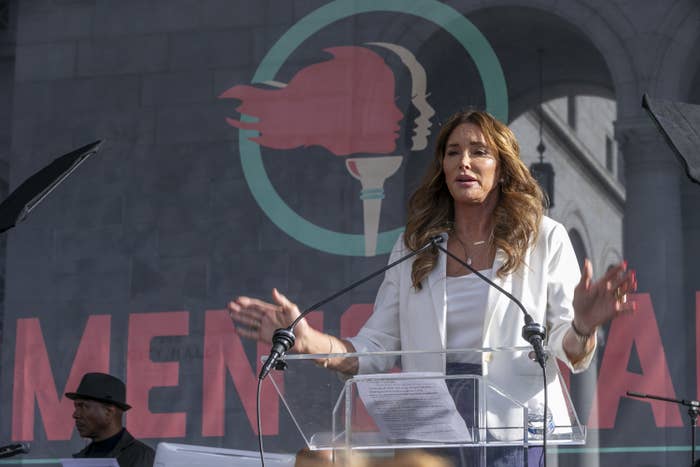 Caitlyn Jenner announced Friday that she will run for California governor in the expected special election to recall Gavin Newsom this fall.
Jenner, a longtime Republican and former Donald Trump supporter, tweeted, "I'm in! California is worth fighting for."
Her entry into the race comes after reports in recent months that the 71-year-old former Olympian and reality TV star was considering whether to launch a campaign. County elections offices are still verifying signatures submitted by recall proponents to call for the election, but it's expected that they will have enough to qualify the measure for the ballot.

"Californians want better and deserve better from their governor," Jenner said in a statement announcing her run. "This will be a campaign of solutions, providing a roadmap back to prosperity to turn this state around and finally clean up the damage Newsom has done to this state."
In recent weeks, Jenner has voiced support for the effort to recall Newsom, sharing tweets critical of the Democrats' handling of the pandemic and the state economy. On April 14, she wrote on Twitter that she was proud of the work recall-backers were doing, saying, "Californians are fed up with the lack of leadership in Sacramento and it's time to #RecallGavin."

But a review of her social media and recent interviews shows she has rarely weighed in publicly on Newsom's performance, or politics in general, as recall proponents were gathering the necessary signatures to force an election. "Politics is something I don't talk about any longer," Jenner told Outsports in April 2020.
Since coming out as trans in 2015, Jenner has become an advocate for trans rights and spoken about the need for the Republican party to be more LGBTQ-friendly — while also facing calls to educate herself about the needs of the less privileged members of her community. A few years ago, Jenner briefly considered running for US Senate but decided she could do more advocacy behind the scenes. She supported Trump in the 2016 election and through the beginning of his presidency, but later withdrew her support over his administration's anti-trans policies.

On Wednesday, Politico reported that Jenner has been an infrequent voter, casting ballots in just nine of California's 26 statewide elections since 2000, according to Los Angeles County voting records. She did not vote in the historic 2003 recall that made actor Arnold Schwarzenegger governor, nor in the 2016 primary and general elections that Donald Trump won, according to the news site.
After achieving global fame as an athlete, Jenner appeared on Keeping Up With the Kardashians with her then-wife Kris Jenner and their daughters Kendall and Kylie for 10 years. But in 2015 she publicly criticized the family as she built her own brand, causing an apparent years-long rift. After several years away from the show, Caitlyn recently returned for its final season in an episode in which she reached out to Kris for career advice.

Jenner, who describes herself as fiscally conservative and socially liberal, likely won't be the only candidate with celebrity status and name recognition to throw her name in the ring. In the 2003 recall of Gray Davis, 135 candidates appeared on the ballot, including Schwarzenegger, commentator and HuffPost founder Arianna Huffington, and Hustler publisher Larry Flynt.

Former San Diego mayor Kevin Faulconer and businessman John Cox, who lost to Newson in 2018, have said they plan to run in the recall. And far-right pro-Trump commentator Mike Cernovich has said he will run, even though he doesn't think he can win.
The campaign to recall Newsom, who was elected in 2018 with 62% of the vote, was originally focused on the state's high taxes, homelessness crisis, and immigration policy. But during the pandemic, the effort to oust him has centered on his response to COVID-19, including the mask mandate, business restrictions, and shutdowns. His attendance at a multi-household dinner at the swanky French Laundry restaurant in early November, which appeared to fly against the state's guidelines on safe gatherings, only fueled recall proponents' cause.
In her statement, Jenner talked about what she described as "the over-restrictive lockdown" on small businesses, children missing in-person learning, and the state's high taxes.
"This isn't the California we know," Jenner said. "This is Gavin Newsom's California, where he orders us to stay home but goes out to dinner with his lobbyist friends."
While qualifying the recall for the ballot would be a huge feat, winning the election will be an even greater challenge. California remains a heavily Democratic state and Newsom still has favorable approval ratings as the pandemic nears an end.