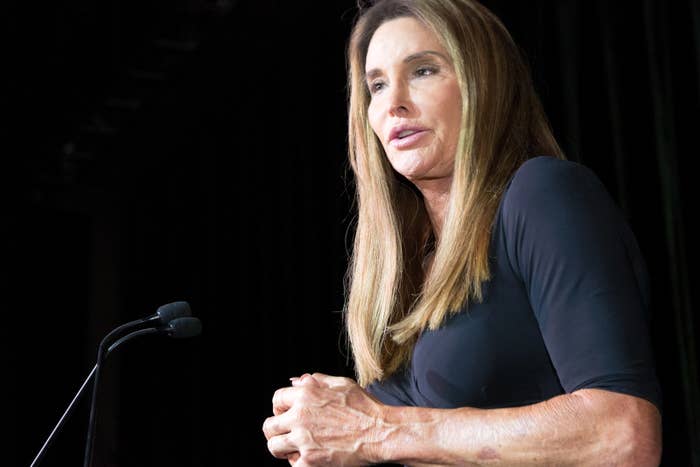 After two years of saying she's disappointed by the Trump administration's policies, Caitlyn Jenner announced Thursday that she is no longer supporting the president.
Jenner, a longtime Republican who came out as trans in 2015, faced pushback from the LGBT community over her support of Donald Trump's candidacy during the 2016 election. Jenner said she believed President Trump would stand up for the LGBT community, and she felt confident she could educate Republicans on issues critical to LGBT Americans.
But on Thursday, she wrote in the Washington Post that she was wrong.
"Sadly, I was wrong," the former Olympian turned reality TV star wrote. "The reality is that the trans community is being relentlessly attacked by this president."
Jenner has been critical of administration policies in the past, but Thursday marked the first time she said she would no longer support Trump.
"It's clear these policies have come directly from Trump, and they have been sanctioned, passively or actively, by the Republicans by whose continued support he governs. My hope in him — in them — was misplaced, and I cannot support anyone who is working against our community," she wrote. "I do not support Trump. I must learn from my mistakes and move forward."
Over the weekend, the New York Times reported that an unreleased Trump administration memo would redefine gender as "as a biological, immutable condition determined by genitalia at birth." Critics said that would erase trans and gender-nonconforming people, and they protested in person and on social media with the hashtag #WontBeErased.
"I need to listen more to the members of the LGBTQ community and to learn more," Jenner wrote. "I need to better use my voice, my privilege and my foundation to advocate for and support our community."
In February 2017, Jenner called the president's reversal of policies aimed to protect transgender children in public schools "a disaster." Then in July 2017, Jenner questioned the president's attempt to ban transgender people from the military, applauding the patriotism of the estimated 15,000 trans troops already serving.
In May, she also told members of the British parliament that she believed the Trump administration had set the transgender community back 20 years.
As she admitted her mistake in supporting Trump, Jenner wrote in the Post that she would continue to advocate on issues affecting trans people, including homelessness, job discrimination, and mental health.
"I will still work with anyone who is committed to help our community," she said. "The world needs to hear us. The world needs to know us. We will not be erased."