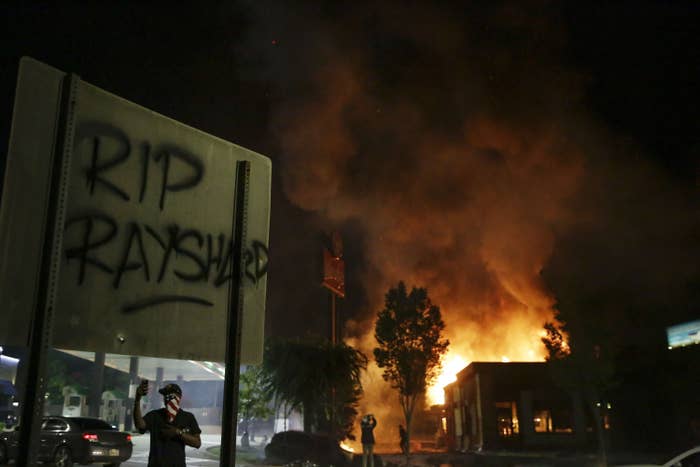 The Atlanta police officer who fatally shot a Black man who was found asleep in a car at a Wendy's parking lot was fired as the city erupted in protests Saturday.
Rayshard Brooks, 27, was shot as he was running away after struggling with two officers on the ground in the parking lot at the fast-food restaurant Friday night, cellphone and surveillance video from the scene showed.
Atlanta police released body camera footage from the incident but neither officer's camera captured the shooting after apparently falling off during the struggle.
Garrett Rolfe, the officer who killed Brooks, has been fired, Atlanta police confirmed to BuzzFeed News early Sunday morning. The other officer, Devin Brosnan, has been placed on administrative duty, officials said.
Brooks died from organ damage and blood loss caused by two gunshot wounds to his back, an investigator from the Fulton County medical examiner's office told BuzzFeed News on Sunday, the day the autopsy occurred. His death is considered a homicide.
A few hours before the results were released, District Attorney Paul Howard said in a statement that his staff had the "unfortunate duty" of witnessing the autopsy as part of their investigation.
"Because this is a homicide investigation, there are several technical requirements that must be met before we are able to reach a decision. That includes the confirmation of the ballistics involved and obtaining a preliminary report from the Medical Examiner," he said.
Howard also said his office is working to speak with two witnesses who were at the scene and that they are still "experiencing some difficulty in obtaining all the body cam and dash cam footage from the Atlanta Police Department."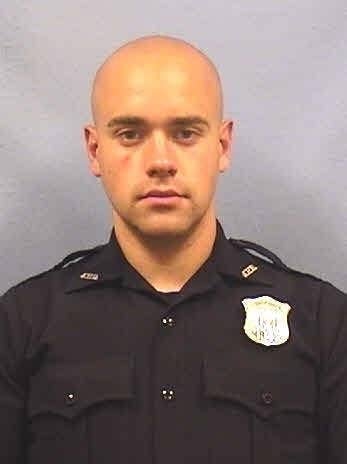 When members of the community heard that Rolfe had been fired, they took to the streets to protest the killing of yet another Black man at the hands of police amid national unrest in the wake of George Floyd's death last month.
During the demonstrations, people set fire to the Wendy's where Brooks was killed. Protesters also fully blocked part of the highway in the city's downtown and some chanted "Black Lives Matter" as they were arrested and led away.
On Sunday the Atlanta Police Department announced a $10,000 reward for information leading to the individual who set the Wendy's on fire.
A police spokesperson told BuzzFeed News Sunday that 36 people were arrested overnight, but he did not have information about what the arrests were for.
Police were called Friday night to the Wendy's parking lot after reports that Brooks' car was blocking drivers, according to a statement from the Georgia Bureau of Investigations.
Brosnan was the first to arrive and called for a DUI unit after waking Brooks and getting him to move his car. Body camera video of the incident showed Brosnan and Rolfe talking with Brooks for nearly 30 minutes before the shooting.
The videos showed Brooks was having a calm conversation with the officers and only got agitated when they went to handcuff him.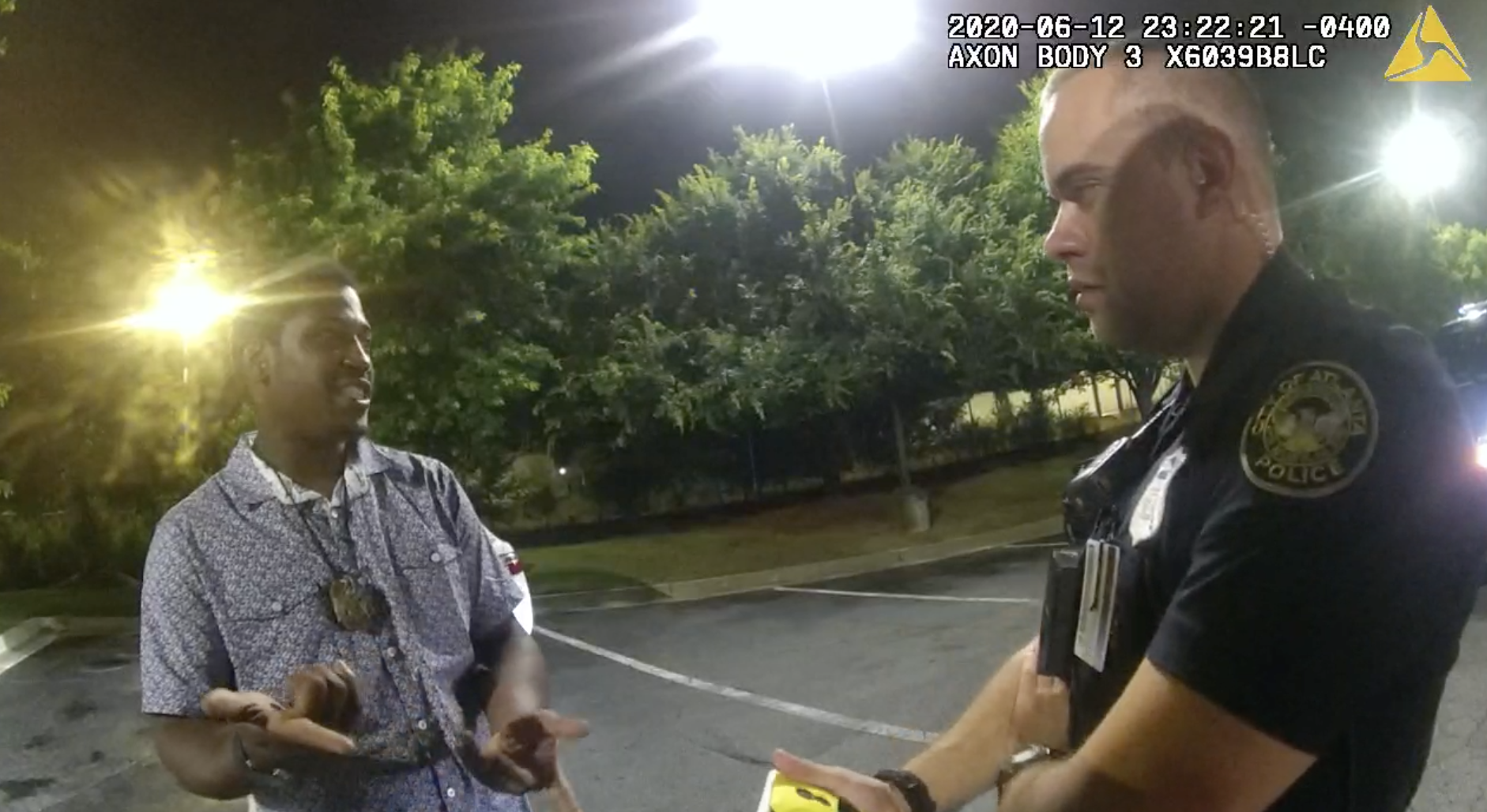 "I think you've had too much to drink to be driving," Rolfe tells Brooks after a breathalyzer test showed Brooks had a blood alcohol level of 0.108%, just above the legal limit of 0.08%. "Put your hands behind your back."
Brooks complies but when Rolfe places a cuff on one of his wrists he begins to pull his arm away, the video shows. Both officers' body cameras apparently fall to the ground during an ensuing struggle.
"Stop fighting, stop fighting," one of the officers is heard telling Brooks. "You're going to get tased, you're going to get tased."
Brooks then took a Taser from one of the officers, broke free, and ran away, other video from the scene showed. Surveillance video showed the officers chase Brooks as he runs through the parking lot. Brooks appears to turn and point the Taser at them before Rolfe raises his gun and fires multiple shots.
Multiple bystanders are heard yelling in anger over the officers' actions.
"What the fuck? That's totally unnecessary," one person says, according to the video. "I saw y'all talking to him for 20 minutes, dude. Unarmed, nonviolent, nothing wrong with how he conducted himself whatsoever and you pull a fucking gun, dude? Wow. Wow."
"I feel like both of your careers are definitely done because you just shot a man for no reason," he continued.
People continued to pour into Atlanta streets Sunday to protest Brooks' death. Dozens gathered at the fire-ravaged Wendy's in a scene that a reporter described as "vigil-like," with demonstrators holding signs and laying flowers at the site.
Outside the state Capitol, hundreds of demonstrators took a knee and raised their fists with motorists who drove by, honking to show their support.