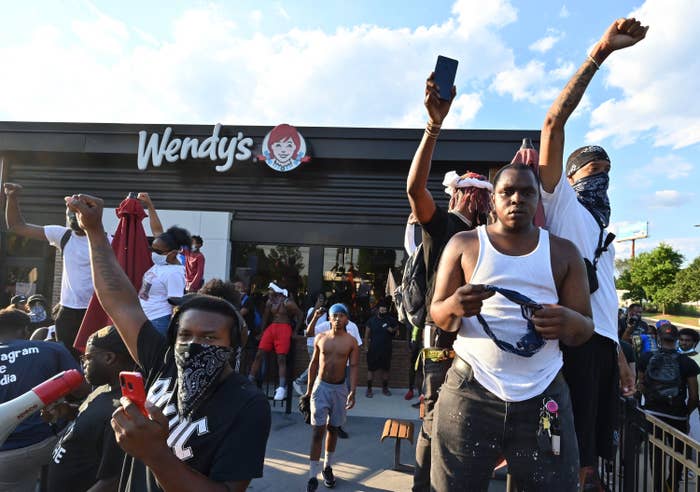 Rayshard Brooks, 27, was shot and killed by an Atlanta police officer after he was found sleeping in a parked car Friday night — leading to mass protests, the resignation of the police chief, the mayor calling for the cop's firing, and a grieving community angry at seeing another Black man gunned down by police on video.
"What is it going to take? How many more examples are we going to get?" attorney L. Chris Stewart, who represents Brooks' four daughters, said. "I'm just tired, and I'm sure everyone is tired of seeing it."
Just hours after the deadly shooting, protesters flocked to the streets, demanding the arrest of the officer who shot Brooks while the 27-year-old was seen running away.
For more than two weeks, like in the rest of the country, protesters had lined the streets of Atlanta because of the police killings of George Floyd in Minnesota, Breonna Taylor in Louisville, and Tony McDade, a Black transgender man killed by police in Florida. On Saturday, demonstrators blocked the streets demanding justice now for someone killed in their own community. The determination that had fueled protests in the past few days, demonstrators told BuzzFeed News, had turned to exasperation and frustration at seeing it all play out on video again.
"I'm just sick of it," Mary-Pat Hector told BuzzFeed News. "This happens on the 15th day that we protested consecutively, thousands of people against this. It's blowing my mind right now."

People around the nation also marched for Robert Fuller, 24, who was found hanging from a tree in Palmade, California, this week. Authorities called Fuller's death a suicide — they added there is no surveillance footage available — but the community is skeptical. An autopsy is planned, the Associated Press reported.
Police were called Friday night to a Wendy's parking lot after reports that Brooks' car was blocking drivers, according to a statement from the Georgia Bureau of Investigations. Brooks allegedly failed a field sobriety test and officers tried to arrest him.
The incident starts around the 28-minute mark of the below video. Warning: The video is graphic.

Investigators said Brooks "resisted" arrest and "a struggle ensued," where one officer used a Taser.
Brooks then took a Taser from one of the officers, broke free, and ran away. Officials said Brooks appeared to deploy the Taser at officers.
"At that point, [Brooks] turns around and it appears to the eye that he points the Taser at the Atlanta officer," Vic Reynolds, the director of the Georgia Bureau of Investigation, said, adding that Brooks had started to run back and flee as the officer reached for his gun and fired while a line of cars sat in the restaurant's drive-thru.
Pointing to surveillance video from the shooting, Stewart said in Georgia, case law does not consider a Taser a deadly weapon.
"I have cases where officers used Tasers on victims and they argue with us in court that Tasers aren't deadly, that Tasers aren't harmful," he said. "You can't have it both ways. You can't say he ran off with a weapon that can kill somebody, when it's not deadly."
Stewart said witnesses from the scene also described what seemed like a civil conversation between officers and Brooks shifting suddenly as they tried to take him into custody.
Cellphone footage that appears to be from the scene, shared on Twitter, shows Brooks struggling with two officers on the ground before running away. Two officers give chase after him outside the frame before three gunshots can be heard.
In another video taken at the scene, an apparent witness, who is recording, says the police were talking to Brooks for 20 minutes before the shooting.
"I saw you all talking to him for 20 minutes," the person recording says, addressing an officer standing nearby. "Unarmed. Nonviolent. Nothing wrong with how he conducted himself whatsoever, and you pull a fucking gun, dude?"
More than two minutes passed after the shooting before officers checked Brooks' vital signals, Stewart said, and witnesses described officers picking up the shell casings from fired shots before investigators arrived.
"Why did you have to kill him?" he said. "Was the officer embarrassed that his Taser was taken? Well, let your pride linger."
The GBI, which is investigating the shooting, released surveillance tape from the Wendys showing the Brooks running with something in his hand, and raising before the officer fired.
Brooks was taken to a hospital, where he died following surgery, the GBI said.
Reynolds asked that no one rush to judgment.
"We realize there's a tremendous amount of emotion and passion involved in these cases, and certainly with the way the environment is now, it's only enhanced," he said.
"Again, I would just humbly and respectfully ask the public to wait a minute."
Early Saturday morning, dozens of people gathered at the scene of the shooting, chanting "no justice, no peace" as officers stood behind police tape.
Brooks' cousin spoke to 11 Alive at the scene and told reporters he didn't want Brooks to have died in vain. "The hurtful thing for me is to watch the video, wake up and watch that video," he said.
"I've got two little boys. They've seen the same video — that's their cousin. That's what hurts so much." He said Brooks had a wife and children.
Through Saturday, protests continued as investigators, the mayor, and the family's lawyer spoke. In one poignant moment, a crowd protesting Brooks' killing encountered another group protesting on behalf of George Floyd.
But as the night wore on, things grew tenser at the University Avenue Wendy's and on a nearby highway.
One arrest was reported earlier in the evening when demonstrators tried to gain access to the roadway. Later, protesters fully blocked where Interstates 85 and 75 meet — called the Downtown Connector — and some chanted "Black Lives Matter" as they were arrested and led away. Demonstrators marched around stopped vehicles as police closed in.
And people set fire to the inside and outside of the Wendy's Brooks was killed.
Reporters at the scene captured video and images of the blazes:
Hundreds of people then marched on from the scene.
"Fire units are standing by until they can safely get to the fire burning at Wendy's," the department tweeted. "Restaurant is fully involved and adjacent to a gas station. No reports of anyone inside the location."

The shooting has left many in the community reeling after days of protests over the unarmed killing of Black people, and adding another name to what seems like a never-ending list.
Police Chief Erika Shields is stepping aside in the wake of the shooting, Mayor Keisha Lance Bottoms announced, and will take another job in the department. Bottoms also called for the officer who shot Brooks to be fired. Another officer has been placed on administrative duty.
"While there may be debate as to whether this is an appropriate use of deadly force," Bottoms said on Saturday, "I firmly believe there is a clear distinction between what you can do and what you should do."
"I do not believe this was a justified use of deadly force and have called for the immediate termination of the officer," she said.
"While we have a police force full of men and women working alongside the community with honor," Bottoms said, "there had been a disconnect with what our expectations are and should be in regards to our interactions between officers and the communities they are entrusted to protect."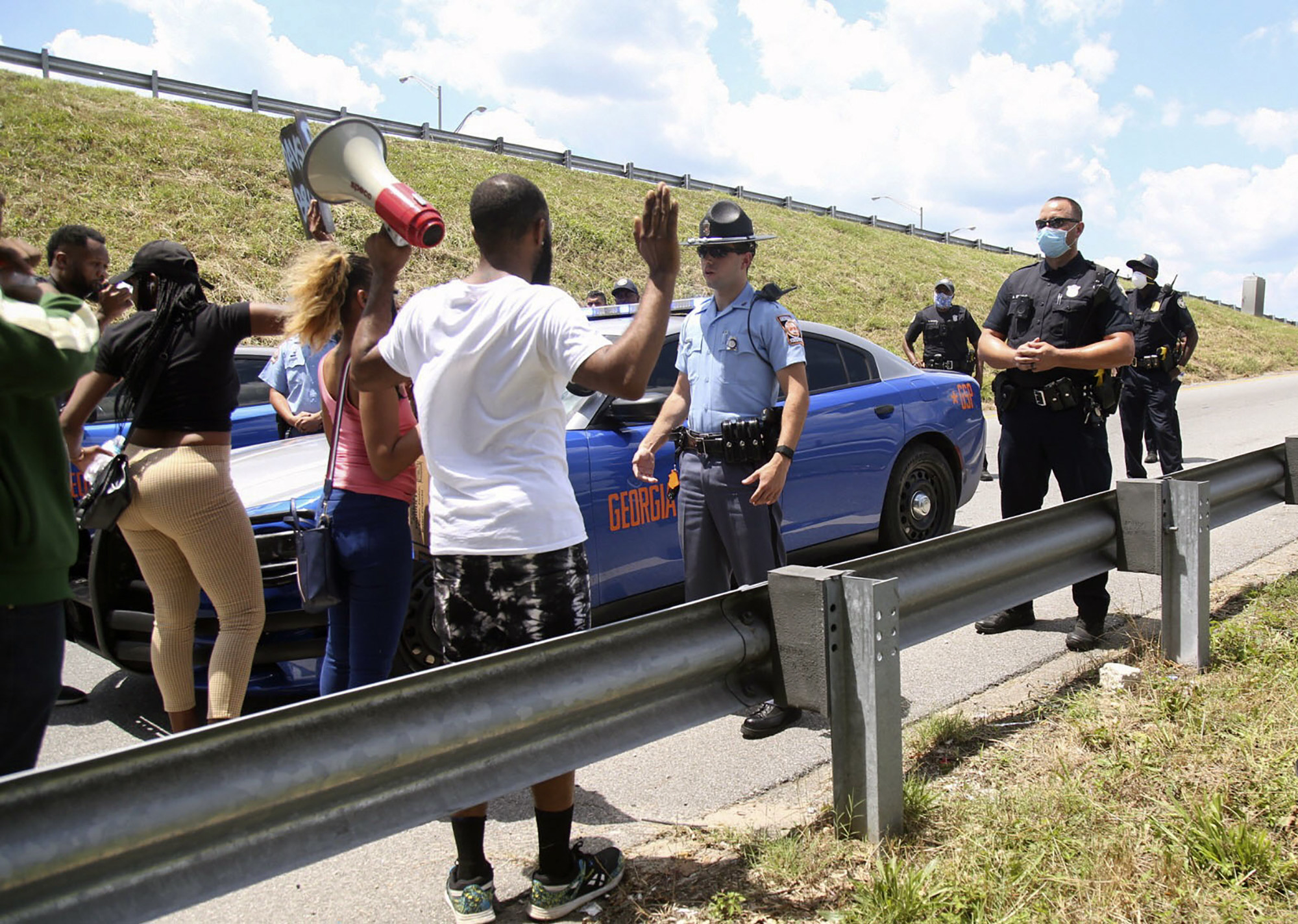 Meanwhile, two Atlanta police officers are suing Bottoms and Shields after they were fired for using their Tasers during recent protests, reports the Atlanta Journal-Constitution. Body camera footage showed the officers, Ivory Streeter and Mark Gardner, along with four others, using their Tasers on a pair of college students in a car before forcefully removing them from the vehicle.
For Hector, who has helped organize protesters for the past two weeks, the shooting was an uneasy realization of unrelenting vulnerability of Blacks at the hands of police officers despite being in a city that with strong Black city council representation, a number Black business leaders, and strong civic Black leadership.
"We're not just fighting against white cops, we're fighting against the system and the blue shield, this blue wall," Hector said. "We have literally marched and organized for 15 days and for 15 days the mayor and Chief Shields kept talking about how we're going to do better."
Hector, 22, said she was glad Shields stepped down, but that significant changes had yet to be made.
"Older Black people in this city are still trying to save face and tell us it's not their fault, they're doing the best they can," she said. "They need to get out of the way and let people who are prepared to fight this do that job."
Despite days of protest, Saturday felt different among the crowd.
"We're just fed up," Jared Sawyer, a minister and activist, told BuzzFeed News. "You can sense a spirit of unrest among the crowd. They're just not going to let this up. This is different."
At a news conference Saturday, Stewart and Justin Miller, who are representing Brooks' family, said they felt frustrated.
"The value of African American lives in the inner city, or wherever, doesn't mean much to officers these days, and it's said," Stewart said, visibly upset. "We'll fight for justice. We'll try to get the cop arrested, whatever it may be, sue the city and see if they settle. I don't know. We're just tired. And if you don't understand that because you may be a different color, you may be a different gender, you may not be from Georgia, then you may be the problem."
Late Saturday night, protesters continued to fill the streets of the city, yelling Brooks' name along with other Black men and women killed by police.
"This probably won't be the last tragedy," Justin Miller said. "That's the sad thing."