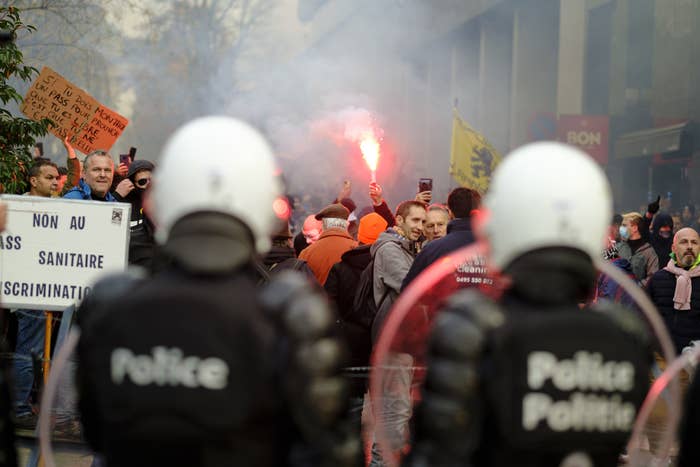 Tens of thousands of people took to the streets in major European cities over the weekend to protest vaccine mandates and other coronavirus-related restrictions as cases and deaths from the virus rise across the region.
According to the World Health Organization, Europe saw a 5% increase in new COVID-19 deaths during the week ending Nov. 14, while other regions worldwide reported that fatalities were stabilizing or declining. Globally, cases continued to rise 6%, compared to the previous week, with more than 3.3 million new COVID-19 cases reported.
Even against more contagious variants of the coronavirus, COVID vaccines are safe and effective. They have been thoroughly tested and are now under the most intense safety monitoring in US history, according to the CDC. More than 450 million doses have been given in the US as of Nov. 22, and worldwide, about 3.3 billion people, or 42% of the population, have been vaccinated. (You can check this COVID vaccine tracker to see the latest numbers.)
The main side effects are short term swelling at the injection site, fever, and body aches. More serious side effects are extremely rare, and the benefits far outweigh the risks.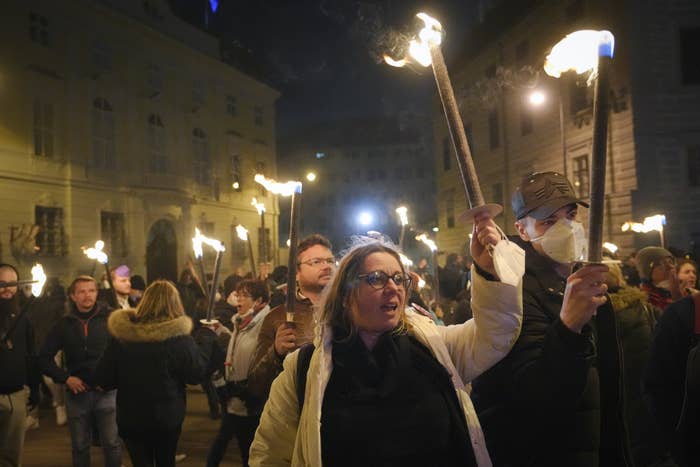 In Austria, where officials are imposing a new lockdown starting Monday along with a nationwide vaccine mandate to take effect next year, an estimated 40,000 people, including members of far-right groups, marched through Vienna on Saturday. After dark, protesters threw bottles and fired pyrotechnics at police, who used pepper spray to disperse the crowds, according to the Associated Press.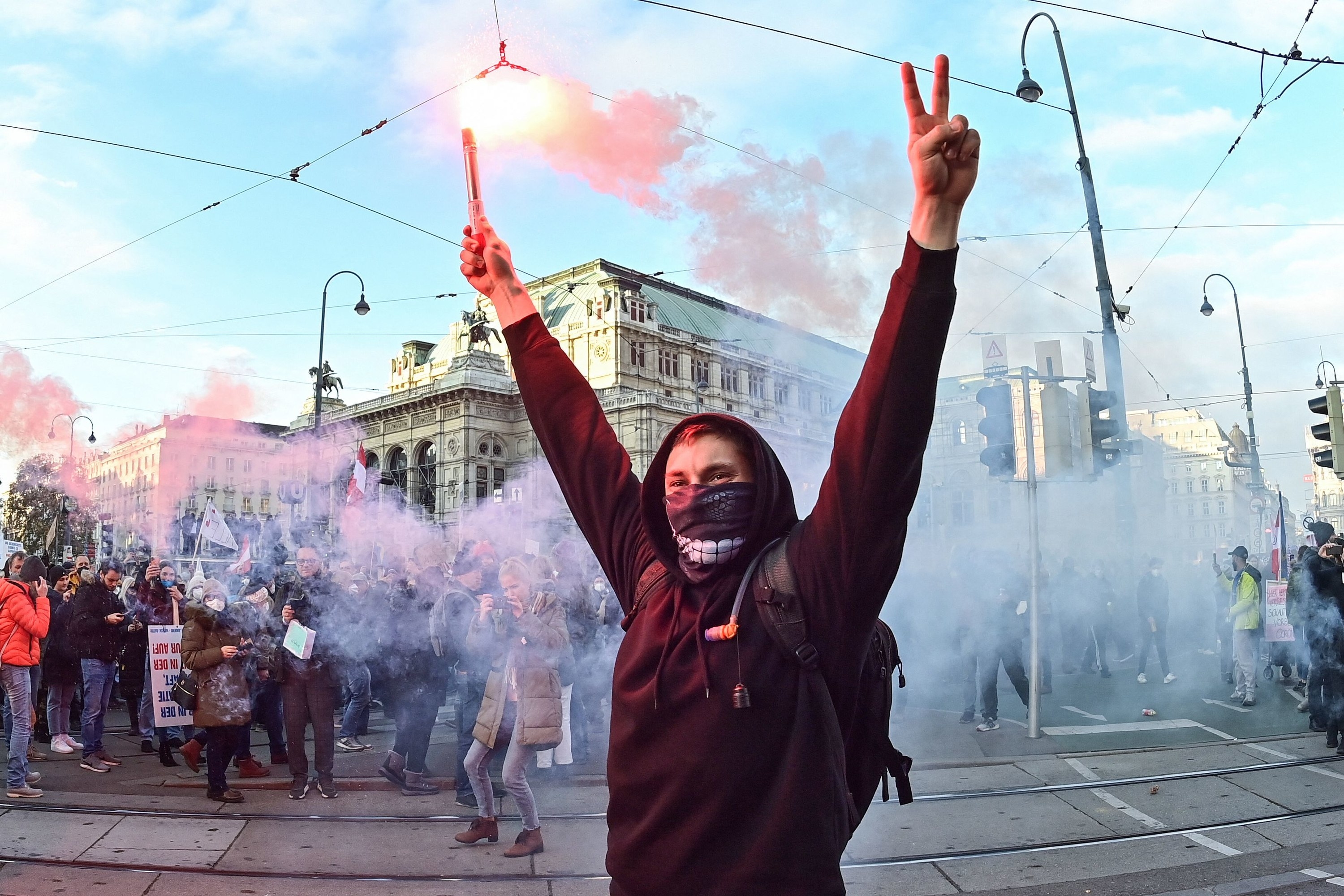 In the Netherlands, riots broke out in multiple cities. On Friday night, 49 people were arrested after a crowd of hundreds torched cars, set off fireworks, and threw rocks at police in Rotterdam in what the Dutch city's mayor described as an "orgy of violence." Police responded with water cannons and gunfire, injuring at least four people, officials said.
In Brussels, Belgium, 35,000 gathered on Sunday to protest new rules that make working from home mandatory for four days a week, limit the number of people at gatherings, and require masks for indoor and some outdoor activities.
"We denounce the measures restricting freedom, that haven't constituted a structural solution for health services," protest organizers said in a statement, according to Politico.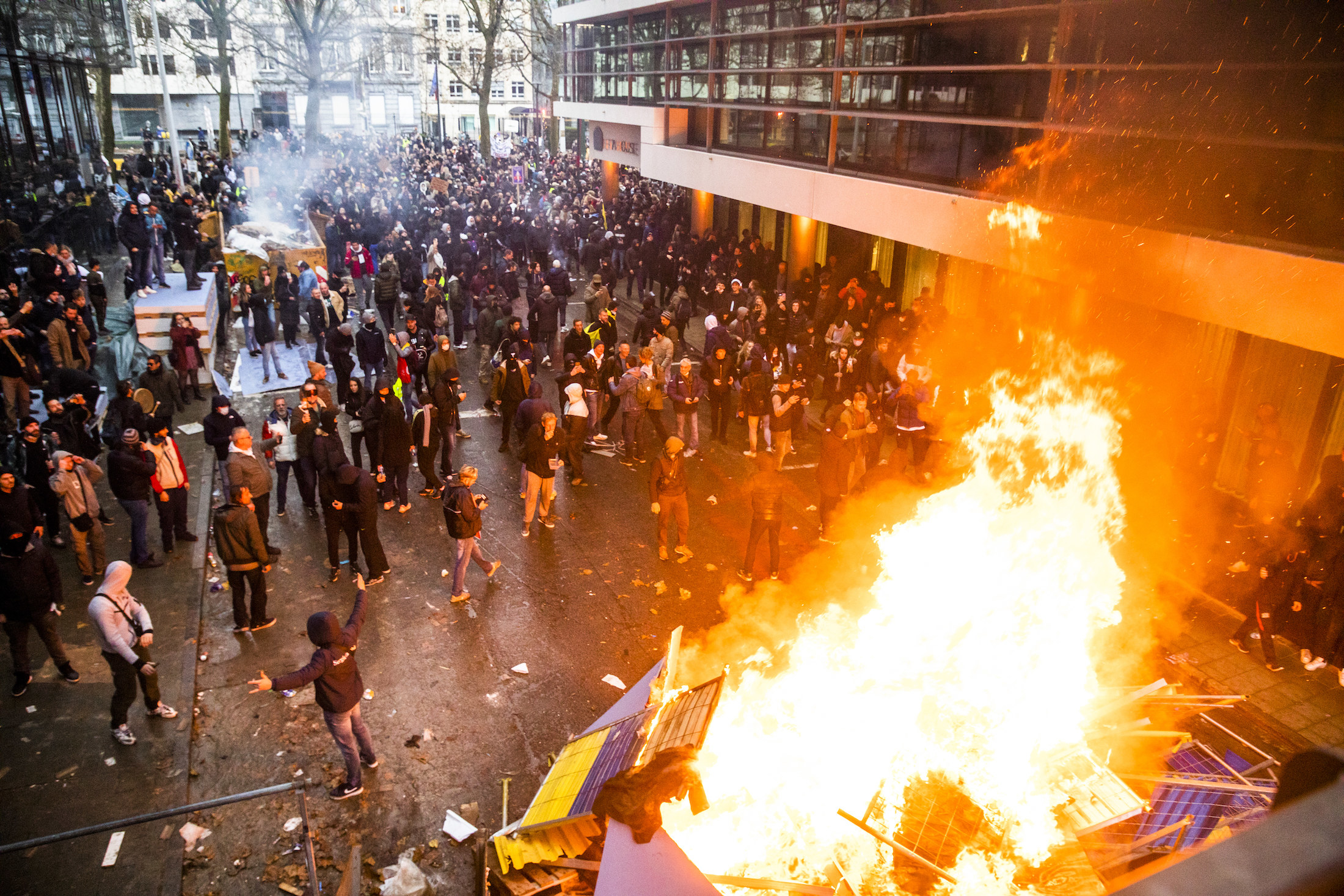 At times, demonstrators clashed with police, throwing rocks and smoke bombs as law enforcement fired water and tear gas at the crowd.
Demonstrations also took place in Italy, Switzerland, Croatia, and Northern Ireland.