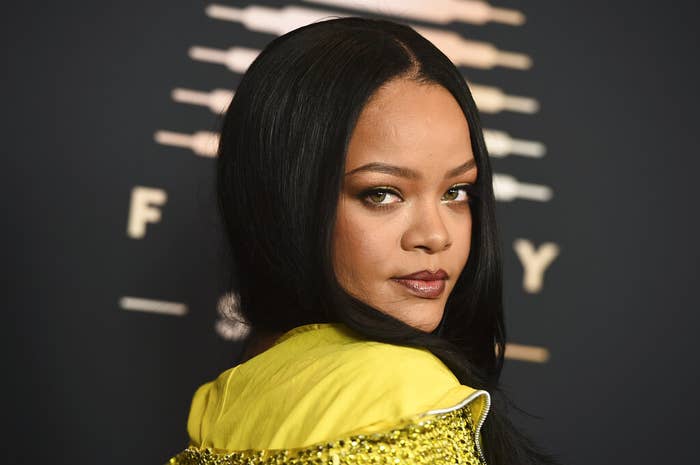 Rihanna is headlining the 2023 Super Bowl halftime show, the NFL announced Sunday.
The singer, whom fans have been begging for a new album for years, minutes earlier had posted a cryptic photo of a hand holding a football on Instagram.
TMZ first reported earlier that day that Rihanna was in talks with the NFL to perform at next year's Super Bowl.
Rihanna was initially approached to perform at the 2019 halftime show, but she turned it down in support of Colin Kaepernick, the NFL quarterback who faced intense backlash for kneeling during the national anthem in protest of police violence against Black people. Kaepernick has said that he was iced out of the league because of his protest.
"I couldn't dare do that. For what? Who gains from that? Not my people. I just couldn't be a sellout. I couldn't be an enabler," Rihanna told Vogue in 2019. "There's things within that organization that I do not agree with at all, and I was not about to go and be of service to them in any way."

Kaepernick hasn't played for the NFL since 2016, but he worked out with the Las Vegas Raiders as a free agent earlier this year.
Rihanna's halftime performance will be her first major show since 2018, when she sang at the Grammys. She has not released a new album since 2016's Anti, focusing instead on her Fenty makeup and lingerie lines. She also had her first child with rapper A$AP Rocky this year.

Fans were thrilled by the news of her Super Bowl appearance and speculated that new music from her might (finally??) be coming.
The 57th edition of the NFL championship is set to be played Feb. 12 at State Farm Stadium, home of the Arizona Cardinals, in Glendale, Arizona. The halftime performance is being sponsored by Apple Music for the first time and, as such, is being referred to as the Apple Music Super Bowl Halftime Show.

Over the years, the sports and pop culture event has drawn millions of viewers with iconic performances by the biggest names in music, including Beyoncé, Lady Gaga, J.Lo, Shakira, Prince, and Bruno Mars. The 2022 event featured Dr. Dre, Snoop Dogg, Eminem, Mary J. Blige, Kendrick Lamar, and surprise guest 50 Cent in what was basically a millennial therapy sesh.
For those of you who only pay attention to the Super Bowl for the halftime performance, it's too early to say which teams might headline the sports part of the annual affair. Yes, Tom Brady is still playing (remember when he fake retired?), and he is very much still good at football. So is Aaron Rodgers, though we don't like to talk about him anymore.
At the last Super Bowl, the Los Angeles Rams beat the Cincinnati Bengals 23–20 in a thrilling game that saw each team take the lead at various points.