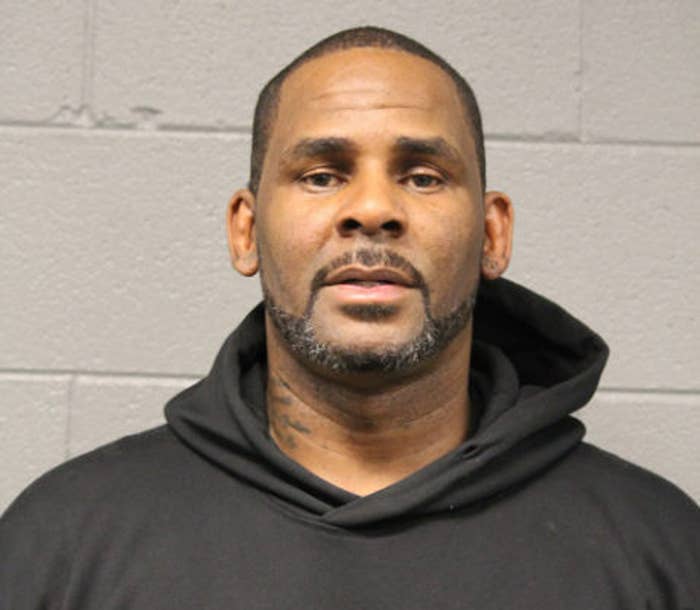 CHICAGO — An Illinois court heard new details of the aggravated criminal sexual assault charges against R. Kelly during a bond hearing on Saturday, as prosecutors said he first met one of his alleged victims as she waited outside his 2008 child pornography trial to seek his autograph.
Cook County Judge John Fitzgerald Lyke Jr. set Kelly's bond at $1 million, or $250,000 for each of his alleged four victims. As part of what's known as a D-bond, the judge ruled Kelly would have to pay 10%, or $100,000, of the full bond to be released from jail pending his trial.
Kelly's attorney, Steve Greenberg, told reporters the singer did not have "$100,000 sitting in the bank, in a box, anywhere" due to what he said were "bad deals, bad people."
"His record company dumped him. He has no way to get residuals of music because he has no way to get the music on the platforms," the lawyer said.
Still, Greenberg said, Kelly would find a way to scrape together the bail funds.
In a packed courtroom, the judge also ruled Kelly would have to surrender his passport.
"Contrary to the song, Mr. Kelly doesn't like to fly," Greenberg told the court, assuring the judge his client was not a flight risk.
Kelly was also barred from communicating with any of his four alleged victims and was told he could not have any relations with anyone 18 years old or younger.
Wearing black sweatpants and a black hoodie, the singer was somber in court and looked at the ground as he held his hands behind his back.

Kelly spent the night in Cook County Jail following his arrest late Friday upon turning himself in to Chicago police.
The singer has denied any wrongdoing, while his attorney has insisted all of his accusers are lying.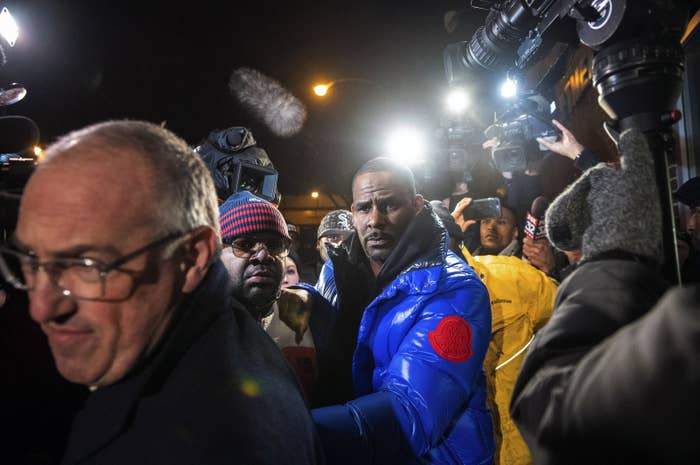 Kelly had been charged with 10 counts of aggravated criminal sexual abuse involving four victims, three of whom were minors between the ages of 14 and 16 at the time of the alleged incidents. All of the women, who were identified by prosecutors only using their initials, are adults now. The alleged crimes date back as far as 1998 to as recently as 2010.
Prosecutors said that one of Kelly's victims, J.P., was just 16 years old when she met the R&B musician outside his 2008 criminal trial while waiting for his autograph. The singer was 42 to 43 years old at the time, according to prosecutors. (Kelly was acquitted at that trial on charges of making child pornography.)
Officials said the girl told Kelly her age and he then invited her to Olympia Fields home. Between May 1, 2009 and January 31, 2010, Kelly allegedly had both vaginal and oral sex on multiple occasions with the girl, according to court documents. "At times, Robert Kelly would spit on her, slap her in the face and choke her," prosecutors wrote. Kelly's DNA was allegedly discovered by police on one of the shirts the girl was wearing when he ejaculated on her.
DNA testing also came up in the alleged sexual abuse of Kelly's 24-year-old hairstylist in 2003. The woman, identified only as L.C., told authorities she was waiting alone for an appointment with Kelly to braid his hair at his studio when the singer allegedly entered the room with his pants down and penis exposed, telling her that he didn't want "his hair braided that day, he wanted his head massaged."

Kelly allegedly grabbed the woman by her head and tried to force her mouth onto his penis, however she was able to resist. He then was said to have masturbated and ejaculated on her and "spit in her face several times." Prosecutors say the shirt the victim was wearing was submitted to DNA testing and the semen matched Kelly's DNA profile.
The singer was also alleged to have had vaginal and oral sex on multiple occasions with a girl who he met at her 16th birthday party at a Chicago restaurant in 1998.
Additionally, a witness told authorities that in 2001 they had obtained, at Kelly's direction, a video tape of him having sex with a girl who said in the film that she was 14 years old. The video was subsequently turned over to prosecutors, who said it was not the same tape from Kelly's 2008 trial.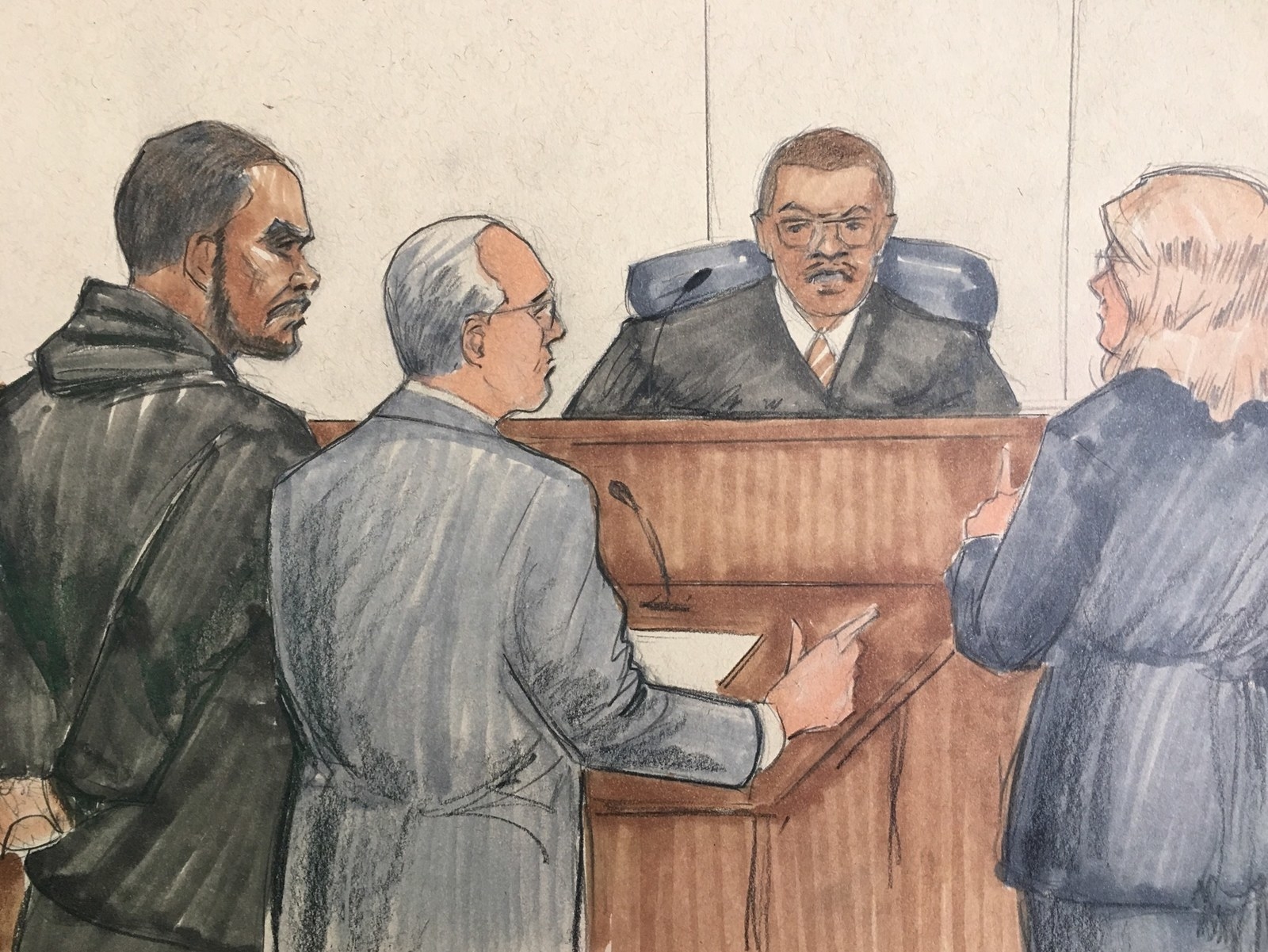 During a press conference held in the courthouse lobby, Greenberg placed blame on the #MuteRKelly movement for the singer's woes.

"[Kelly] is devastated. He was someone who was a huge star. Unfortunately there was this whole hashtag movement just because someone says something now," he said. "We have to look at the cases and see how credible it is."
Journalist Jim DeRogatis, who reported for BuzzFeed News in 2017 that parents had told police Kelly was keeping their adult daughters in a sex cult, openly sparred with Greenberg over his comments. After Greenberg accused the reporter of trying to sell books, DeRogatis called the attorney's comments about the victims "disgusting."