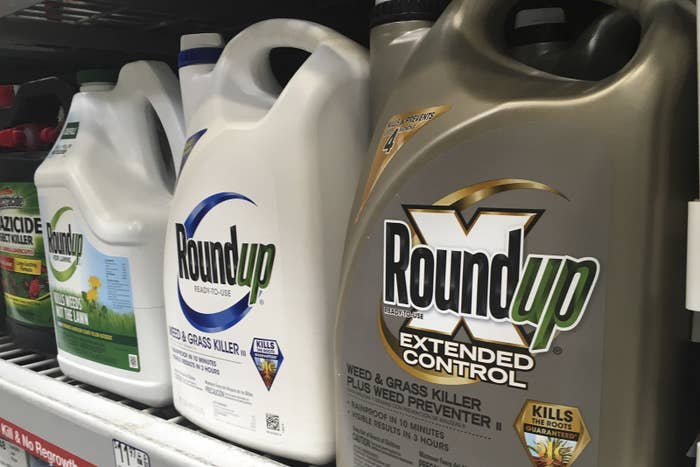 A California jury awarded $2 billion on Monday to an elderly couple that developed non-Hodgkin's lymphoma after years of using Monsanto's popular weed killer Roundup, delivering a major blow to the agrochemical giant.
The jury found the company failed to warn consumers that Roundup could cause cancer, attorneys said, dealing the company its third major loss in court in a series of lawsuits claiming the herbicide was behind the development of cancer.
"Two billion dollars in punitive damages is as clear a statement as you can get that they [Monsanto] have to change what they're doing," Brent Wisner, who represented Alva and Alberta Pilliod, said in at a press conference. "Monsanto needs to change its conduct."
A spokesperson for Bayer, the parent company for Monsanto, told BuzzFeed News the company believed the $2 billion punitive judgment was "excessive and unjustifiable" and it planned to appeal the decision.
"Bayer is disappointed with the jury's decision and will appeal the verdict in this case," the company said.
"We have a great sympathy for Mr. and Mrs. Pilliod, but evidence in this case was clear that both have long histories of illnesses known to be substantial risk factors for non-Hodgkin's lymphoma (NHL)," it said.
In response, Bayer pointed to a recent statement from US Environmental Protection Agency released April 30, which found that glyphosate posed "no risk to public health."
"EPA has found no risks to public health from the current registered uses of glyphosate," EPA Administrator Andrew Wheeler said in a statement.
The chemical is the most commonly used herbicide in the US, according to the agency, and it's used on more than 100 food crops.

"If we are going to feed 10 billion people by 2050, we are going to need all the tools at our disposal, which includes the use the [sic] glyphosate," Agriculture Secretary Sonny Purdue said in April.

The EPA's findings would contradict a 2015 report from the World Health Organization's International Agency for Research on Cancer, which found glyphosate was probably carcinogenic to humans.
As multiple cases make their way to court, documents released in legal proceedings have also raised questions regarding the research of glyphosate. Internal emails and suggest Monsanto had ghostwritten research involving the chemical and that an EPA official had possibly moved to influence reviews by the government agency.
The EPA's office of inspector general is reportedly looking into the allegations.
Meanwhile, environmental groups applauded the jury's decision Monday.
"Juries informed by independent science have repeatedly rejected the Monsanto-promoted myth that glyphosate poses no cancer risks," Nathan Donley, senior scientist at the Center for Biological Diversity, said in a statement. "It's telling that this important verdict comes just two weeks after the Trump EPA proposed to re-approve this cancer-linked pesticide as safe."
The Pilliods bought their first home in 1982, attorneys said, and later bought four more properties. From then on, the couple used Roundup about once a week for about nine months a year until they were diagnosed with cancer. Attorneys said the couple sprayed their properties with the weed killler regularly thinking it was safe.
"Nobody ever told them it was dangerous," Michael Miller, another attorney who represented the couple, said. "They saw ads on TV. They thought they could trust the company. They were wrong."
Alberta Pilliod continues to need about $20,000 a month in medication, including chemotherapy, to fight a brain tumor that has been detected twice, her attorney said.
"We wish that Monsanto had warned us ahead of time of the dangers of using Monsanto and that there was something in the front of their label that said 'Danger, may cause cancer,'" Alberta Pilliod said at the press conference. "It's changed our lives forever. We can't do the things that we used to be able to do, and we really resent Monsanto for that fact."
Monday's decision is the latest and most devastating blow to the company, which is facing thousands of similar cases.

In August, a San Francisco jury handed an unanimous decision to award $290 million to Dewayne Johnson, who claimed the active ingredient in Roundup — glyphosate — caused him to develop non-Hodgkin's lymphona.

Monsanto said it planned to appeal that decision, with its vice president declaring "the jury got it wrong."
In March, a federal jury again found that the herbicide played a significant role in causing Edwin Hardeman, 70, to develop cancer.
In the most recent case, Alva and Alberta Pilliod, of Livermore, California, claimed that after using Roundup for more than 30 years to landscape their home and other properties, they were both diagnosed with the same type of non-Hodgkin's lymphoma.
Alva was diagnosed in 2011, while Alberta Pilliod was diagnosed in 2015.
On Monday, a jury handed down a $2.055 billion decision in favor of the Pilliods, including $1 billion each in punitive damages against Monsanto.
Brent Wisner, one of the attorneys who represented the Pilliods, said this most recent case not only sent a message to Monsanto, but to the EPA, which he accused of helping hide the effects of glyphosate.

"For 45 years the EPA has been saying it doesn't cause cancer," Wisner said. "They'd have to come to grips that they have blood in their hands."