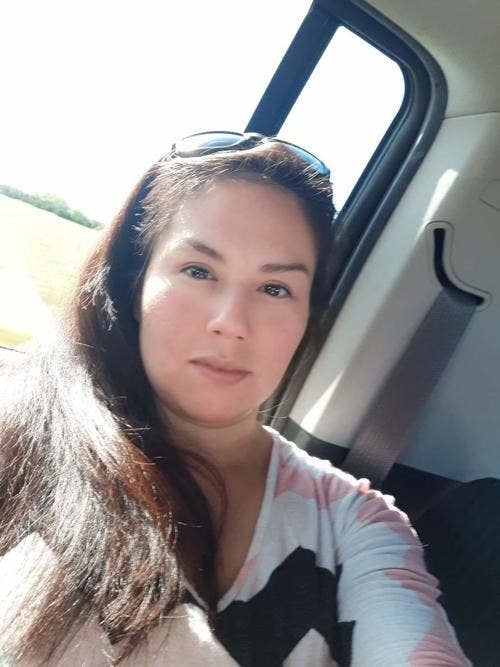 People around the world are remembering family and friends who have died during the coronavirus pandemic. BuzzFeed News is proud to bring you some of their stories. To support our coverage, become a member and sign up for our newsletter, Outbreak Today.
She was 7 months pregnant, sick, scared, and in prison.
The cough and fever wouldn't subside, so federal prison officials took Andrea Circle Bear to John Peter Smith Hospital in Fort Worth, Texas, where doctors told her she had pneumonia. There, doctors let her call her grandmother, Clara LaBeau, one last time.
"I prayed with her, and we said our goodbyes," LaBeau, a South Dakota resident, told BuzzFeed News. "We loved each other, and she said to tell her children that she loved them and that was the last time I talked to her."
That same day on March 31, prison officials said Circle Bear was placed on a ventilator. Four weeks later, on April 28, she died from COVID-19.
If doctors or prison officials suspected Circle Bear had been infected with the novel coronavirus, the 30-year-old did not tell her grandmother during that last phone call. She had stood out in the cold, with no jackets or coverings, on March 20 when she was transferred from Winner City Jail in South Dakota to FMC Carswell in Texas, so she told her grandmother she must have developed the illness then.
Circle Bear also didn't mention any plans to give birth early, but the following day, her daughter was born by Cesarean section.
"I was not thinking she was going to deliver because she was admitted for pneumonia," LaBeau said.
According to the Federal Bureau of Prisons, Circle Bear was confirmed to be positive for COVID-19 on April 4, four days after she had been placed on a ventilator.
As of Thursday, 2,820 inmates in federal custody have tested positive for COVID-19. But Circle Bear's coronavirus-related death is the first for a woman federal inmate.
Officials said the 30-year-old had been considered "high risk" because of a preexisting medical condition, but LaBeau said she is not sure what the condition was.
She said LaBeau's pregnancy was considered high risk because she had five previous C-sections, but she was never told that put her at higher risk for COVID-19 complications.
During the phone call on March 31, a doctor did get on the line and asked LaBeau if she was the person who would care for Circle Bear's daughter when she was born, but LaBeau assumed she meant when the baby was expected to be born, in May.
"I didn't know until the next day when she delivered that she was on a ventilator," LaBeau said. "I asked if (Andrea) knew about her having her baby, and they said, no."
Circle Bear was sentenced to 26 months in prison on Jan. 14 after she was convicted on a charge of maintaining a drug-involved premises.

Court records indicate she was arrested after she sold methamphetamine to a confidential informant on April 24 and 30, for a total of $850.
LaBeau said Circle Bear had been living with her at the time with her five children.
Circle Bear had struggled with substance abuse, she said, but she had worked to get clean. Last summer, she had gotten her own place, LaBeau added.
She was hoping to complete her sentence and return to her children, but the prospect of going to prison, out of state and away from her family, frightened her.
"She was afraid and crying," LaBeau said, referring to a phone call she had with her granddaughter.
LaBeau said her granddaughter was focused on her five children and making a good life for them. They were sent to live with her grandfather while she completed her prison sentence.
The two were close, and LaBeau taught her granddaughter how to bake, although Circle Bear had come into her own in the kitchen, she said.
Growing up, Circle Bear had been an outdoorsy kid, who liked playing sports and was friendly. She played basketball and loved going fishing with her father.
"She was good as far as I know," she said. "A good kid."
LaBeau and her granddaughter became close as she grew up. Now, while working full-time and in her seventies, LaBeau has unexpectedly taken custody of Circle Bear's newborn daughter, Elyciah.
LaBeau doesn't think Circle Bear had any idea that she might have to give birth early.
"If she knew that," she said, "I'm sure she would have said something."