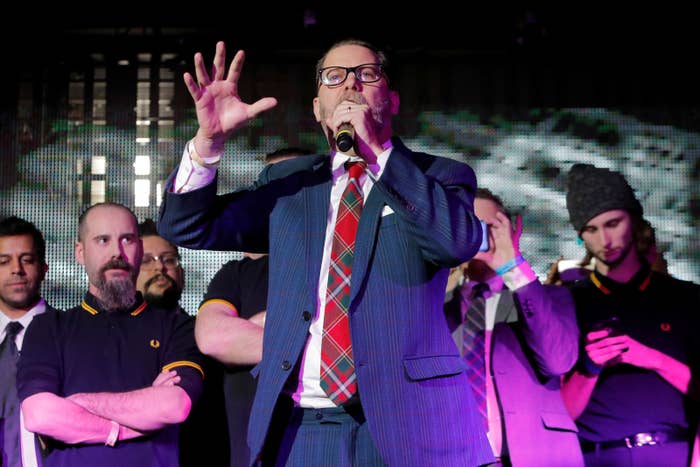 Twitter suspended several accounts associated with the Proud Boys, a right-wing group present at last year's Unite the Right rally in Charlottesville, ahead of a similar rally in Washington, DC, this weekend.
The company suspended the group's main account @ProudBoysUSA, as well as that of its founder Gavin McInnes, for violating its policy on "violent extremist groups." The company also took down several regional accounts associated with the organization.
"We can confirm that these accounts have been suspended from Twitter and Periscope for violating our policy prohibiting violent extremist groups," a company spokesperson said in a statement to BuzzFeed News.
The move comes after a week in which Twitter has faced heavy criticism for continuing to allow the accounts of conspiracy site Infowars and its founder Alex Jones, who has promoted various false theories around events including the Sandy Hook shooting. While Twitter CEO Jack Dorsey has explained that the company does not believe Jones or Infowars have violated its terms of service, the same cannot be said of the Proud Boys, whose members have taken part in violent rallies across the country, including one last week in Portland.
The account @ProudBoysUSA was previously verified by Twitter, one of a number of right-wing accounts the social media company gave the vaunted blue check.
McInnes, a cofounder of Vice magazine who left the publication in 2008, formed the Proud Boys in 2016; the group gained notoriety for its presence at far-right rallies and vociferous support of President Donald Trump. Its members, who typically appear at events wearing black Fred Perry polo shirts with gold piping, were present at last year's Charlottesville Unite the Right rally, which devolved into violence and resulted in the death of counterprotester Heather Heyer.
In response, McInnes said, "All this stuff is part of the conservative purge, getting the right off social media, to try to stop Trump from getting reelected. He's already won; the ship has sailed. I think it will have zero effect on my reach or on the Proud Boys. We'll always come back." He also mused about suing Twitter.
Most recently, the Proud Boys were present at a rally that turned violent in Portland. Members claim to be "Western chauvinists" and often use racially charged rhetoric about "anti-white guilt." They deny connection to the so-called alt-right but speak alongside avowed neo-Nazis at rallies, saying they are defending free speech.

Among the accounts suspended by Twitter on Friday were regional Proud Boys groups such as @ProudBoysOhio, @ProudBoysCA, @Proud_Boys_IL, @ProudBoysVT, @ProudBoysNH, @ProudBoysOR, and @ProudBoysNeb. Others included @ProudBoys1776, @proudboysgirls, @proudboysunite, and @ProudboysCanada, as well as two accounts, @proudboysFOAK and @FOAKUSA, which are associated with the Fraternal Order of Alt-Knights, a paramilitary training group within the Proud Boys.
Some Proud Boy–related accounts seemed to escape the suspension. As of 4:25 p.m. Friday, @ProudBoys_CT and @Proud_Louisiana accounts connected to the organization's groups in Connecticut and Louisiana remained online.
Caroline O'Donovan and Max Woolf contributed reporting to this story.