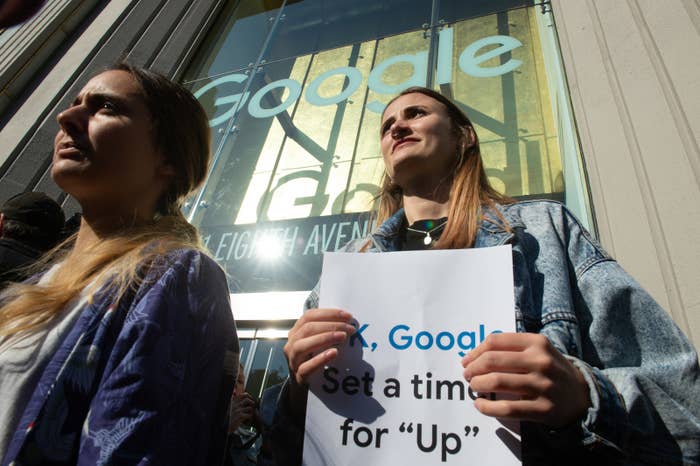 Google announced several changes to internal policies on employee sexual misconduct Thursday in an attempt to improve company culture and develop what its leaders believe will be a more "representative, equitable, and respectful workplace." The move follows a company-wide protest about its handling of sexual misconduct issues last week.
On Thursday, Google CEO Sundar Pichai sent a note to employees detailing the changes, some of which had been demanded by the protest's organizers, including an end to mandatory arbitration in cases of sexual misconduct and transparency reports detailing investigations and disciplinary action taken in cases of sexual harassment. Google did not address all of the organizers' demands, namely promoting the company's chief development officer to report to the CEO and appointing an employee representative to the board of directors.
"We recognize that we have not always gotten everything right in the past and we are sincerely sorry for that," Pichai wrote in a note to employees ahead of the meeting. "It's clear we need to make some changes."
Google also held an all-staff meeting Thursday morning to discuss the changes and while some were optimistic heading into the meeting, the response following the gathering was much more muted.
"I think the plan is great progress," one worker, who asked to remain anonymous for fear of retaliation, said before the meeting. "It shows how much pressure we're putting on. There's very clear progress on three of the demands and I think that's a big win. But I also think none of the demands is 100% met by this plan, and some aren't addressed at all. So I think pressure's going to continue."

After the meeting, however, the same employee said that Google's executives "are still not getting how big this problem is." To illustrate their point, they described how one person at the staff gathering asked if executive culture had contributed to the problems at Google. The anonymous employee said multiple colleagues described the response from management as "tone deaf."
Last week, 17,000 employees and contractors walked out during the workday to protest a company that had protected and paid senior executives who had been accused of sexual harassment and misconduct. The walkout, which took place in company offices from Tokyo to San Francisco, followed a New York Times story that detailed several instances of inappropriate conduct and behavior from former and current Google leaders, including Android creator Andy Rubin, who obtained a $90 million exit package upon his 2014 departure from the company despite an existing sexual misconduct investigation.
One concession Google made is a partial end to mandatory arbitration, a rule typical of many employment contracts that prevents employees from suing their employer in open court. Google employees asked for "an end to forced arbitration in cases of harassment and discrimination for all current and future employees."
In his email, Pichai said Google would "make arbitration optional for individual sexual harassment and sexual assault claims," though that route will still be available to employees. One current Google employee who participated in the walkout said the change seemed like a considerable concession, though it remains concerning for some employees, as Google will determine which claims meet the requirements to avoid mandatory arbitration.
Walkout organizers also demanded that Google acknowledge "a right for every Google worker to bring a co-worker, representative, or supporter of their choosing when meeting with HR, especially when filing a harassment claim." The company added this policy and now allows workers to be accompanied by a support person.
Among the biggest concerns for organizers of last week's protest was the application of all sexual harassment policies to everyone who worked at Google, including temporary workers, vendors, and contractors (TVCs). The action plan developed by the search and advertising giant, however, says suppliers and third-party contracting companies, not Google itself, will be responsible for addressing the complaints made by non–full-time employees. Failure to address complaints made by contractors could lead to Google terminating its contract with a supplier or third-party company.
"Sundar ignored the demand for a worker to be represented on the board and TVCs continue to have no adequate protections from sexual harassment, and they make up over half the Google workforce and are disproportionately women and people of color," said a spokesperson for the Tech Workers Coalition, a pro-worker activist group. "This deliberate sleight demonstrates the caste-like system deployed by Google, which fails to protect its workers and our colleagues."
The initial demands from protest organizers also included a request for "transparent data on the gender, race and ethnicity compensation gap, across both level and years of industry experience." The company did not specifically say if it would address that issue.
Google also disclosed that one of the biggest factors in harassment complaints was alcohol, which was involved in about 20% of cases. In its action plan, the company said the onus was on team leaders to discourage excessive alcohol consumption through methods including the use of drink tickets at work events.
The walkout organizers responded to Google's policy change announcement on Thursday afternoon, writing that while the company "made progress" by addressing some demands " and troublingly erased those focused on racism, discrimination, and the structural inequity built into the
modern day Jim Crow class system
that separates 'full time' employees from contract workers."
The blog post is signed by nine Googlers — Demma, Stephanie, Tanuja, Claire, Celie, Erica, Meredith, Amr, Lauren. They noted that contract workers at Google are largely people of color or immigrants.
"The company must address issues of systemic racism and discrimination, including pay equity and rates of promotion, and not just sexual harassment alone," they wrote. "We look forward to meeting with Google leadership in working to meet all of our demands," the group wrote.
An anonymous Google employee echoed those concerns. During the town hall meeting held at Google on Thursday, to which contract workers were not invited, an employee asked a question about how executive culture had led to the mishandling of harassment investigations.
"Some of the execs sounded like they were focused on their feelings of being hurt by that question, at a time when the focus should be on the women who've experienced harassment and been further hurt in the process of trying to report it," the employee said.
Earlier this year, Google responded to employee concerns regarding the ethics of working with the Pentagon to build artificial intelligence–enabled drone warfare technology. When a dozen employees quit over the contract, called Project Maven, Google promised not to renew its agreement. Channels for employee organization within Google have been coalescing since then; the employee walkout, and Google's concessions, are the latest sign that both sides are aware of the unique leverage highly in-demand tech talent holds in Silicon Valley.
UPDATE
This story has been updated with details from Google's all-staff meeting on Thursday.