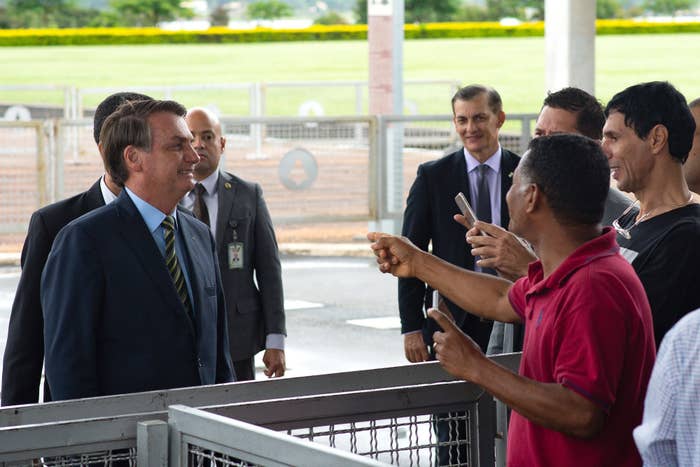 The journalists at BuzzFeed News are proud to bring you trustworthy and relevant reporting about the coronavirus. To help keep this news free, become a member and sign up for our newsletter, Outbreak Today.
On Sunday, Twitter deleted two tweets by Brazilian President Jair Bolsonaro because they contained false or misleading information about COVID-19, the disease caused by the novel coronavirus.

"Twitter recently announced the expansion of its rules to cover content that could be against public health information provided by official sources and could put people at greater risk of transmitting COVID-19," a spokesperson for the platform told BuzzFeed News.
The deleted tweets now redirect to Twitter's rules and policies page.
According to Brazilian newspaper Folha, the deletions were the first time the site has taken action against content posted by Bolsonaro, first elected in October 2018.
It's not the first time that the site has used its coronavirus policy to delete a post by a sitting head of state, which Twitter provides a wider latitude than for most users. Last week, the site deleted a post by Venezuelan President Nicolás Maduro for promoting a "natural brew" to cure COVID-19.
In the tweets, Bosolonaro posted videos of himself taken during a walking tour in Brasília on Sunday, in which the president praised the use of anti-malaria drug hydroxychloroquine for treating the virus and encouraged an end to social distancing and isolation measures in the country. Chloroquine and hydroxychloroquine attracted attention earlier this month after a small French study indicated positive results in treating COVID-19.
"What I have been hearing from people is that they want to work," Bolsonaro said in one of the deleted videos. "Brazil cannot stop or we'll turn into Venezuela," he added.
The videos were still available on Facebook until Monday evening, when both the platform and Instagram removed the video for violating community standards.
"We remove content on Facebook and Instagram that violates our Community Standards, which do not allow misinformation that could lead to physical harm," a Facebook spokesperson told BuzzFeed News.
Earlier this month, Twitter announced that it was changing its terms of service to prohibit tweets that denied global or local health authority recommendations, promoted treatments or protective measures not immediately harmful but known to be ineffective, denied established scientific facts about transmission, and other content relating to the virus that posed a health risk.
In October 2019, Twitter clarified that unless a world leader explicitly violated the site's rules, leaving no room for interpretation, the company would leave their posts up. "We focus on the language of reported Tweets," Twitter said in a blog post.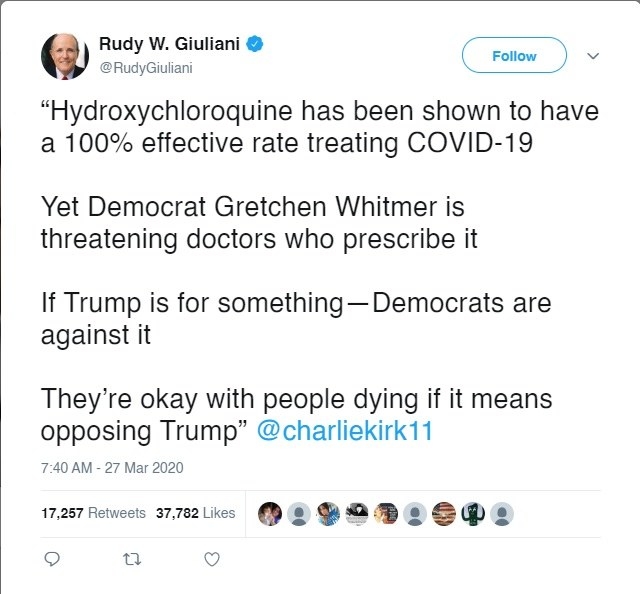 On Friday, Twitter also cited its COVID-19 content policy to delete a tweet from Rudy Giuliani, a lawyer working for President Donald Trump, which quoted Talking Points USA's Charlie Kirk and claimed the use of hydroxychloroquine was "100% effective" in treating COVID-19. Twitter also temporarily locked the account of THE right-wing news site Federalist and deleted one of its tweets that promoted "controlled voluntary infection" of COVID-19.

On Monday, a tweet by Fox host Laura Ingraham was removed for promoting the "promising results" of hydroxychloroquine in treating COVID-19. As was the
The statements made by Bolsonaro in the now-deleted tweets were similar to statements made by Trump in the last month, who tweeted favorably about hydroxychloroquine, as well as a need for Americans to return to work. As of Monday, both of Trump's tweets remain up.
"HYDROXYCHLOROQUINE & AZITHROMYCIN, taken together, have a real chance to be one of the biggest game changers in the history of medicine. The FDA has moved mountains - Thank You! Hopefully they will BOTH (H works better with A, International Journal of Antimicrobial Agents)....be put in use IMMEDIATELY. PEOPLE ARE DYING, MOVE FAST, and GOD BLESS EVERYONE," Trump tweeted last month.
"Our people want to return to work. They will practice Social Distancing and all else, and Seniors will be watched over protectively & lovingly," he tweeted on March 24. "We can do two things together. THE CURE CANNOT BE WORSE (by far) THAN THE PROBLEM! Congress MUST ACT NOW. We will come back strong!"