Twitter Just Explained Why It Hasn't Suspended Donald Trump
After Sen. Kamala Harris called for the president's account to be suspended, Twitter waited a few weeks, and then said no.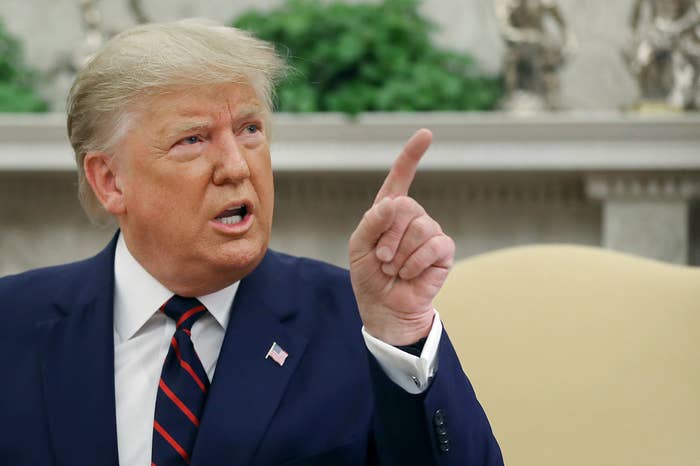 Twitter clarified when it will enforce rules against "world leaders." Which is Twitter's way of relaying what Donald Trump can do on the platform. The upshot: Unless Trump explicitly violates Twitter's rules, leaving no room for interpretation, the company will do nothing.
"We focus on the language of reported Tweets," Twitter said in a blog post Tuesday, "and do not attempt to determine all potential interpretations of the content or its intent."
Twitter's blog post comes in the wake of a series of controversial tweets from Trump that drew condemnation from Sen. Kamala Harris, a Democrat representing California and running for the party's nomination for president, who called for Twitter to suspend him.
"Trump's tweets about the whistleblower represent a clear intent to harass, intimidate, or silence their voice," Harris wrote in an open letter to Twitter CEO Jack Dorsey. "His blatant threats put people at risk — and our democracy in danger. His account must be suspended."
"When Trump is using his tweets to make threats, incite violence and intimidate witnesses, this is insufficient."
Reached for comment following the release of Twitter's world leader rules, a spokesperson for Harris told BuzzFeed News, "When Trump is using his tweets to make threats, incite violence and intimidate witnesses, this is insufficient."

With today's announcement, Twitter made it clear that intent doesn't matter, at least when it comes to its enforcement.
The company spelled out a series of "enforcement scenarios" under which it would take action, including promotion of terrorism, clear and direct threats of violence, posting private information or intimate photos, child sexual exploitation, or promoting self-harm.
Yet Twitter also left itself a Trump-sized hole in terms of how it said it will handle threats of violence: "context matters: as noted above, direct interactions with fellow public figures and/or commentary on political and foreign policy issues would likely not result in enforcement," Twitter said.
That hedge could mean that even if Trump — or other world leaders — do make some sort of violent threat toward an individual or even another country, the company would not necessarily take any enforcement action.