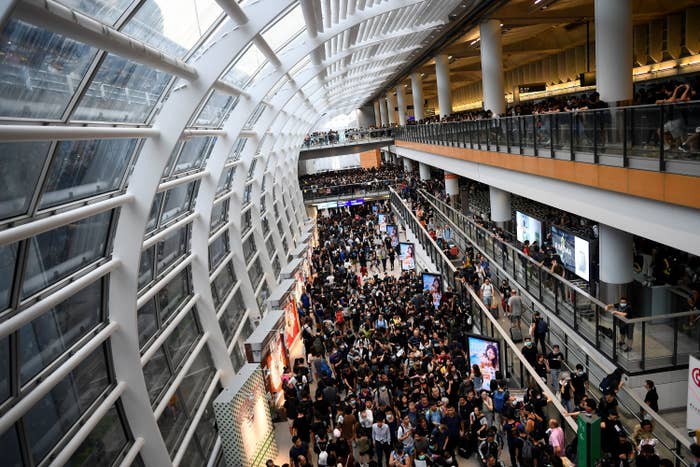 HONG KONG — Amid the cheers and crowds of protesters warning travelers of the Hong Kong airport's descent into chaos, Cantopop star and activist Denise Ho stood in the arrivals hall dressed in a denim shirt, taking photos of the scene on her phone.
"We saw the police brutality augmented, their tactics are going even farther than what's happened the last two months," Ho, who said she was at the airport to support the protesters, told BuzzFeed News.
In an unprecedented move, all outbound flights from the airport — one of the busiest in the world — were canceled Monday as protesters filled the terminal for the fourth day in a row.
Rumors swirled online that police might clear the airport, prompting streams of protesters to leave the airport around 6 p.m. Chinese authorities warned on Monday that the weekend's protests showed "the first signs of terrorism," adding some weight to their fears. But hundreds stayed behind, leaving the arrival hall dotted with the protesters' signature black shirts.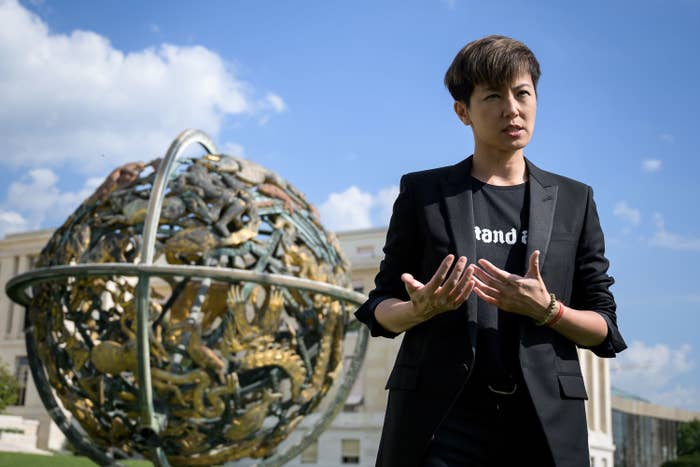 Ho, a major name in Hong Kong's Cantopop music scene, said she decided to stay, believing the reports were only rumors meant to disperse protesters, and called for protesters to not be swayed.
"If we scare ourselves that easily, it's going to be so easy for the police to break us apart. We have to stand strong and stand together," Ho said. "It's so easy to spread fear, and that is how the Communist Party manipulates everyone."
The pop star has been a longtime supporter of the pro-democracy movement in Hong Kong, and was arrested five years ago during the Umbrella Movement, the city's most recent major pro-democracy push until now.
"We'll have to exercise our creativity and smarts even more, and think of different ways to paralyze their system," she said. She added that she thought the decision to focus on the airport, leading the authorities to cancel more than 130 flights, "was a great move." Dozens of flights scheduled to arrive in Hong Kong were canceled as well.
As flights continued to arrive throughout the night, protesters handed out flyers with pictures of those who had been injured in the most recent protests. Some stood with their laptops open, playing videos of people who had been forcefully arrested, their faces pushed into the ground and bleeding.
Chants of "Don't trust Hong Kong police" welcomed those arriving. And signs warned travelers that police may fire tear gas in your face whether or not you're a protester.
"Welcome to Hell. Hong Kong is not safe anymore," read another sign.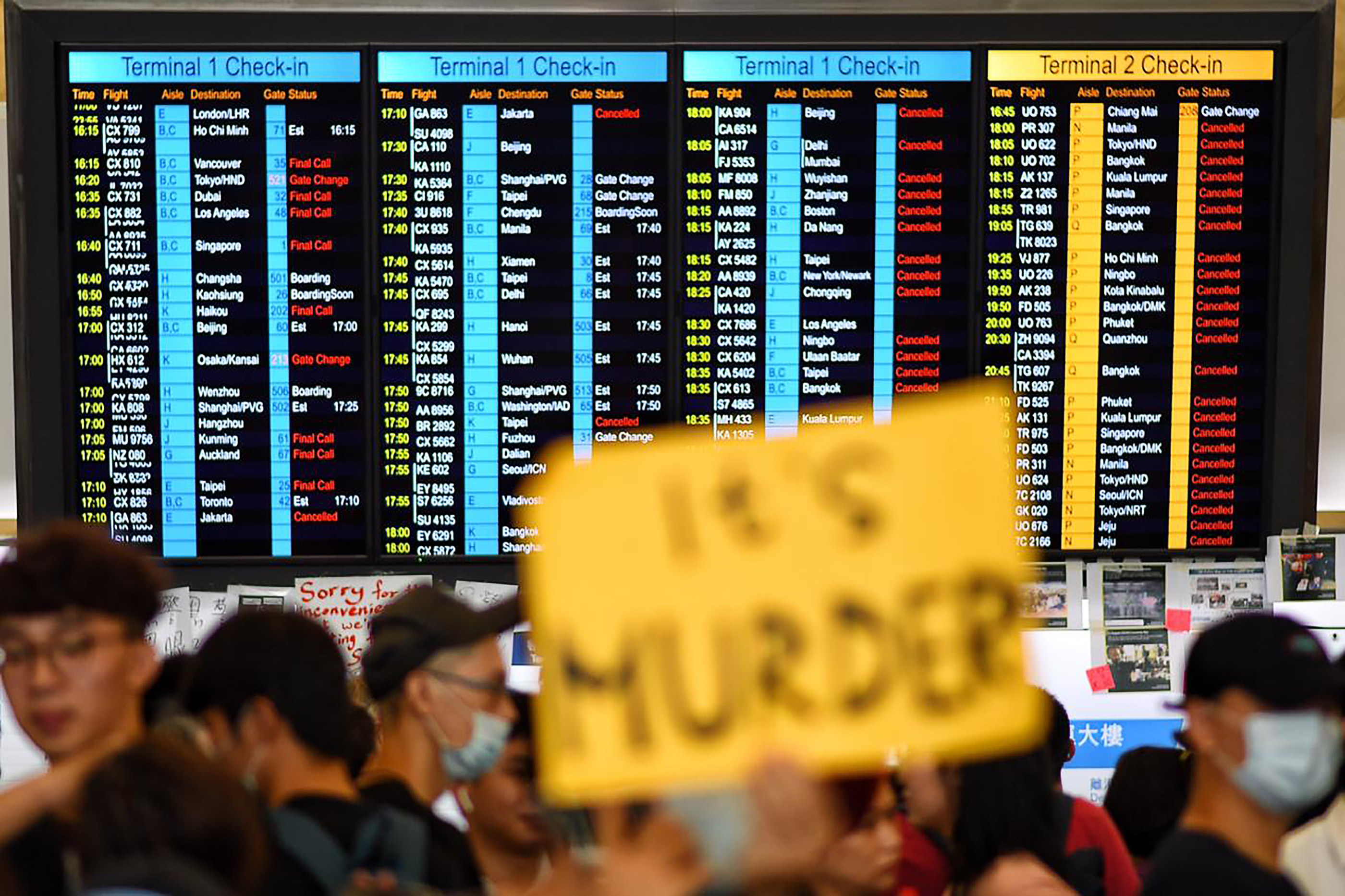 Many other Hongkongers in the travel hub echoed Ho and told BuzzFeed News they felt motivated to come out by the further escalation in violence over the weekend — just one week after a citywide strike. One woman was struck in the eye by a beanbag while police also fired tear gas directly into several subway stations. Police officers were also accused of posing as protesters.
"What happened last night is pure evil. They're going to kill someone with those tactics," said Chester Tsang, a 26-year-old protester who was at the airport Monday night.
Still, as the night wore on, and no police appeared, the crowd stayed largely genial. With shops closed down, protesters wheeled around carts usually meant for large suitcases that they had filled with snacks, water, and Filet-O-Fish sandwiches from McDonald's.
Protesters lounged on the floor of the arrival hall through the evening, waiting for new flights to land so they could renew their chants and warnings.
Another round of chants went: "Fight for freedom, stand with Hong Kong."
"I don't think we're in a time when anyone can really know what's going to happen next," said Ho. "This is absolutely a new situation, for China even."
A press release said that the airport would resume operations at 6 a.m. But as the crowd started to thin after midnight after the last flight had landed, many people said they would simply return tomorrow.