Republicans and conspiracy theorists aren't the only ones who love Twitter CEO Elon Musk. So do men's rights activists in India.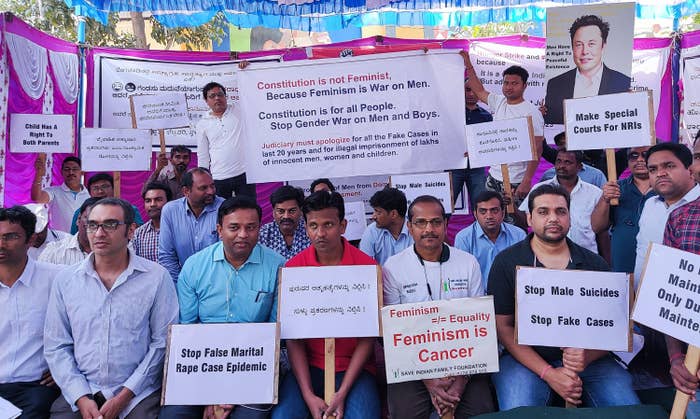 On Sunday, about 200 men from an organization called the Save Indian Family Foundation (SIFF) — a self-proclaimed men's rights group that claims Indian laws are biased in favor of women and are used to exploit men — gathered in Bangalore and literally worshipped a large picture of Musk, one of the world's richest men.
Musk's picture was emblazoned with the words "Men Have A Right To Peaceful Existence."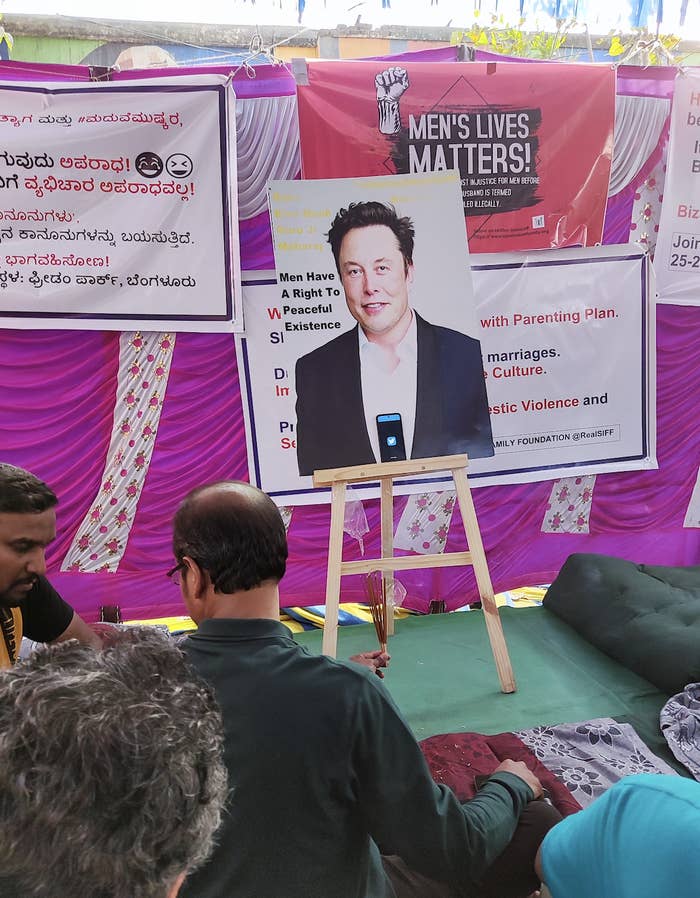 The group, which describes feminists as "intellectually challenged with very less academic grounding" and "ungrateful people" on its website, claimed that it was worshipping Musk for firing Twitter's "previous woke admins" who restricted its tweets.
"It's a big relief that Elon Musk is standing up for free speech and removing censorship," Anil Murty, a cofounder of SIFF, told BuzzFeed News. (He declined to provide evidence that the group's tweets were shadowbanned before Musk bought Twitter.)
Musk, who has fired over 70% of the company's employees (including content moderators) since he took over, became a right-wing darling for reinstating more than 15,000 accounts, including those of Donald Trump and far-right voices like Steve Bannon and MyPillow CEO Mike Lindell. But he's also banned people critical of him, including journalists, some of whom still remain locked out. 
Murty said that he is "grateful" for Musk's "small contribution" to SIFF's cause. Thanks to Musk's overhaul of Twitter's verification policy, Murty was finally able to pay to get the SIFF account verified, he said. "Earlier, verification was discriminatory," Murty said. "Now it's more fair."
At the group's event, members prayed Hindu-style, bowing their heads before Musk's picture and touching the ground in reverence as the sounds of conches and temple bells filled the air. Here's a video of what went down.
SIFF
The men also chanted their own versions of Sanskrit mantras, loosely translated to "Salutations to Elon Musk," "Salutations to Twitter," and "Salutations to evicting feminists from the platform."
"Groups like these hijack the notion of 'rights' and are actually about saving patriarchal privilege more than anything," Kavita Krishnan, a women's rights activist based in India, told BuzzFeed News. "Unfortunately, with his actions so far, Musk is sending a signal to these kinds of people that it's open season on Twitter for them."
On Twitter, many criticized the group's tweet about the event, calling it "cringe" and "embarrassing."
When asked about the backlash, Murty said he was glad people seemed to be paying attention. "Worshipping Musk was like our version of performing The Vagina Monologues," he said.