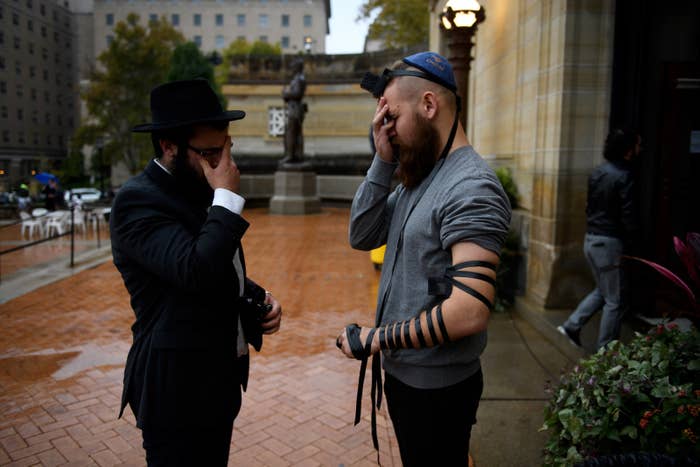 Gab, the controversial social network widely seen as a haven for the far-right on the internet, has pulled its website after GoDaddy, the world's largest domain provider, gave it 24 hours to move to another service.

GoDaddy made the decision after it emerged that Robert Bowers, a 48-year-old Pittsburgh resident who allegedly shot and killed 11 people on Saturday morning at a synagogue in the city, regularly posted anti-Semitic messages on the platform.
In a statement issued to BuzzFeed News, GoDaddy said: "We have informed Gab.com that they have 24 hours to move the domain to another provider, as they have violated our terms of service. In response to complaints received over the weekend, GoDaddy investigated and discovered numerous instances of content on the site that both promotes and encourages violence against people."
Over the weekend, Gab was also blocked by PayPal, Medium, Stripe, and cloud infrastructure company Joyent. Last year, it was banned from the Apple App Store and Google Play for content violations. And in August, Microsoft threatened to ban the network unless it removed anti-Semitic posts within 48 hours.
"Gab.com is under attack. We have been systematically no-platformed by App Stores, multiple hosting providers, and several payment processors," reads a message on Gab's website.
It goes on: "We have been smeared by the mainstream media for defending free expression and individual liberty for all people and for working with law enforcement to ensure that justice is served for the horrible atrocity committed in Pittsburgh." The message adds that the social network is looking for a new domain hosting provider and "will be inaccessible for a period of time."
Technology platforms have been banning right-wing extremist websites and accounts that amplify bigotry ever since a white supremacist drove a car into a group of protesters and killed Heather Heyer, a 32-year-old legal assistant, in Charlottesville, Virginia, in August 2017.

In the wake of that attack, GoDaddy kicked off the Daily Stormer, a popular neo-Nazi and white supremacist website, which posted a scathing article about her.