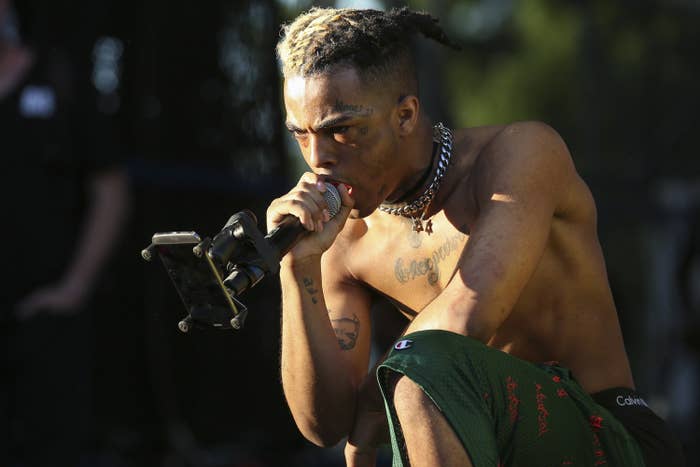 The three men who were convicted of murdering hip-hop artist XXXTentacion were sentenced to life in prison on Thursday.
Michael Boatwright, 28, Dedrick Williams, 26, and Trayvon Newsome, 24, were convicted of first-degree murder and armed robbery on March 20 in the death of the 20-year-old rapper, whose real name was Jahseh Onfroy.
Text messages, witness testimonies, and video revealed in court that they planned and executed an ambush of the rapper's BMW SUV, shooting him through the driver-side window on June 18, 2018. They then grabbed a Louis Vuitton bag from the SUV that contained $50,000 in cash.
Robert Allen, 26, a fourth suspect, pleaded guilty last year to second-degree murder and testified against his former friends. Allen testified that he and the three other men made their plan to rob the rapper after they found him in Riva Motorsports in suburban Fort Lauderdale. His sentence is pending.
Before Boatwright's sentencing on Thursday, Pascale Achille, the prosecutor, asked Judge Michael Usan to add an additional 30-year sentence for violating the conditions of his probation. She asked that sentence be served consecutively to his life sentence, citing his "abhorrent behavior" in court.
"Several times during the trial, Mr. Boatwright did not appear to take these matters seriously," Achille said.
The judge said the court was shocked by the behavior of Williams, who originally identified the rapper inside the dealership, after the murder. Photo and video evidence revealed him dancing with the money he had stolen immediately after the crime and then spending it the next day.
"A person who had any measure of human decency or remorse for killing someone would not likely be seen dancing around and filming themselves with stolen money of how proud you were of yourself," Usan said. "The very next day when you went to spend that blood money on sneakers and jerseys, you revealed to the court the value you place on the human life that was taken to a pair of sneakers."
During the sentencing, family members of the rapper spoke about how his death had affected their lives. They added that all three defendants did not appear to take the sentencing seriously and showed no remorse for the life they took.
Attorney Solomon Sobande, who represented the rapper's family, read a statement on their behalf in court.
"We sat through this entire trial without seeing the defendants display a single ounce of remorse for taking Jahseh's life, smiling at us, blowing kisses, waving, without taking into consideration you not only killed the son, but you killed the father," Sobande read.
Melody Jones, the rapper's great-aunt, told the court that she and the family felt insulted every time they saw the defendants smirk during proceedings.
"Each time I attended court and I looked over at you, especially you, Micheal Boatwright, I saw you smirking, and you showed no remorse," Jones said. "As a matter of fact, when my eyes wandered across the room, all of you guys' faces, you guys showed no empathy to the family you destroyed with your evil, callous deeds."