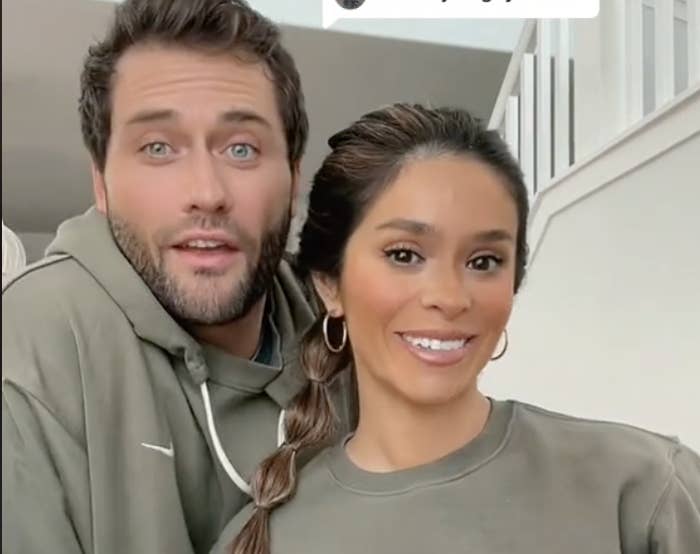 The TikTok influencer who went viral last year after talking about "soft swinging" within her circle of Mormon mom friends has been charged with domestic violence after she was arrested at her home earlier this month.
Taylor Frankie Paul, 28, was charged on Tuesday with two counts of domestic violence in the presence of a child, aggravated assault, criminal mischief, and child abuse following her arrest on Feb. 17, according to court records obtained by BuzzFeed News.
According to a Herriman, Utah, police officer's declaration, Paul and her boyfriend, Dakota Mortensen, were involved in a heated argument while Paul's children were present. As Mortensen attempted to leave the home, she threw her phone and a wooden playset at him, the document said.
As the argument continued, Paul threw "heavy, metal chairs" at Mortensen, which left holes in the wall, police said. After Paul threw the second chair, Mortensen told Paul to stop because her 5-year-old daughter was next to him on the couch. Despite being told to stop, Paul threw another chair, which struck her 5-year-old in the head and left her with a painful bump, the declaration said.
According to the declaration, video evidence shows that the 5-year-old can be heard crying after being hit with the stool. The video described in the document also revealed that Paul kicked Mortensen, put him in a chokehold, and hit him multiple times.
"Dakota reported feeling scared for his life," the officer's declaration said. "Dakota was observed with redness and swelling around his eyes, swelling on his elbow, scratches on his fingers, and a laceration on his neck."
Paul shares custody of her two children with her ex-husband, and she regularly features them on her TikTok, where she's amassed more than 4 million followers. Paul went viral last year after she opened up about her "soft swinging" lifestyle with her then-husband. The two divorced after Paul revealed that she "stepped out of that agreement," and her posts had sparked speculation about whether any other TikTok-famous Utah influencers might have been involved.
Since then, she's posted about her mental health, coparenting, and her new relationship. She revealed in posts that she and Mortensen had been excited when she became pregnant, but it was an ectopic pregnancy.
"Cheers to the SHITTIEST year of my entire life," she posted on Instagram in December 2022. "From rough marriage, to swinging, to divorce, to major loss of some family, best friends, friends, my and kids part time, trying to be be in another relationship but can't let myself be happy, to ectopic pregnancy, to deep depression meanwhile millions of people watched it all and gave their lovey opinions."
Paul has not posted since her arrest.
It wasn't immediately clear if Paul has retained an attorney. She is expected to be in court on March 21.
Sim Gill, the district attorney for Salt Lake County, told BuzzFeed News that the charges against Paul are allegations.
"There's a presumption of innocence, but at this point, taking and looking at both the officer's statements, any video evidence, as well as statements from parties that are involved, we concluded that we have sufficient probable cause for the purposes of warranting the filing of charges," he said.