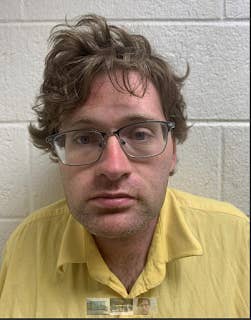 A man who was arrested on hate crime charges for allegedly spray-painting the word "groomer" on the front door of two libraries is now facing charges of possessing child sex abuse materials.
Charles Sutherland, 31, was charged on March 3 with at least seven counts of possessing child sex abuse materials, according to court records.
Prince George's County, Maryland, police said Sutherland, who had worked as a librarian at Northview Elementary School in the city of Bowie, was charged in June 2022 with hate crimes and vandalism after he allegedly wrote "groomer" on the front entrance of local libraries. At the time, the Washington, DC, area was celebrating Pride. Sutherland's hate crime case is ongoing, and his attorney did not immediately respond to BuzzFeed News.
According to local news outlet WUSA9, Sutherland has been on administrative leave from his job at the school since his arrest and admitted to the vandalism. He allowed officers to search his home, where they found several diapers, children's dolls, and a child-sized doll in his bed, according to WUSA9.
Sutherland had allegedly confessed to having child sex abuse materials on his laptop, and a forensics examination of Sutherland's laptop found seven files of child sex abuse materials, WUSA9 reported.
In recent years, far-right activists have targeted libraries for including books about the LGBTQ community and hosting drag storytimes. Libraries across the country have faced violent threats, and teachers, librarians, or others who speak about LGBTQ issues have been accused of attempting to "groom" children for sexual abuse.
Sutherland is next set to appear in court for the child sex abuse materials charges in April and in August for the hate crime charges, according to court records.