For the first time on record, the new forensic science of genetic genealogy has been used to identify a suspect in a case of violent assault. Cops in Utah had to obtain special permission to upload crime scene DNA to a website called GEDmatch, which had previously only allowed police to investigate homicides or rapes.
Critics worry that the case, which led to the arrest of a 17-year-old high school student who has not yet been named, marks the start of a "slippery slope" to law enforcement using such methods to investigate increasingly less serious offenses, eroding people's genetic privacy.
"This is very disturbing," Leah Larkin, a genealogist in Livermore, California, who helps adoptees find their biological relatives, told BuzzFeed News. "We're right here on the precipice, sliding down."
The terms of service on GEDmatch, a website used by genealogy enthusiasts to research their family trees, are clear: If cops want to use the service to crack criminal cases, they need to be investigating a homicide or a sexual assault.
Detectives in Centerville, Utah, were not. They wanted to catch the assailant who broke into a Mormon church on Nov. 17, 2018, and put a 71-year-old woman who was playing the organ in a chokehold. She passed out several times, according to a police press release, but survived the attack.
When the DNA analysis company Parabon NanoLabs told Centerville police that it couldn't upload a DNA profile from the crime scene to GEDmatch, the lead detective didn't take "no" for an answer. He went to Curtis Rogers, a retired businessman in Florida who runs GEDmatch, and argued that the assailant was likely to strike again.
Rogers gave permission for Parabon to pursue the case in December, Steven Armentrout, Parabon's CEO, told BuzzFeed News. "In this particular incident, the police made a compelling case that this person was a public risk," Armentrout said.
"This case was as close to a homicide as you can get," Rogers told BuzzFeed News by email. "The victim was reportedly in great fear that he would return to end her life. It was a difficult decision but I decided to allow [the] use of genetic genealogy in this one case and take full responsibility for this decision."
By late March, Parabon's genealogists had identified an individual related to the perpetrator. His great-nephew has now been charged with aggravated assault and aggravated burglary.
Forensic genetic genealogy burst into the news in April 2018 with the arrest in California of Joseph James DeAngelo, alleged to be the Golden State Killer, responsible for at least 13 murders and more than 50 rapes in the 1970s and 1980s. Investigators tracked him down by building family trees from distant relatives who'd uploaded their DNA to GEDmatch.
Since then, the method has been used in more than 50 investigations of murders or rapes. Given the severity of these crimes, public opinion has so far backed its use by law enforcement. In October 2018, researchers at Baylor College of Medicine in Houston published a survey of more than 1,500 US adults, finding that 91% supported the practice to investigate violent crimes, dropping to 46% for nonviolent offenses.
In that survey, violent crime wasn't precisely defined. Respondents were given examples of murder, rape, arson, and kidnapping, but assaults like the Centerville case were not specifically mentioned.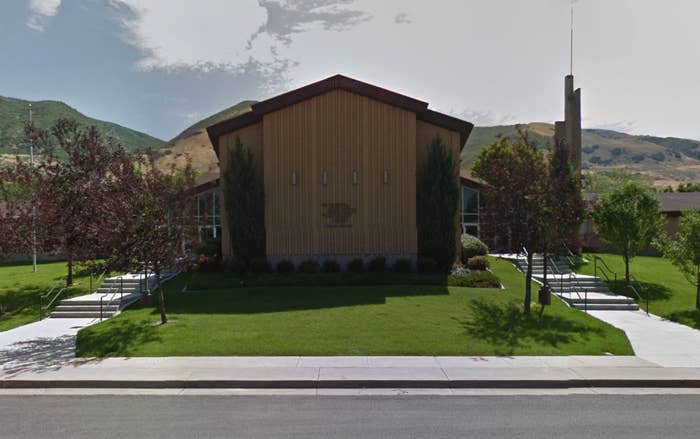 The Centerville Police Department announced the 17-year-old's arrest April 24, but the involvement of Parabon and GEDmatch came to light only this week, after the Deseret News obtained a recently unsealed search warrant.
A police department spokesperson confirmed to BuzzFeed News that Parabon gave cops the identity of a relative of the perpetrator in late March. His great-nephew, detectives found, lived just a couple of blocks from the church. When he discarded a juice box and plastic milk container at his high school, police got the items tested and found that they carried DNA that was a perfect match to blood left at the crime scene.
While the Centerville crime was a violent assault, critics are concerned at how readily GEDmatch's terms of service, which were supposed to restrict cops to using its DNA-matching database for only the most serious violent crimes, were put aside with a request to the website's founder — without informing other users.
"For me, this highlights the need for proper oversight," Debbie Kennett, a genealogist and honorary research associate at University College London, told BuzzFeed News. "This should not be for one person to decide." Kennett believes that independent ethical committees should be set up to review requests from law enforcement agencies before they upload DNA profiles to genealogy websites.
This is not the first time a genealogy website has kept users in the dark about ways in which police were using its service. In January, BuzzFeed News revealed that FamilyTreeDNA had for several months allowed the FBI to upload crime scene profiles to its database, and search for partial matches who might be relatives of the perpetrators.
FamilyTreeDNA's terms of service are now similar to those at GEDmatch, restricting law enforcement use to investigating homicides, sexual assaults, and kidnappings. A customer can also opt out if they don't want their DNA profile to be matched against crime scene samples uploaded by police.
But for Larkin, this doesn't go far enough. She argues that police should only be allowed to search DNA profiles if a customer has opted in to that use. "If someone has not given explicit, informed consent to have their data used in this way, their data should not be used in this way," she said.
Parabon's Armentrout said that his company had discussed with GEDmatch making an exception to the site's standard terms of service on two other occasions, but did not do so. "We made an exception in this one case, but our policy is to remain within the terms of service," he said.