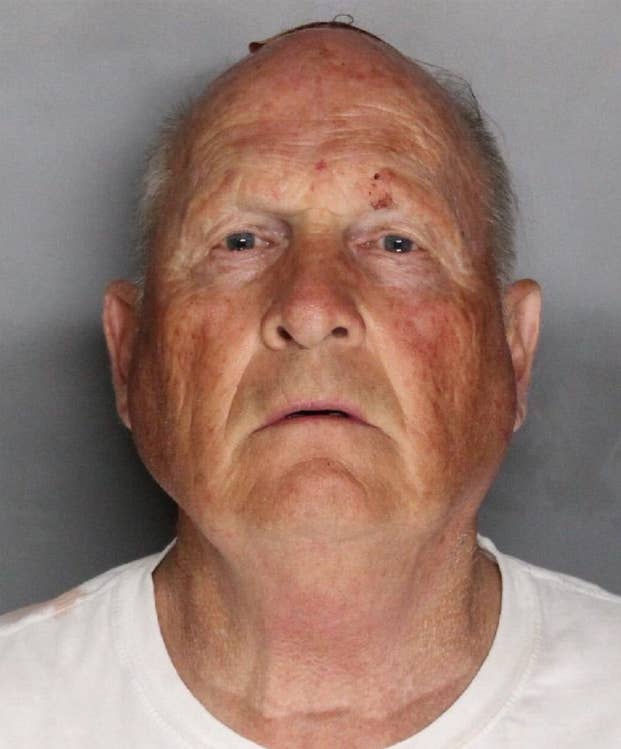 California authorities on Wednesday announced the arrest of the suspected Golden State Killer, who they say is responsible for 12 killings, 51 rapes, and more than 120 burglaries over a 12-year period.

Joseph James DeAngelo, a 72-year-old former police officer, was arrested early Wednesday, authorities said. He is ineligible for bail, jail records show.
Authorities said DeAngelo was a former cop in two different agencies. He was with the Exeter Police Department between 1973 and 1976, and then employed by the Auburn Police Department from 1976 to 1979 until he was fired for allegedly shoplifting a can of dog repellent and a hammer from a Sacramento drug store. Authorities said they were looking into whether he committed any of the alleged Golden State Killer–related crimes while on duty as an officer.
Police arrested DeAngelo when he stepped out of his house in Citrus Heights, a suburb of Sacramento, on Wednesday, in the same area where he allegedly began his crime spree in the 1970s. Authorities said he was "very surprised" when apprehended. His family, including adult children, is cooperating with authorities, police said.

DeAngelo is facing capital murder charges for the March 1980 killings of Lyman and Charlene Smith, Ventura County authorities said. He was charged with two counts of murder with three special circumstances, including multiple murders, murder during commission of rape, and murder during commission of a burglary.
He is also charged with two counts of murder with special circumstances for the killings of Katie and Brian Maggiore in Sacramento, the county's district attorney, Anne Marie Schubert, said at a news conference.
"The answer has always been in Sacramento," Schubert said.

She added that the arrest came after a multi-jurisdiction effort to track the killer down using the latest in forensic technology.
"We all knew ... that we were looking for a needle in a haystack, but we all knew the needle was there," Schubert said.

Later Wednesday, the Orange County district attorney's office charged him with four more counts of murder for killings there in the 1980s. DeAngelo is believed to have raped and murdering a 28-year-old in 1981 in Irvine, raped and murdered an 18-year-old in 1986, also in Irvine, and also to have killed two people in their 20s in Dana Point.
The 1986 rape and killing in Irvine was the last known crime related to the serial rapist and killer, whose crimes were linked through DNA.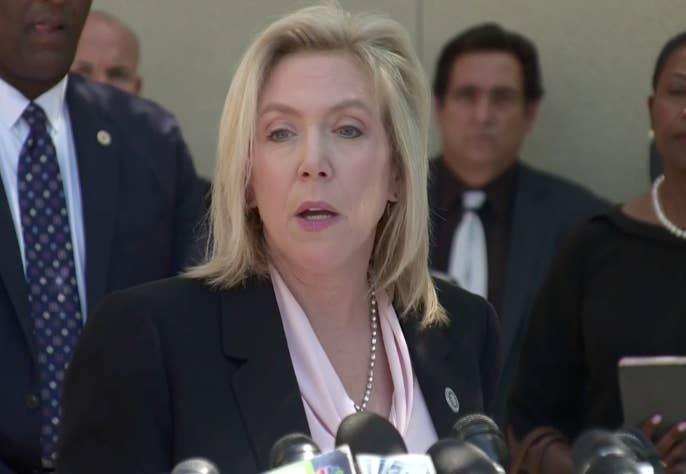 Federal and local authorities were observed outside DeAngelo's home in Citrus Heights on Wednesday morning, the Sacramento Bee reported.
The Golden State Killer was given various names, including the East Area Rapist, the Original Night Stalker, and the Diamond Knot Killer, and was wanted for a series of rapes, homicides, and burglaries in California between 1974 and 1986.

His alleged victims ranged in age from 13 to 41, and included women alone at home, with their children, or their spouses.
Starting in the summer of 1976, the authorities say the Golden State Killer was responsible for several rapes and burglaries in the Sacramento suburbs of Rancho Cordova and Carmichael. In 1978, the authorities say he fatally shot a couple who were walking their dog in Rancho Cordova.
He is then suspected of committing several rapes and homicides in Northern California, striking fear in residents, many of whom slept with guns at the ready and kept dogs for protection.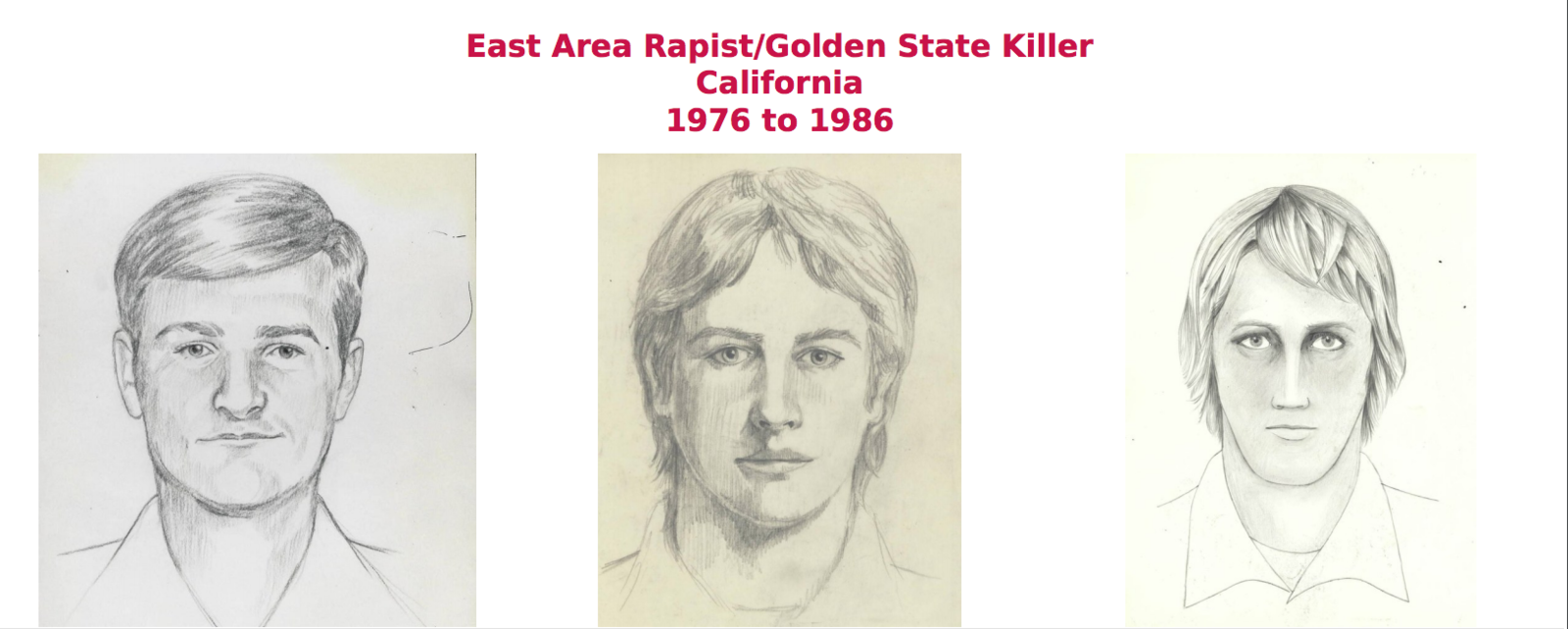 The method of attack involved breaking into victims' homes as they slept, shining a flashlight into their faces, and tying them up, according to the FBI. He then raped women residents and ransacked their homes, often stealing small items, such as coins, cash, identification, and jewelry. Some victims reported later getting phone calls from the suspect.
He would usually attack suburban couples, tie them up, rape the woman and then kill both of them, according to authorities.
DeAngelo is also believed to be responsible for several attacks in Goleta, which is in Santa Barbara County, starting in 1979 with an attempted double homicide, where the victims managed to escape while DeAngelo evaded capture on a stolen bicycle, according to the Santa Barbara County Sheriff.
Just two months later, he is believed to have been responsible for the brutal murders of 44-year-old Dr. Robert Offerman, an orthopedic surgeon and 35-year-old Dr. Alexandria Manning, a psychologist, who were killed in their condo near Goleta.

DNA evidence was used to link DeAngelo to another double homicide in Goleta in 1981, in which he is suspected of killed 27-year-old Greg Sanchez and 35-year-old Cheri Domingo, who were housesitting in a home near Goleta, the Santa Barbara County Sheriff said.

In 2016, the FBI announced a reward of up to $50,000 for information leading to the Golden State Killer's arrest and conviction. He was described as a white male, approximately 60 to 75 years old, 6-feet tall with blonde or light brown hair and an athletic build.

FBI officials have said the suspect also appeared to have an interest or training in military or law enforcement techniques and that he was proficient with firearms.
The case was back in the spotlight earlier this year after a book on the Golden State Killer, I'll Be Gone in the Dark, was published. The book was written by the late Michelle McNamara, a crime journalist who "was determined to find the violent psychopath."
McNamara was still writing the book at the time of her death, but it was completed and published this year after her husband, Patton Oswalt, enlisted an investigative journalist, Billy Jensen, and McNamara's lead researcher on the book, Paul Haynes, to complete her work.
In tweets celebrating the bittersweet moment, Oswalt credited the suspect's capture, in part, to his wife's work.
"She kept coming at him," the comedian said in one tweet.