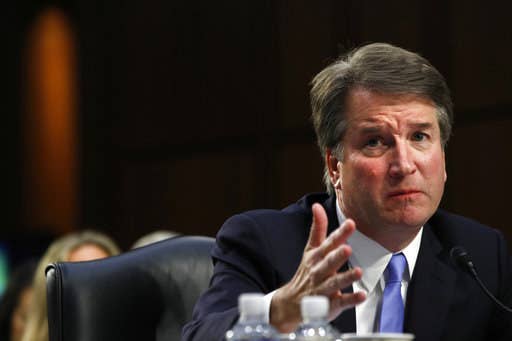 The woman who wrote a confidential letter to a Democratic senator — alleging that President Trump's Supreme Court nominee Brett Kavanaugh sexually assaulted her more than 30 years ago — revealed her identity and spoke out publicly for the first time on Sunday in an interview with the Washington Post.
Christine Blasey Ford, a 51-year-old research psychologist and professor at Palo Alto University, alleged that during a house party in Maryland in 1982, Kavanaugh — whom she described as "stumbling drunk" — pinned her to a bed, groped her, tried to remove her clothes, and put his hand over her mouth to stop her from screaming.
"I thought he might inadvertently kill me," Ford told the Post. "He was trying to attack me and remove my clothing."
Ford's allegations were contained in a secret letter that she sent to California Rep. Anna Eshoo, who then sent it to California Sen. Dianne Feinstein — the ranking Democrat on the Judiciary Committee — in July. Ford expected the letter to remain confidential, but earlier this week the Intercept reported on the existence of the letter, and later, the New Yorker published details of the alleged sexual assault contained in the letter without identifying Ford.

Feinstein released a statement saying that she received the letter but that she had honored the individual's request for confidentiality and had referred the letter to the FBI.
The FBI added "information" on the letter as an addendum to Kavanaugh's background file, a confidential physical document kept under lock and key that can only be viewed by senators and certain Senate and White House staff.

There is no criminal investigation into the letter, a source told BuzzFeed News.
Kavanaugh denied the allegations at the time, saying, "I categorically and unequivocally deny this allegation. I did not do this back in high school or at any time."

Before news of the letter broke, BuzzFeed News had attempted to contact the woman in person and she declined to comment. Ford's lawyer did not immediately respond to BuzzFeed News' request for comment on Sunday.

The White House on Sunday declined to address Ford's detailed allegations in the Post and provided BuzzFeed News with Kavanaugh's earlier statement denying the allegations.

Following the initial reports of Ford's secret letter, Senate Judiciary Committee chair Chuck Grassley released a letter of support from 65 women who said they had known the nominee since his high school days, and claimed that "[f]or the entire time we have known Brett Kavanaugh, he has behaved honorably and treated women with respect."
In a statement on Sunday, Republicans on the Senate Judiciary Committee again defended Kavanaugh's integrity, and said that it was "disturbing that these uncorroborated allegations from more than 35 years ago, during high school, would surface on the eve of a committee vote after Democrats sat on them since July."

"Judge Kavanaugh's background has been thoroughly vetted by the FBI on six different occasions throughout his decades of public service, and no such allegation ever surfaced," the statement said. "Furthermore Judge Kavanaugh and others alleged to have been involved have unequivocally denied these claims from their high school days."
But some Republicans indicated Sunday that they would like to hear from Ford.
In a statement, Sen. Lindsey Graham said that while he agreed with the committee's concerns "about the substance and process" regarding the allegations against Kavanaugh, he would "gladly listen" to Ford if she chose to speak to the committee.
In the event that Ford is willing to talk, Graham said, the Judiciary Committee should set up a meeting with her prior to Kavanaugh's scheduled confirmation vote Thursday

"If Ms. Ford wishes to provide information to the committee, I would gladly listen to what she has to say and compare that against all other information we have received about Judge Kavanaugh," he said. "If the committee is to hear from Ms. Ford it should be done immediately so the process can continue as scheduled."
Republican Senator Jeff Flake went further, telling the Washington Post Sunday that he is "not comfortable" moving ahead with a vote on Kavanaugh's confirmation until the committee has heard from Ford.
"I've made it clear that I'm not comfortable moving ahead with the vote on Thursday if we have not heard her side of the story or explored this further," said Flake, a member of the Judiciary Committee who is retiring this term. "For me, we can't vote until we hear more."
In a statement Sunday, Judiciary Committee spokesperson Taylor Foy said that Grassley was trying to set up follow-up calls with both Kavanaugh and Ford, but indicated that the vote would take place Thursday, as scheduled.
"The Chairman and Ranking Member routinely hold bipartisan staff calls with nominees when updates are made to nominees' background files," Foy told BuzzFeed News. "Given the late addendum to the background file and revelations of Dr. Ford's identity, Chairman Grassley is actively working to set up such follow-up calls with Judge Kavanaugh and Dr. Ford ahead of Thursday's scheduled vote."
In her interview with the Post, Ford said that the incident with Kavanaugh occurred during the summer of 1982 when she was 15 and he was 17.
During a house party with other teenagers in Montgomery County, Ford said that Kavanaugh and his friend and classmate at Georgetown Preparatory School, Mark Judge, were heavily intoxicated and that they pushed her into a bedroom and onto a bed as rock 'n' roll music was playing on a high volume. She said that Kavanaugh and Judge were "friendly acquaintances" at the time.
She alleged that Kavanaugh held her down and groped her over her clothes and that when she yelled for help, he put his hand over her mouth to silence her. She said that she was able to escape when Judge jumped on top of both of them and broke them apart. She then locked herself in the bathroom, she said, and left the house some time later.
Ford told the Post that she did not tell anyone about the incident until 2012 during a couples therapy session with her husband. The Post reviewed the therapist's notes, which did not mention Kavanaugh by name, but said that Ford described being attacked by students "from an elitist boys' school" who later became "highly respected and high-ranking members of society in Washington."

Notes from another therapy session in 2013 detail what Ford described as a "rape attempt" in her late teens, the Post reported.
Ford said she took a polygraph test in August on the advice of her lawyer. The test — which was administered by a former FBI agent — reportedly showed that Ford was being truthful about her allegations.
She told the Post that the incident had a lasting, traumatic impact on her that affected her studies and personal relationships, and that she has had anxiety and post-traumatic stress disorder.

She decided to come forward, she said, because "I feel like my civic responsibility is outweighing my anguish and terror about retaliation."
With Ford's allegations made public, Senate Democrats immediately called for a delay in Kavanaugh's confirmation process.
"Senator Grassley must postpone the vote until, at a very minimum, these serious and credible allegations are thoroughly investigated," Senate Minority Leader Chuck Schumer said in a statement Sunday. "For too long, when women have made serious allegations of abuse, they have been ignored. That cannot happen in this case."
"To railroad a vote now would be an insult to the women of America and the integrity of the Supreme Court," he added.

Anna Eshoo — the California House Democrat who originally received Ford's letter — said in a statement Sunday that she was proud of her constituent "for the courage she has displayed to come forward to tell her full story to the American people."

"In weighing her privacy and the consequences to herself and her family, she has demonstrated her willingness to risk these factors to present the truth," Eshoo said. "I am grateful to her for weighing these equities and choosing to speak out on one of the most consequential decisions in our country, an appointment to the highest Court in the land."
Kate Nocera contributed reporting to this story.