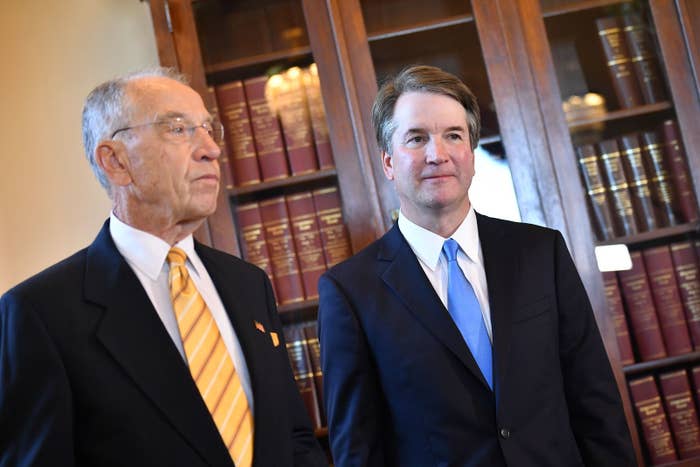 A group of women who have known Brett Kavanaugh since his high school days decided Thursday to put together the letter of support for him — a day after rumors of allegations against him first became public — one of the organizers of the letter told BuzzFeed News.
"We need to rally around Brett," Meghan McCaleb, one of the signatories, said she told people of the effort to support President Donald Trump's Supreme Court nominee.
In an interview Friday, McCaleb said the letter-writing campaign began after her husband, Scott McCaleb, got a call from a reporter following initial reporting by the Intercept and BuzzFeed News about a secret letter containing an allegation against Kavanaugh.
Travis Lenkner, a former Kavanaugh clerk who has been helping support the judge during the confirmation process, confirmed to BuzzFeed News that the letter was started by a group of women who knew Kavanaugh in high school and then approached his team about it. Two other women who signed the letter also said they got it from friends.
On Friday morning, the New Yorker reported more details of the claims against Kavanaugh — alleging that he held down a woman and attempted to force himself on her at a party while they were both in high school.
McCaleb, who acknowledged that she is a close friend of Kavanaugh's to this day and attended multiple days of his confirmation hearing, said the allegation is "really out of left field" and is "nothing like the Brett that we know. At all."
When the initial reporting came out, she said, a "group effort" began to put together a letter supporting Kavanaugh and attesting that, "For the entire time we have known Brett Kavanaugh, he has behaved honorably and treated women with respect."
Another of the signatories, reached by BuzzFeed News, said she was contacted Thursday by McCaleb about the possibility of signing on to a letter attesting to Kavanaugh's character. Megan Williams told BuzzFeed News that she was not aware of specific allegations against Kavanaugh when she signed the letter, but said, "I can't even tell you how out of character" that would be and made clear that she stood behind the letter. "The guy's a saint."
A third woman who signed the letter, Renate Dolphin, told BuzzFeed News she had received the letter Thursday night "from a friend of ours from high school years" and then hung up.
The letter in support of Kavanaugh, signed by 65 women, was released by Senate Judiciary Committee chair Chuck Grassley on Friday, shortly after the New Yorker story published. Grassley's office had stated that he was not involved in its creation. "Chairman Grassley's staff was not responsible for putting the letter together," said Garrett Ventry, a communications adviser to the Senate Judiciary Committee. "We received it this morning." BuzzFeed News made attempts on Friday to reach women who signed the letter.
McCaleb said the process of gathering the signatures was a quick one, and that women who had attended five different girls high schools in the area signed on to it. Kavanaugh attended an all-boys high school in Bethesda, Maryland.
McCaleb said that she then contacted Lenkner, who had helped her get access to Kavanaugh's confirmation hearing last week, on figuring out how to submit the letter. For a Supreme Court nomination, those working with the nominee usually reach out to people who could speak on behalf of the person from different time periods in their life before the confirmation hearing.
The White House declined to comment on questions related to the letter supporting Kavanaugh.
Grassley's office said Friday, after the New Yorker published a report on the allegations of sexual misconduct, that Kavanaugh's nomination will proceed as planned next week.
CORRECTION
Renate Dolphin's name was misspelled in an earlier version of this post.