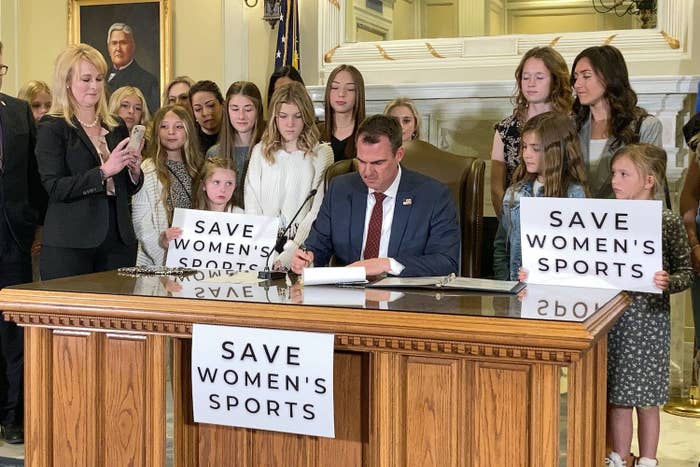 Lawmakers across the US are targeting LGBTQ people, seeking to regulate everything from healthcare to sports teams with a wave of bills that experts say take away people's dignity and put lives at risk.
And, increasingly, the bills are succeeding: In March alone, five states passed anti-LGBTQ laws. It's part of a "coordinated nationwide campaign" by anti-LGBTQ organizations and elected officials seeking to score political points during an election year, said Casey Pick, senior fellow for advocacy and government affairs at The Trevor Project, a suicide prevention and mental health organization for LGBTQ youth. Pick told BuzzFeed News that state legislators are treating LGBTQ people as a "political wedge issue."
In spite of legislators' rhetoric, the laws don't protect anyone, said Roberto L. Abreu, assistant professor in the department of psychology at the University of Florida. Instead, he told BuzzFeed News, they promote "erasure and violence" toward transgender youth and their families.

"These laws aim to deny trans people the inclusion, dignity, and life-saving services they deserve," Abreu said. "These laws will only exacerbate mental health disparities trans youth experience due to transphobia."
Below is a list of the laws that have passed in the last month. More could be coming: 17 anti-LGBTQ bills have been introduced in Tennessee, and in Idaho, a bill is seeking to make providing gender-affirming care for transgender youth a felony. Alabama legislators have proposed a similar bill. In New Hampshire, a bill was introduced to repeal the ban on conversion therapy, the discredited practice that aims to change LGBTQ people's sexual orientation or gender identity.

Florida
Republican Gov. Ron DeSantis on March 28 signed the so-called "Don't Say Gay" bill into law, which bans "classroom discussion about sexual orientation or gender identity" in kindergarten through third grade.
Critics have said that preventing any classroom discussion of gender or sexuality will leave LGBTQ students open to isolation and bullying. A government ban on teachers' speech could also violate their civil rights, particularly LGBTQ teachers who advocates say could be barred from even casually mentioning their personal lives.
The law originally forced teachers to notify parents if their student disclosed their sexual orientation, essentially outing them. That portion of the legislation was eventually withdrawn, but the law ended up being so vague that many believe the old provision could still be enforced.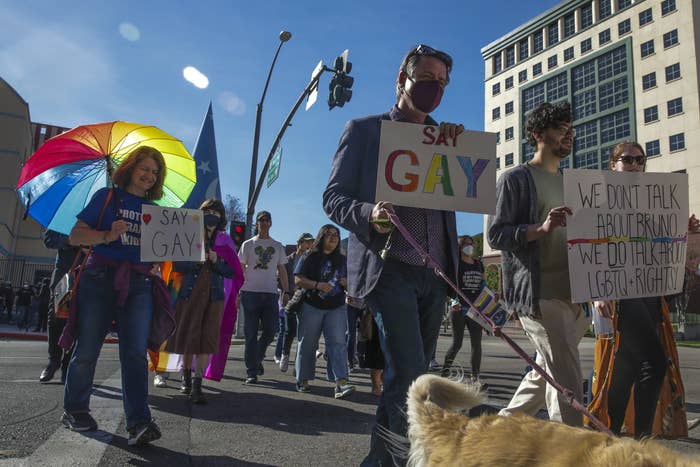 Oklahoma
On March 30, Oklahoma became the 13th state to enact an anti-trans sports law when Republican Gov. Kevin Stitt signed the Save Women's Sports Act. The law bans transgender athletes from playing on high school and college women's sports teams. At the beginning of the school year, it mandates that a student's parent has to sign an affidavit acknowledging their child's sex assigned at birth.
"When it comes to sports and athletics: Girls should compete against girls. Boys should compete against boys," Stitt said. "Let's be very clear — that's all this bill says."
But the Oklahoma Secondary Schools Activities Association, which oversees high school sports in the state, has said it hasn't received any complaints regarding transgender athletes, the Oklahoman reported. The Associated Press reported last year that lawmakers in more than 20 states couldn't share a local example of when a transgender student playing sports had caused problems.
Arizona
On March 30, Republican Gov. Doug Ducey signed two bills into law targeting LGBTQ people. One prohibits healthcare professionals from performing "irreversible gender reassignment surgery" on anyone under 18. The other law bans transgender girls and women from playing girls' and women's sports.
In his signing letter, Ducey wrote that the laws are "common sense."
Cathryn Oakley, state legislative director and senior counsel for the Human Rights Campaign, previously told BuzzFeed News that politicians have tried to play on fears about what gender-affirming care is. For young children, it's as simple as attending mental health counseling, using a different pronoun or name, and dressing differently, she said.

And blocking transgender youth from gender-affirming care may be a violation of their constitutional rights. On Thursday, the Department of Justice issued a letter to all state attorneys general to remind them of "federal constitutional and statutory provisions that protect transgender youth against discrimination, including when those youth seek gender-affirming care."
"A state or local government must meet the heavy burden of justifying interference with that right since it is well established within the medical community that gender-affirming care for transgender youth is not only appropriate but often necessary for their physical and mental health," the letter adds.
Utah
On March 25, Utah lawmakers voted to override Republican Gov. Spencer Cox's veto of a bill that bans transgender youth from competing on girls' sports teams. The law will take effect on July 1.
In a letter released March 22, Cox explained why he sought to block the all-out ban, citing in particular the mental health of trans youth and their risk of suicide. He added there are only four transgender students currently playing sports in Utah and only one of them is playing girls' sports.
"Rarely has so much fear and anger been directed at so few," Cox said. "I don't understand what they are going through or why they feel the way they do. But I want them to live."
Still, legislators voted to override the veto. Salt Lake City Mayor Erin Mendenhall tweeted, "Is this who we are as a state? I'm at a loss. This is decidedly not 'The Utah Way' and I'm ashamed at the way some of our state's leaders are playing politics with children's lives."
Iowa
On March 3, Republican Gov. Kim Reynolds signed a bill into law that would ban transgender athletes from playing on girls' and women's school sports teams. Before the signing, Reynolds called the law a "victory for girls' sports," according to an NBC affiliate in Des Moines.
Pick with The Trevor Project said blocking transgender youth from being able to play sports will deny them a positive outlet that improves mental health, a protective factor for suicide prevention.
"As we head deeper into an election year, we encourage lawmakers to consider the weight of their words and actions to take the time to meet with the people who would be impacted most by their policies: trans and nonbinary youth and their families," she said.
Alabama
On April 8, Alabama Republican Gov. Kay Ivey signed a bill into law that will make it a felony for parents and doctors to provide transgender youth with gender-affirming care, like puberty blockers. The day before, legislators passed a bill that some are calling a combination of Florida's Don't Say Gay bill and a "bathroom bill." The bill bans transgender youth from using the bathroom matching their gender identities and it prohibits classroom discussion of sexual orientation and gender identity from kindergarten through third grade.
Rep. Neil Rafferty, who is the only openly gay member of the Alabama House of Representatives, told his colleagues on Thursday to not call him a friend after they approve the bill.
"It's hard enough growing up being different," Rafferty said. "It's even harder growing up being different, and then have a state legislature, your elected officials, the leaders of this state, put a target on children's backs, put a target on the parents' backs, and once again get in the middle of their decisions."