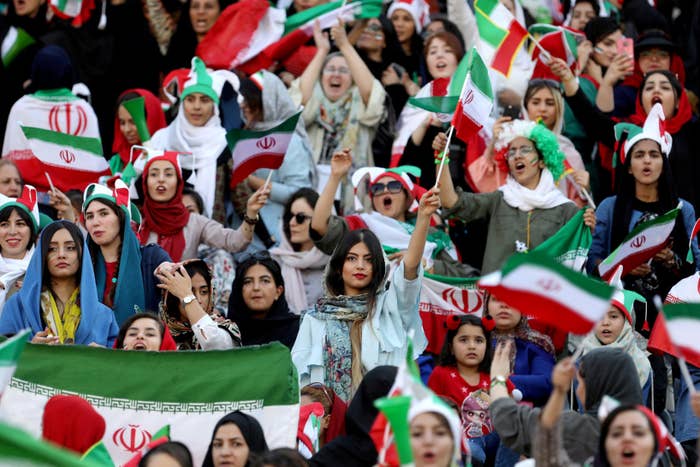 Iranian women were allowed to watch the nation's men's soccer team play for the first time in nearly 40 years on Thursday, after the conservative theocracy faced pressure and a possible ban from FIFA if it didn't allow women into the match.
The regime allocated 4,000 tickets for women at the approximately 80,000-seat stadium in Tehran. Women were seated separately from the men, the Associated Press reported, and were provided separate female security guards.
The initial batch of 3,500 tickets for the World Cup qualifier match at Azadi Stadium — which means "freedom" in Farsi — sold out in under an hour before more were released, the Guardian reported. Iran defeated Cambodia, 14–0.
"This is a very positive step forward, and one which FIFA, and especially Iranian girls and women, have been eagerly waiting for," FIFA's president, Gianni Infantino, said in a statement Thursday. "I want to say a very big thank you and record our utmost respect to all of the Iranian girls and women who courageously stood and are standing up for their rights."

Iran's ban against women at sporting events was implemented shortly after the Islamic Revolution in 1979, though it's not written into law.
Select groups of women have previously been allowed to attend soccer games at the national stadium by invitation only, and some were allowed to enter for a broadcasted game after protests last year.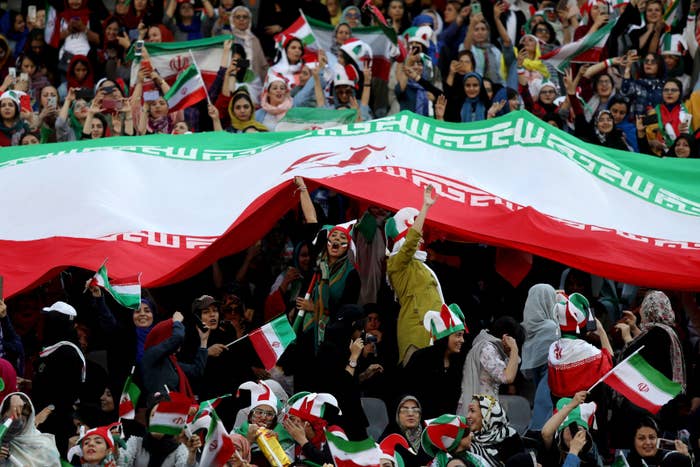 The pressure from both FIFA and the Iranian public was intensified by the death of 29-year-old Sahar Khodayari in September. Khodayari set herself on fire to protest her arrest and potential jail sentence for trying to enter a soccer game dressed as a man.

Attendees chanted "Blue Girl, Blue Girl" in honor of the 29-year-old, who was nicknamed for the colors of her favorite Iranian soccer team, Esteghlal.
Following Khodayari's death, Iranian authorities assured FIFA that women would be allowed to attend upcoming international matches, beginning with the game against Cambodia, according to the New York Times.
"We are so happy that finally we got the chance to go to the stadium. It's an extraordinary feeling," 29-year-old Zahra Pashaei, an attendee at the game, told the Associated Press. "At least for me, 22 or 23 years of longing and regret lies behind this."
But while women were allowed to attend Thursday's match, activists noted that Iran has not guaranteed that women will be allowed to attend domestic league games, which are not governed by FIFA.
Amnesty International called Iran's decision "a cynical publicity stunt by the authorities intended to whitewash their image."
"Anything short of a full reversal of the ban on women accessing all football stadiums is an insult to Sahar Khodayai's memory and an affront to the rights of all the women of Iran who have been courageously campaigning for the ban to be lifted," the organization said.