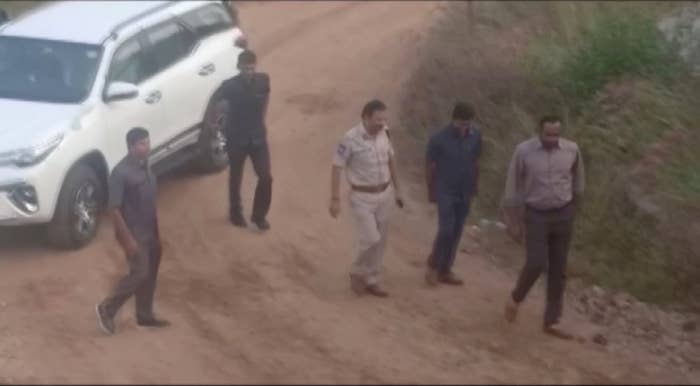 NEW DELHI — Four men suspected of raping and killing a 27-year-old woman before burning her body have been shot dead by police in India.

According to police, the suspects, all of whom were in custody, were shot attempting to escape during a reconstruction at the scene of the crime in Hyderabad, a city in South India.
According to a police statement on the incident, the four suspects tried to snatch a gun from an officer before attempting to flee through a deserted lane and were subsequently shot by police.
Police said the shooting took place in the early hours of Friday — according to police, they had taken the suspects to the crime scene at such an early hour to prevent acts of violence by angry citizens.
India is experiencing yet another cycle of mindless violence against women — just yesterday, a woman in North India who said she was raped by two men was set on fire when she was on her way to court for a hearing in her case. Five men were arrested in connection with the attack.
Public anger over inefficient governance and law enforcement following the violence women face has led to growing calls for capital punishment and chemical castration.

Several reports after the rape and murder of the woman in Hyderabad, a veterinary doctor who cannot be named for legal reasons, revealed that the police wasted precious time in investigating the woman's disappearance after her family filed a complaint — the police even suggested it was futile looking for her as she had "probably eloped" with a lover.
After news of the shooting broke in India this morning, citizens in Hyderabad showered police officers with rose petals and praised their bravery.
On Twitter, police from Telangana, the state which Hyderabad is the capital of, were congratulated for delivering "swift justice."

India's National Human Rights Commission said the shooting of the suspects needed to be "probed very carefully."
And others said they were incredibly disturbed at the growing bloodthirsty and mob violence in the country, and demanded an investigation into the police violence.

According to the Deccan Herald newspaper, a senior police officer in Hyderabad was involved in a similar shooting at his previous post, when his team shot a group of men who had allegedly attacked two women with acid.

These extra-judicial killings, where the police shoot and kill suspects allegedly in self-defense, are known as "encounter killings" in several parts of South Asia.