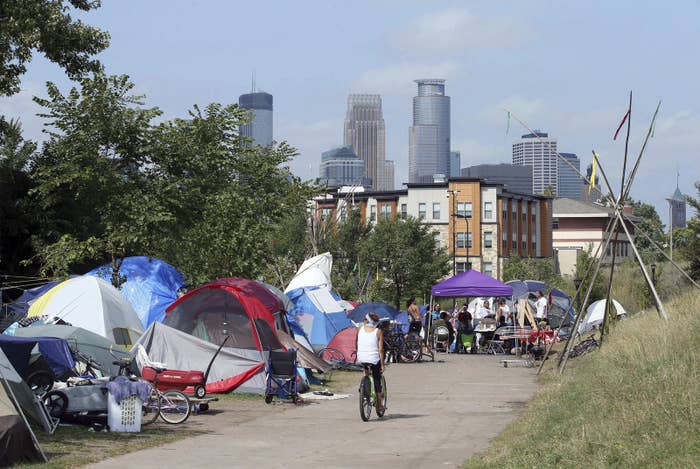 A growing "tent city" in Minneapolis that houses an estimated 300 people has inspired a social movement to draw attention to Native Americans in cities who struggle with homelessness and opioid addiction.
It began in July as a scattered gathering of nylon and canvas tents along the side of an exit ramp. By mid-September it had swelled to nearly 150 tents pitched pole to pole on a slim strip of grass bounded on one side by a highway in the Phillips neighborhood, a community that historically drew Native American and immigrant residents.
As the camp grew, white teepees joined the technicolor lineup, the wood and skin reminding passing drivers that a majority of these homeless people are descendants of Native people who made the Great Plains their home. The corridor near East Franklin and Hiawatha Avenue has come to be known as the "Wall of Forgotten Natives."
The site, now one of the largest homeless camps in the US, shows how Native Americans are especially vulnerable to drug use and homelessness.

Nearly 80% of the estimated 5.2 million Native Americans in the US live outside reservations. Although people who identify as American Indian or Alaska Native make up just over 2% of the population, they are about 3% of the homeless population. And it's especially tough in Minneapolis, which is facing a citywide shortage of affordable housing, record low vacancy rates, homelessness, and housing instability.
The opioid epidemic has hit different Minnesota communities disproportionately. Native Americans in the state are six times more likely to die of an overdose than white residents — the widest race-based disparity of any US state — a statistic local health advocates ascribe to the historical trauma of being displaced by settlers, along with a lack of social services.
"It's a visual representation of systemic failure towards Native people, and what colonization still looks like," Robert Lilligren, president of the Native American Community Development Institute, who can see the encampment from his office window on East Franklin Avenue, told BuzzFeed News.
"You steal people's language, culture, land, social infrastructure, and deliberately through genocide-enforced assimilation — this is a result of it."
Natives Against Heroin, one of several health services groups on the scene, brings coffee, cigarettes, and donuts to the residents each morning. They also have at the ready a supply of Suboxone, an opioid medication that can prevent overdoses from stronger drugs.
"We stay on site to make sure that it's a family setting. We confront the dope dealers that come there, we bring down escalating problems — it's like a family out there right now," James Cross, who founded NAH, told BuzzFeed News. "Without our presence it would probably be a war zone — a lot of ODs, a lot of deaths."
Cross said he grew up in Minnesota and experienced the struggles many at the camp may share: "being adopted, being sexually abused, being pushed out of programs." When he needed help, he said, no one showed up. "The reason I started Natives Against Heroin was, I believe it takes an addict to help an addict," Cross said.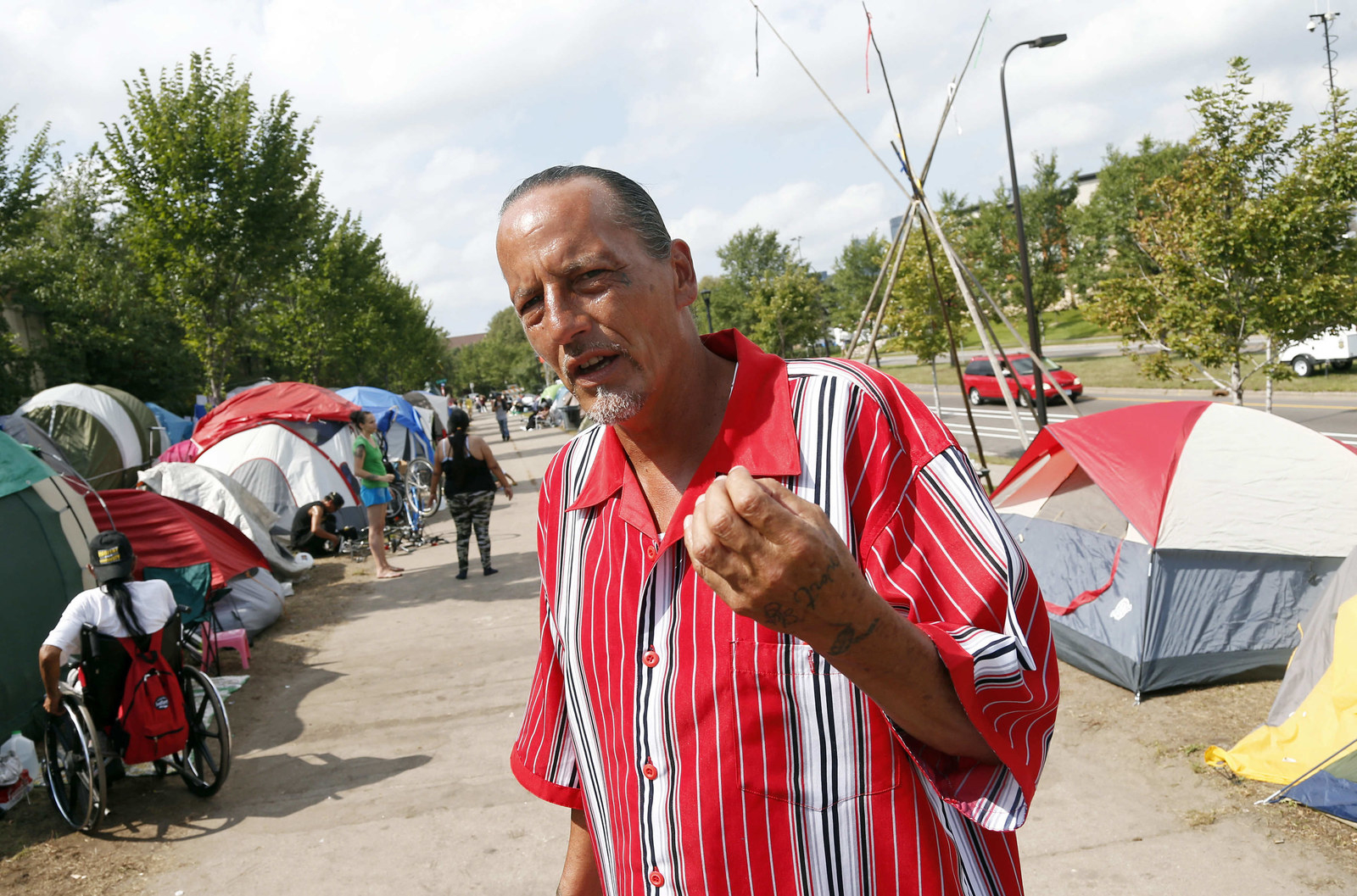 The land now belongs to the Minnesota Department of Transportation, but the agency is under instructions from Mayor Jacob Frey's office to hold off evicting residents.
With temperatures dropping and winter looming, Native American groups in Minneapolis are scrambling to draw up a new plan with the city and find alternative housing for those gathered at the corner of Franklin and Hiawatha.
"It's warm right now — what happens when it's cold?" Sharon Day, executive director of the Indigenous Peoples Task Force, a group dedicated to HIV education services, told BuzzFeed News in September.
Patina Park, chair of the Metropolitan Urban Indian Directors, said that such a Native-majority encampment could have sprung up in many major cities. "Ours is just probably larger, and blew up faster — our city expressly chose not to sweep it right away."
In August, the Star-Tribune reported, Mayor Frey acknowledged the history of displacement that Native people living in the US shared, and suggested they had a right to stay. After all, this was Dakota land, he told a gathering at the American Indian Center.
Mayor Frey's office declined a request for an interview, but did confirm that about 300 people were now living at the site. "The goal is to transition people to emergency shelter as soon as possible," city spokesperson Sarah McKenzie wrote in an email to BuzzFeed News. "To date, City efforts have focused on harm reduction strategies to improve health, hygiene and sanitation at the encampment. This includes work to prevent the spread of infectious diseases."

There have been at least three deaths reported at the camp.

The Star-Tribune reported that 26-year-old Alissa Skipintheday was found unconscious, and died on Sept. 8 after she arrived at a local hospital due to complications related to asthma. On Sept. 30, 51-year-old Pamela Rivera was pronounced dead at a local hospital emergency department after she was reportedly found unconscious in her tent at the camp.

And LaDonna Redmond, a Minneapolis resident and activist, told a city committee at a September meeting that her son Wade had been a camp resident and died earlier that month after a drug overdose.

"My son did not have to die because he had an addiction — and no one else's child should die because they need help," Redmond said. She suggested that the committee consider setting up a safe-injection site near the encampment.
At that city committee meeting in September, Minneapolis residents clashed about the future placement of a temporary camp.
The city had just proposed two sites for a temporary relocation center, where trailers would be set up next to a "navigation center," including structures with bathrooms and showers. One proposed site was the parking lot next to a Roof Depot building; the other, more contentious location, was a plot of land adjacent to an elementary school.

A handful of school employees expressed concerns about that second site.
"We educate 411 children between the ages of 3 and 14 daily. They are already exposed to difficult lives; some of them have trauma and stress," Aurora Charter School executive director Matt Cisewski told the committee. "I can't support 2600 Minnehaha being a location, where there is going to be known drug use and that sort of behaviors going on so close to a schoolyard, where kids play at recess."
Native American residents who spoke at the meeting urged the city to keep the burgeoning community together when picking a place for their next location.
"They are struggling with so many conditions and situations that are directly related to the issue of being homeless" said Antony Stately, CEO of the Native American Community Clinic. "To move them far away from a safety net of services that are immediately useful to them is challenging."
The committee did not pick a site that day, but in the last week of September, the city council finally approved a third site — a plot close to the encampment, on land that belonged to the city and the Red Lake Nation.
As temperatures dipped into the low 30s, and abandoned buildings still stood on the site, Native organizing groups worried that they lacked a timeline for the move. Last week, the city council approved $1.5 million to fund the center, now expected to open in December and last through May. This week, bulldozers arrived and began work.