WASHINGTON — Special counsel Robert Mueller's long-anticipated final report was released Thursday morning, clocking in at 448 pages and filled with redactions made by Attorney General Bill Barr's office.

"While this report does not conclude that the President committed a crime, it also does not exonerate him," the report says.

Around a dozen pages in the report were entirely redacted by Attorney General Bill Barr's office, like this one, under a heavily redacted section addressing the actions of the Internet Research Agency, the infamous Russian troll farm.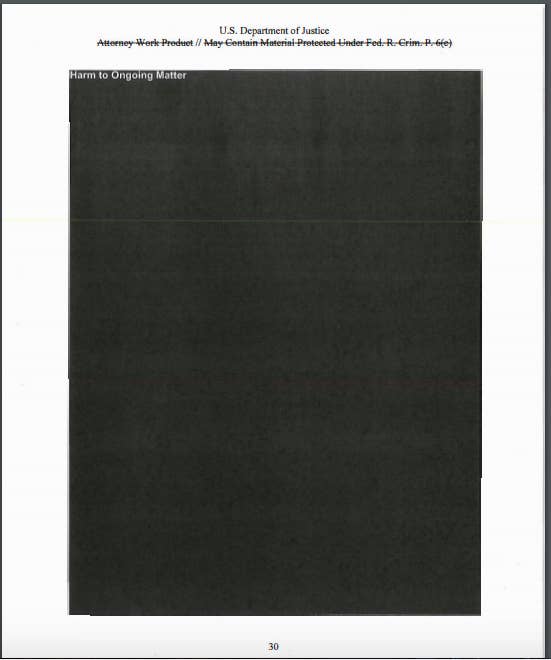 Roughly a third of the pages in the report had at least one redaction, with most of the redactions concentrated in the first part of the report, which deals with Russian interference in the 2016 election and the IRA.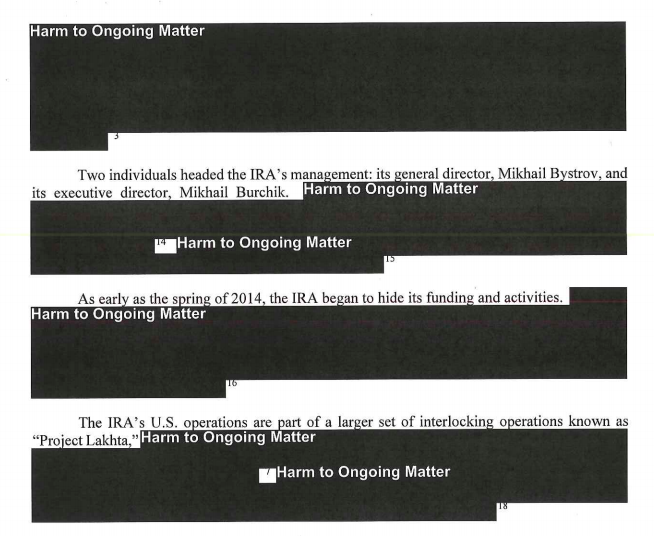 While the vast majority of the report was left unredacted, some particularly interesting details were blacked out by the Attorney General's office, like this one, which begins to describe conversations between Michael Cohen and Donald Trump at Trump Tower.


There were several redactions in a part of the report related to the Miss Universe pageant in Moscow in 2013, which Trump attended and owned then, and contact between the Trumps and Aras Agalarov, a Russian real estate developer with ties to Vladimir Putin, who also played a role in the Trump Tower meeting saga.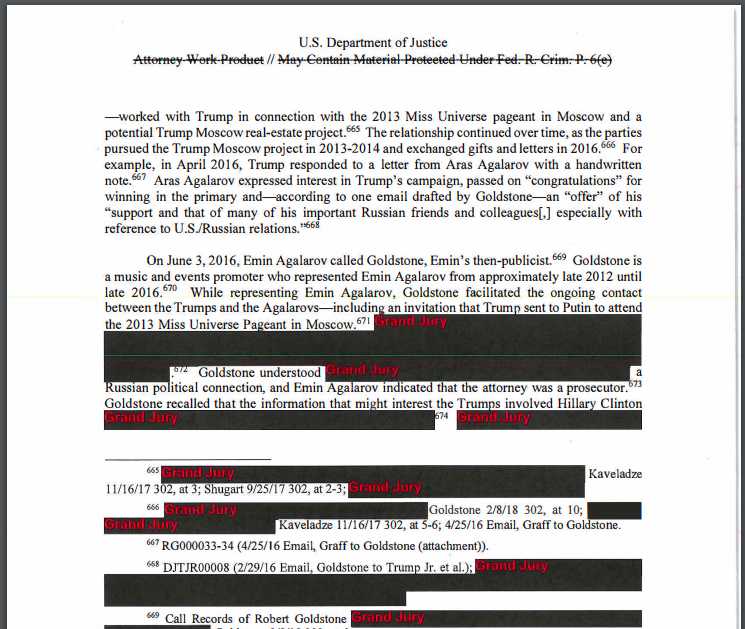 The redactions continue in this part of the report, which goes into the Trump Tower meeting between Donald Trump Jr., Paul Manafort, Jared Kushner, and Russian lobbyists.
There's a conspicuously redacted paragraph here, too, in a section of the report that deals with Kirill Dmitriev, a Russian businessman who "reported directly to Putin and frequently referred to Putin as his 'boss'" and also had dealings with the United Arab Emirates. The unredacted portions reference Dmitriev's attempts to get close to the incoming Trump administration.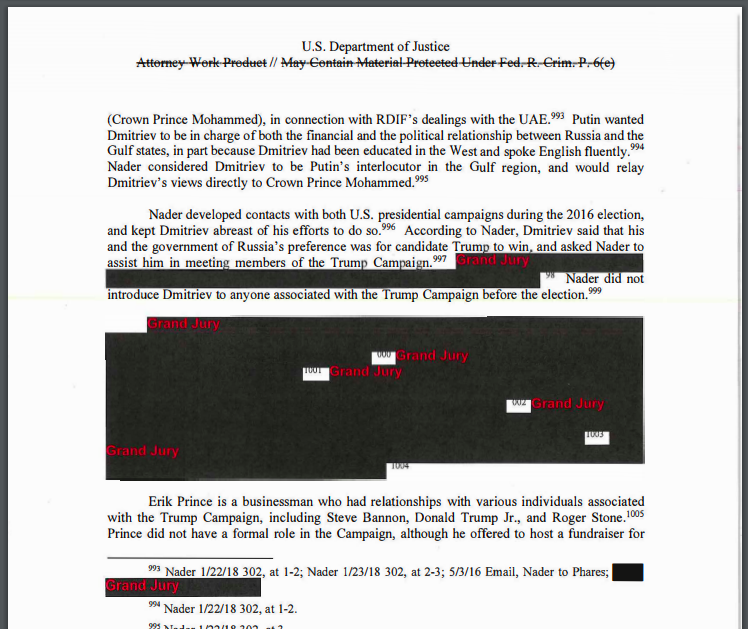 Here, someone whose name has been redacted writes to Dmitriev after Trump won the election, "Putin has won."

Barr's office made four different types of redactions and coded them according to those explanations. Importantly, Barr said Thursday that the White House had not used executive privilege to redact any portion of the report, although Trump's lawyers did read a redacted version before it was public.

Grand Jury: Coded red, this is information that was presented to a grand jury and cannot be made public.
Harm to Ongoing Matter: Coded white, this is information that could compromise other ongoing investigations if it were made public.
Investigative Technique: Coded yellow, this is information that would give away intelligence-gathering techniques or compromise informants.
Personal Privacy: Coded green, this is information the Justice Department decided would unfairly damage the reputation or infringe the privacy of "peripheral third parties" — people not central to the investigation.
In a Thursday morning press conference before the redacted report was released to Congress and the public, Barr defended the redactions and also said that "a bipartisan group of leaders from several congressional committees" will get to review a copy of the report with all redactions removed, except for those related to grand jury material.
Some congressional Democrats say they will be seeking the full report from the Department of Justice. New York Rep. Jerry Nadler, chair of the House Judiciary Committee, said on Thursday that he will issue a subpoena for the full report, "because Congress requires this material in order to perform our constitutionally-mandated responsibilities."
"The Attorney General's decision to withhold the full report from Congress is regrettable, but no longer surprising," Nadler said in a statement. "If he was willing to release this evidence, which is so clearly damaging to the President, just imagine what remains hidden from our view."
The redactions will face other challenges as well. There are already two lawsuits seeking copies of Mueller's report and other related materials under the Freedom of Information Act, and the groups that sued — BuzzFeed News is one of them — can use the litigation to contest redactions before a judge.
California Rep. Eric Swalwell, a member of the House Intelligence Committee and a presidential candidate, was the first Democrat to call for Barr to resign over his handling of the report's release Thursday.