Kellyanne Conway Said She's A Survivor Of Sexual Assault
"I don't expect Judge Kavanaugh or Jake Tapper or Jeff Flake or anybody to be held responsible for that. You have to be responsible for your own conduct."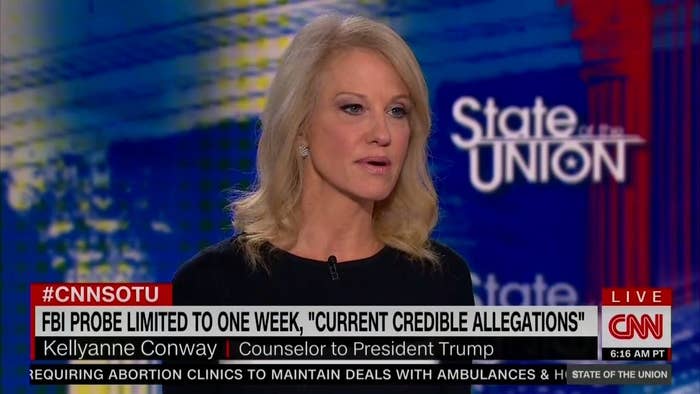 Presidential adviser Kellyanne Conway said Sunday that she is a survivor of sexual assault, but that she doesn't expect "anybody to be held responsible for that."

Days after Christine Blasey Ford testified that she was sexually assaulted by Trump Supreme Court nominee Brett Kavanaugh in high school, the presidential adviser spoke up for the first time about having been sexually assaulted.

"I feel very empathetic, frankly, to victims of sexual assault, sexual harassment, and rape. I'm a victim of sexual assault," Conway told CNN's Jake Tapper on State of the Union. "I don't expect Judge Kavanaugh or Jake Tapper or Jeff Flake or anybody to be held responsible for that."
"You have to be responsible for your own conduct," she said.

"This is the first time I've heard you talk about something personal like that and I'm really sorry," Tapper said.

The CNN host then noted that Conway works for a president who has said the many women who have accused him of sexual misconduct are all liars.
"Don't conflate that with this, and certainly don't conflate it with what happened to me. Would be a huge mistake," Conway replied.
"Let's not always bring Trump in everything that happens in this universe," she added.

Conway said she believes "something terrible could have happened" to Ford — but that Kavanaugh was not responsible.
Tapper asked whether as a survivor of sexual assault Conway thinks that Ford and other survivors should be heard, whether or not there are corroborating witnesses.

"They should all be heard and they should be heard in courts of law and depositions. They should be heard in proceedings. Those who can prosecute, those who have civil and, or, criminal causes of action should pursue that," Conway said.
She went on to say that she thinks survivors and perpetrators are treated differently "based on their politics and based on their gender."