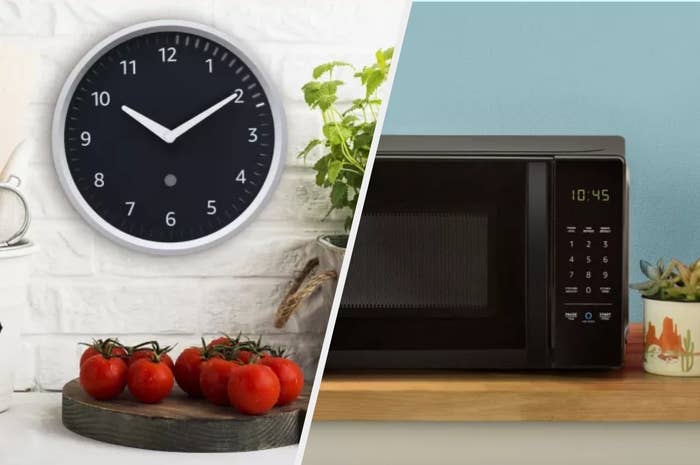 Amazon just announced a slew of new products and features, including an Alexa-enabled microwave (actually) and a, uh, wall clock.
There was a LOT.
New Echo devices: There's a new Echo Dot, Amazon's small, budget-friendly Alexa-powered smart speaker, and Echo Plus, a hub for smart home devices. The new Echo Show has a bigger display and better audio.

Really random Alexa-enabled products: a microwave oven, and a Bluetooth-enabled wall clock compatible with Echo.

A slew of audio accessories: Echo Link Amp and Echo link to connect hi-fidelity devices with Alexa; Echo Sub which adds a subwoofer to a multi-room Echo audio setup; and Echo input which connects any existing speaker with Alexa.

There's a smart plug and "Alexa Guard" that detects carbon dioxide and breaking glass.

Fire TV Recast records content from network TV and has an integrated TV antennae.

Finally, Echo Auto adds Alexa capability to your car.
OH MY GOD. THAT WAS A LOT. More to come!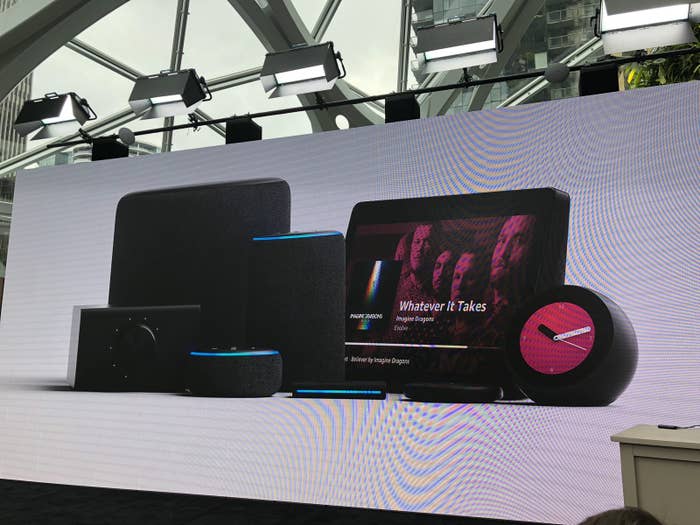 My blogging fingers are about to fall off, so I'm headed to the hands-on area to try it all! DM me your questions on Twitter: @itsnicolenguyen.
Echo Auto, available only by invite, adds Alexa to your car.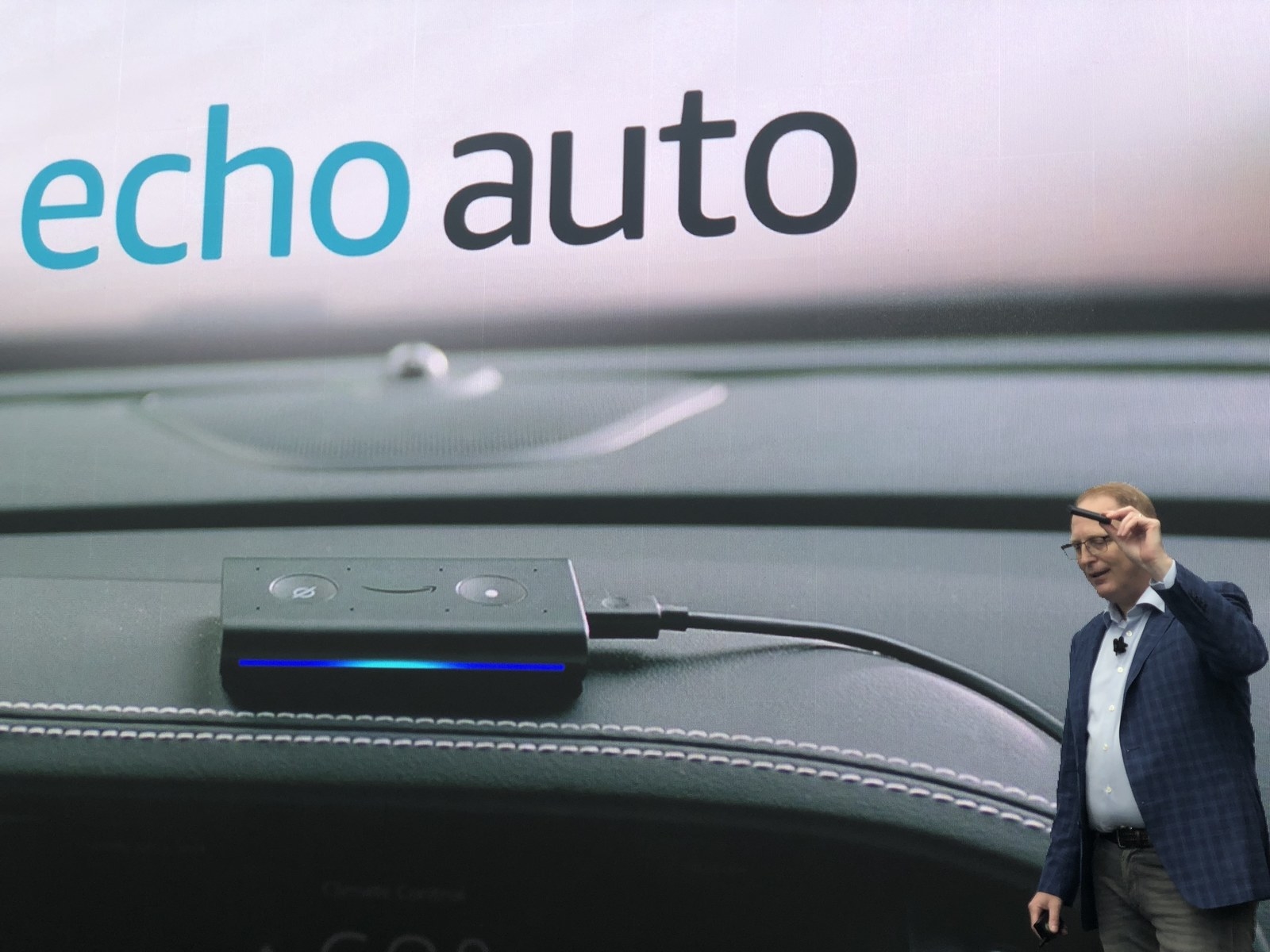 It comes with a dash mount, and is built on a new operating system from Amazon. It can connect via aux jack or Bluetooth to your vehicle, and connects to your phone's data to enable Alexa.
By invite, it'll cost $25, and for everyone else, Echo Auto costs $50.
Alexa can read you books as you drive, and it has location awareness to help you find the nearest coffee shop or restaurant.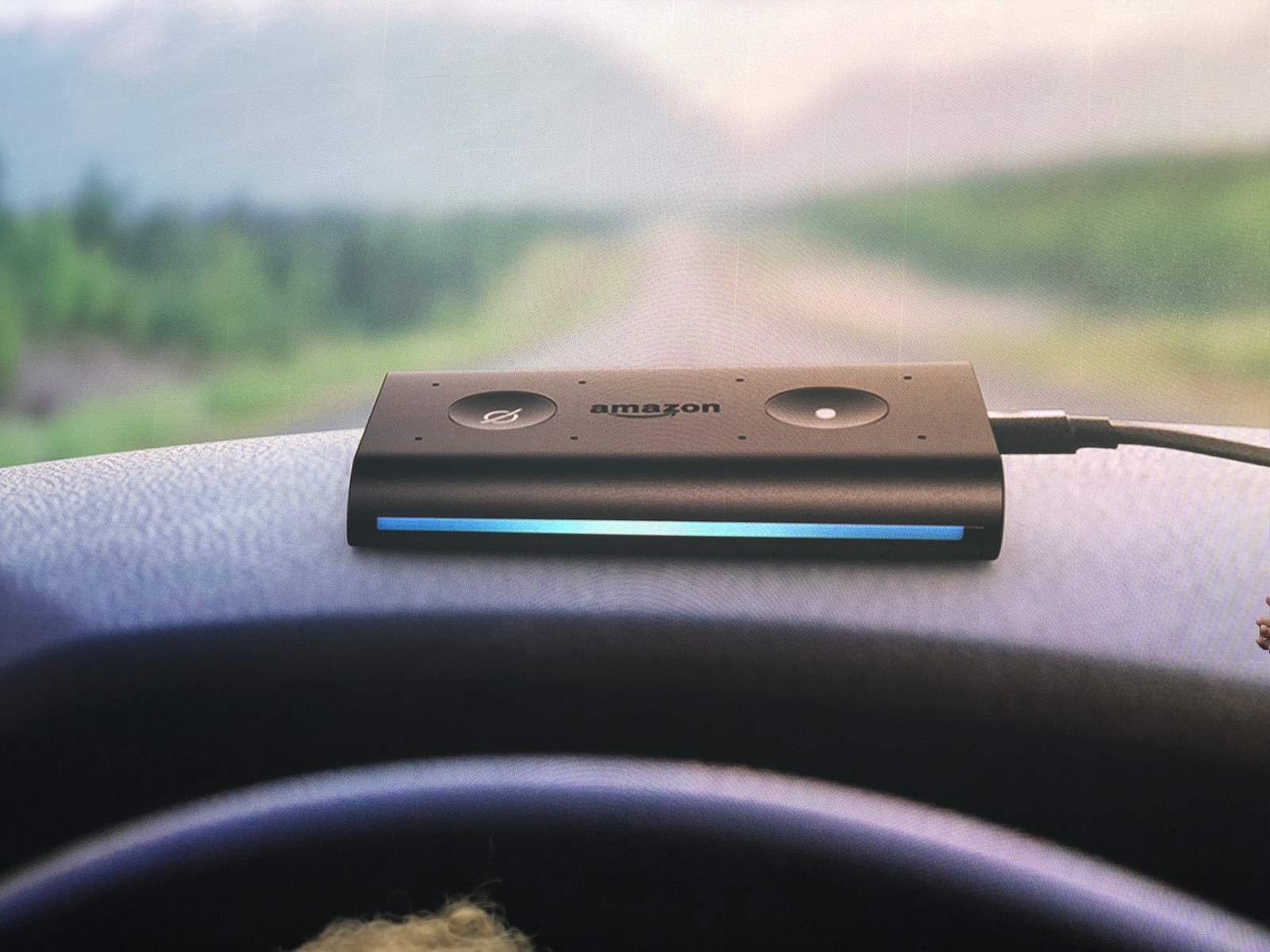 Alexa can also drop in on home from the car.
Fire TV recast can record content from network TVs, and watch it back on mobile devices or TVs.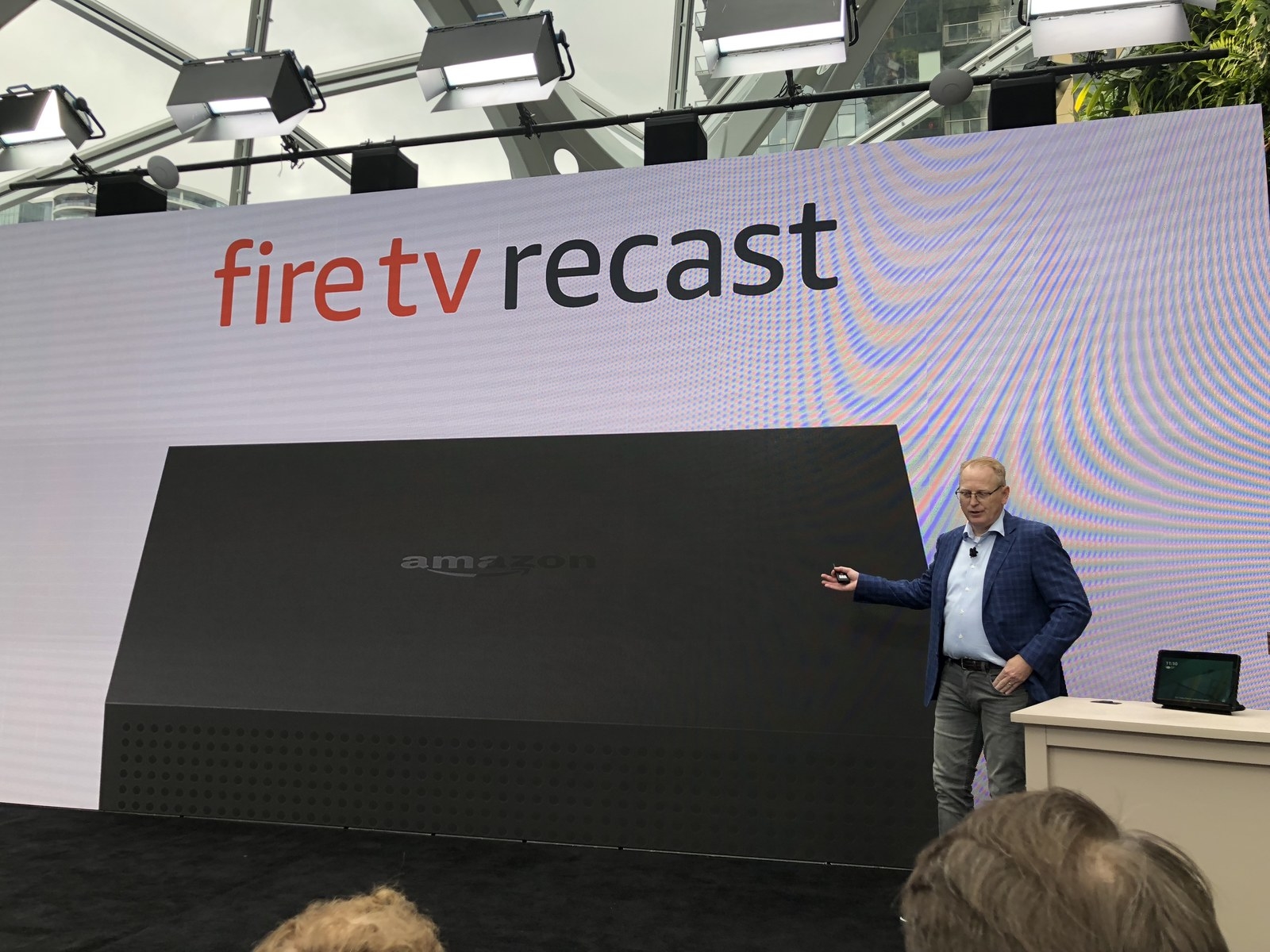 It has an antenna built-in to record network TV shows. The Fire TV recast adds a "DVR" menu to Fire TV. Pre-orders start today and it starts at $229.
The new Echo Show audio "fills a room," according to Amazon's Limp.
Skype is integrating with Alexa, so users can Skype call and video chat from the Echo devices.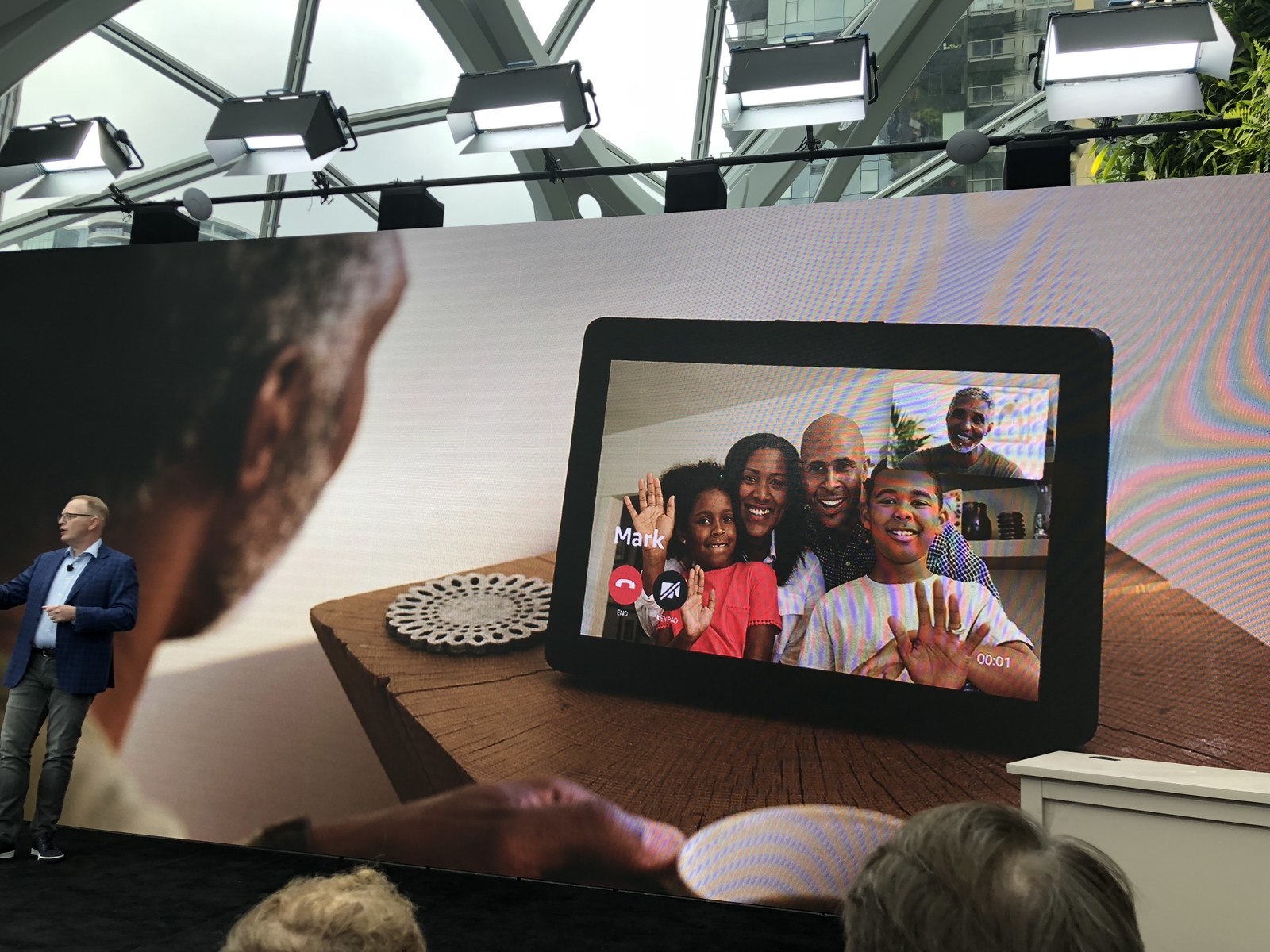 Here's the next-generation Echo Show, the Alexa-powered device with a screen.
The audio is improved, with louder speakers and better drivers. It has double the display size, at 10-inches, and an eight-microphone array. It still costs $230. Pre-orders start today.
Ring, which is owned by Amazon, is announcing a wired and battery-operated security camera.
The $180 camera also works with Echos with a screen, like Echo Show, to display footage.
Alexa Guard detects carbon dioxide and breaking glass.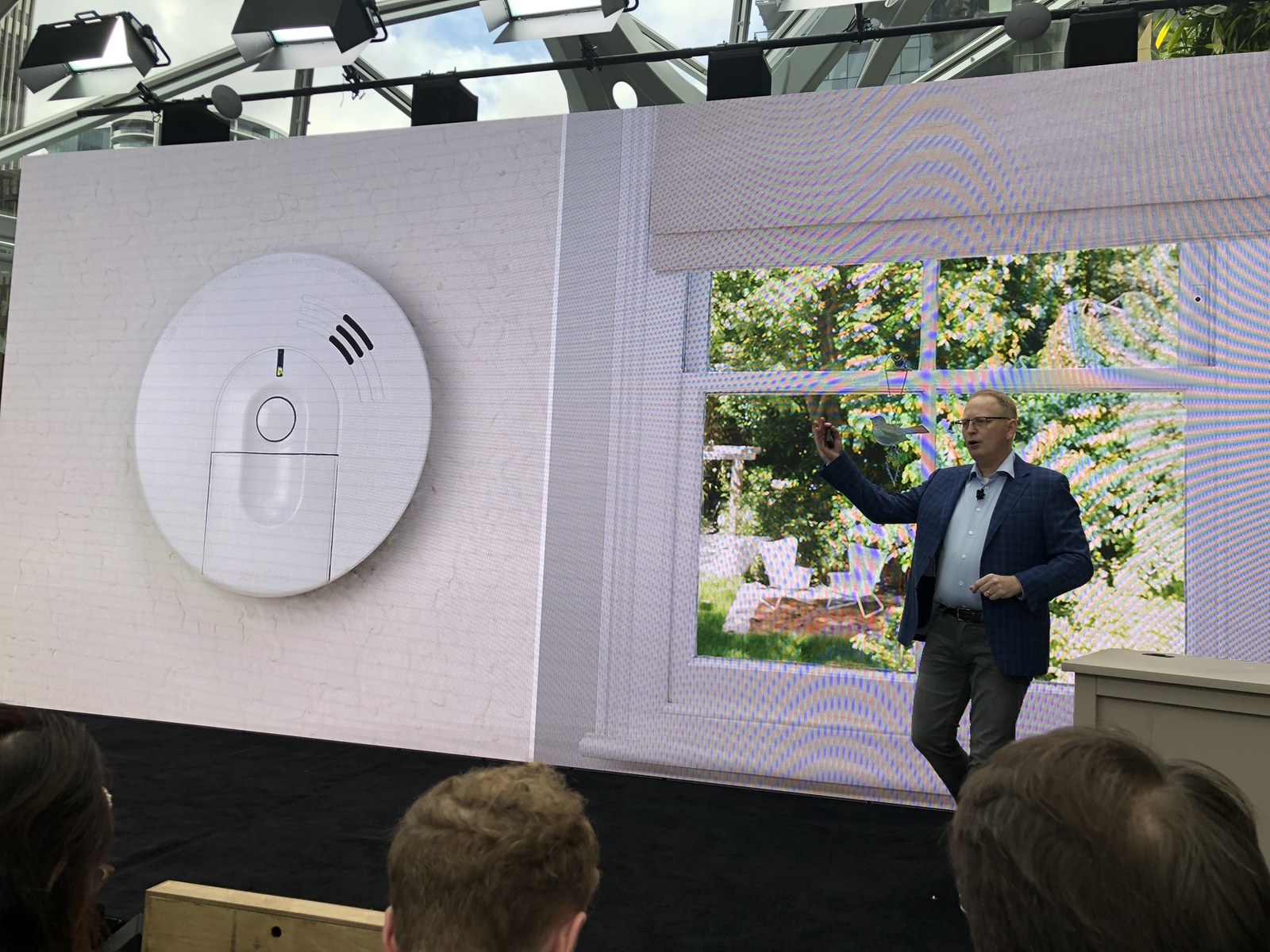 When Alexa detects the break in, it'll capture a short audio clip. With "Away Mode Lighting" on, Alexa can randomize lights on in the house to make it seem like someone's actually there and deter potential burglars.
Here's how Amazon's Smart Plug works.
The future looks a lot like ... the past?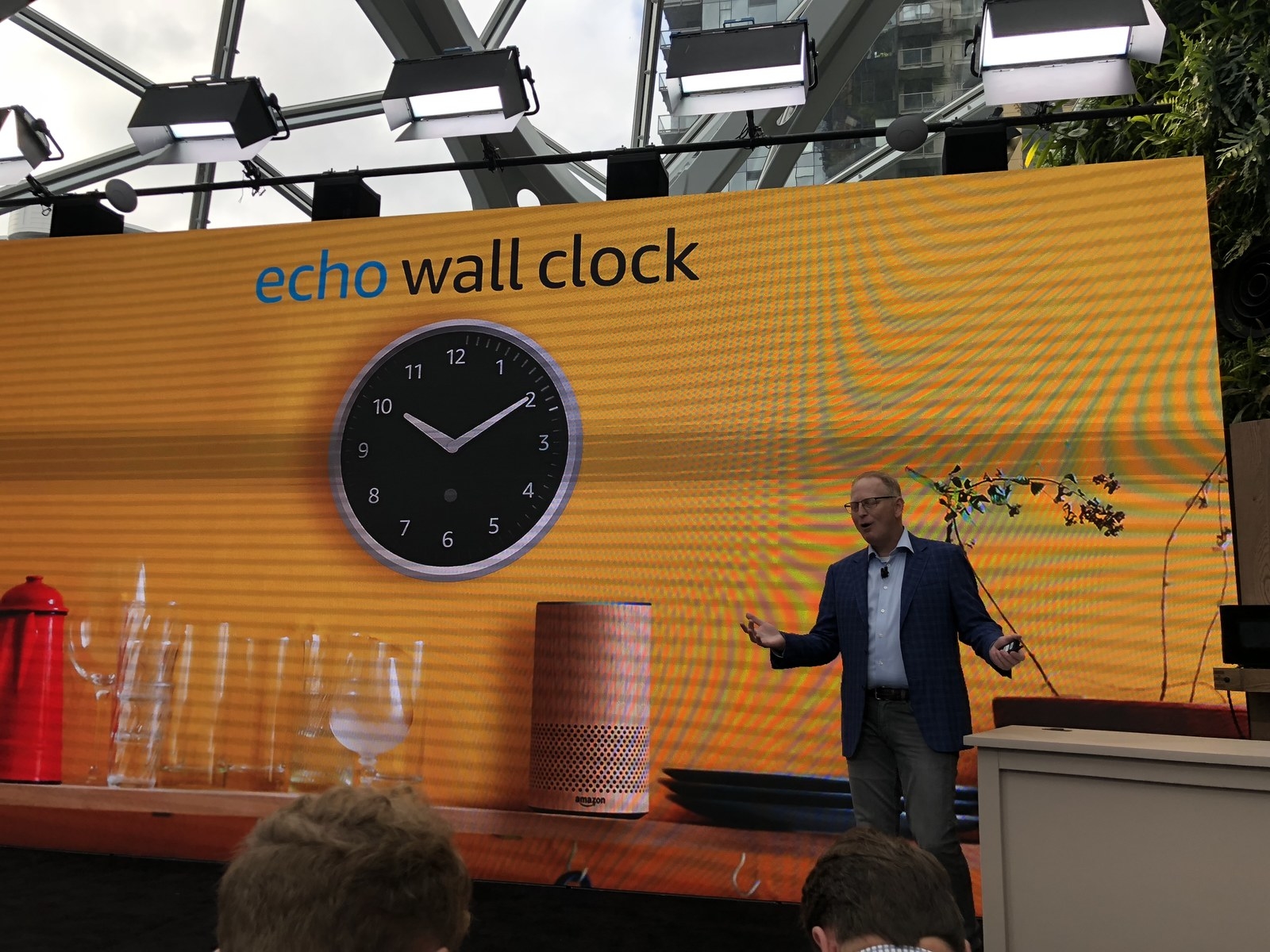 There's a new $30 wall clock that works with Alexa for timers, and can automatically set itself for daylight savings time. The clock shows how much time is remaining on your timer, automatically syncs to the correct time.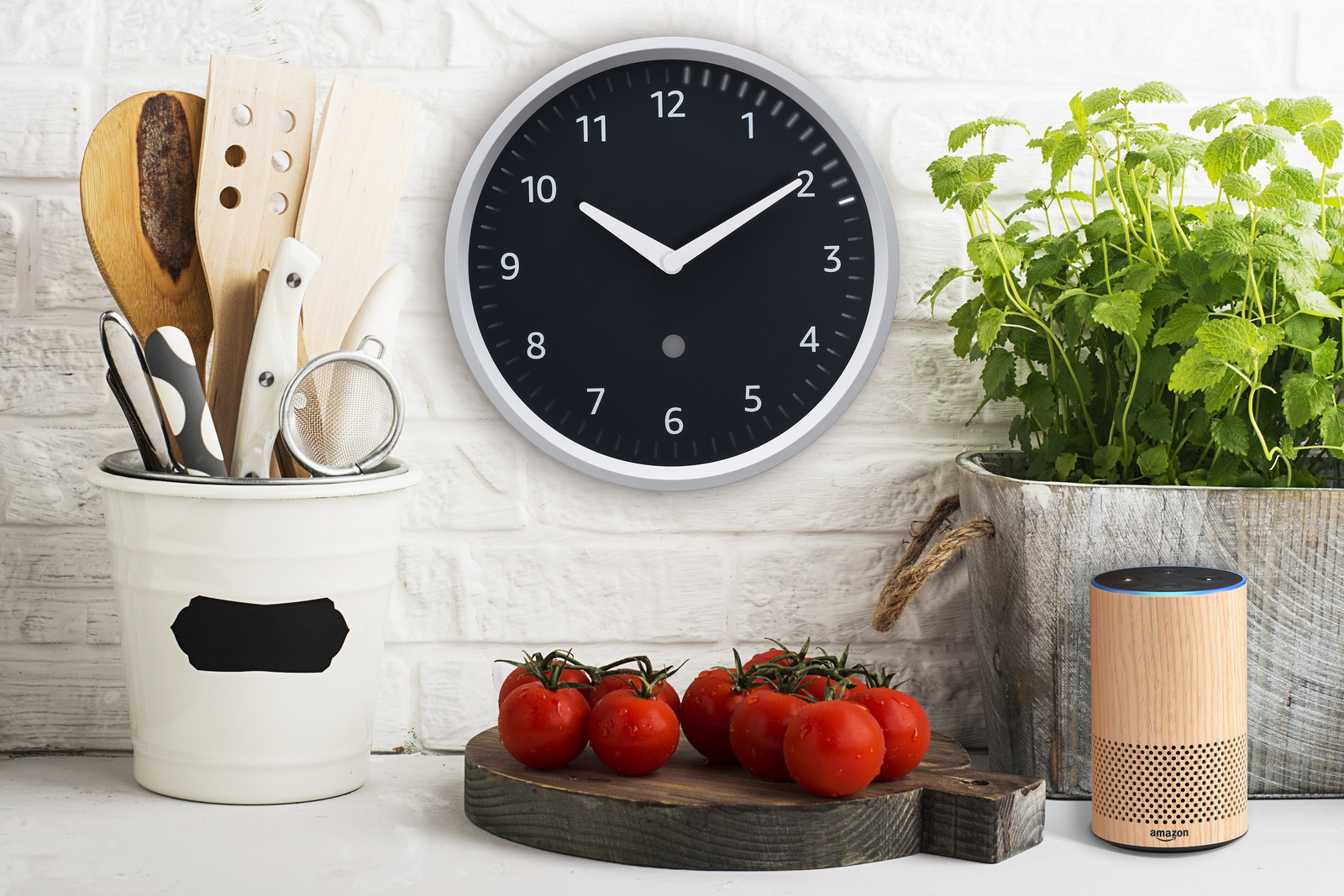 You have to press the "Ask Alexa" button before starting the microwave, but can add time and stop with your voice.
Lmao, there's a microwave with Alexa in it.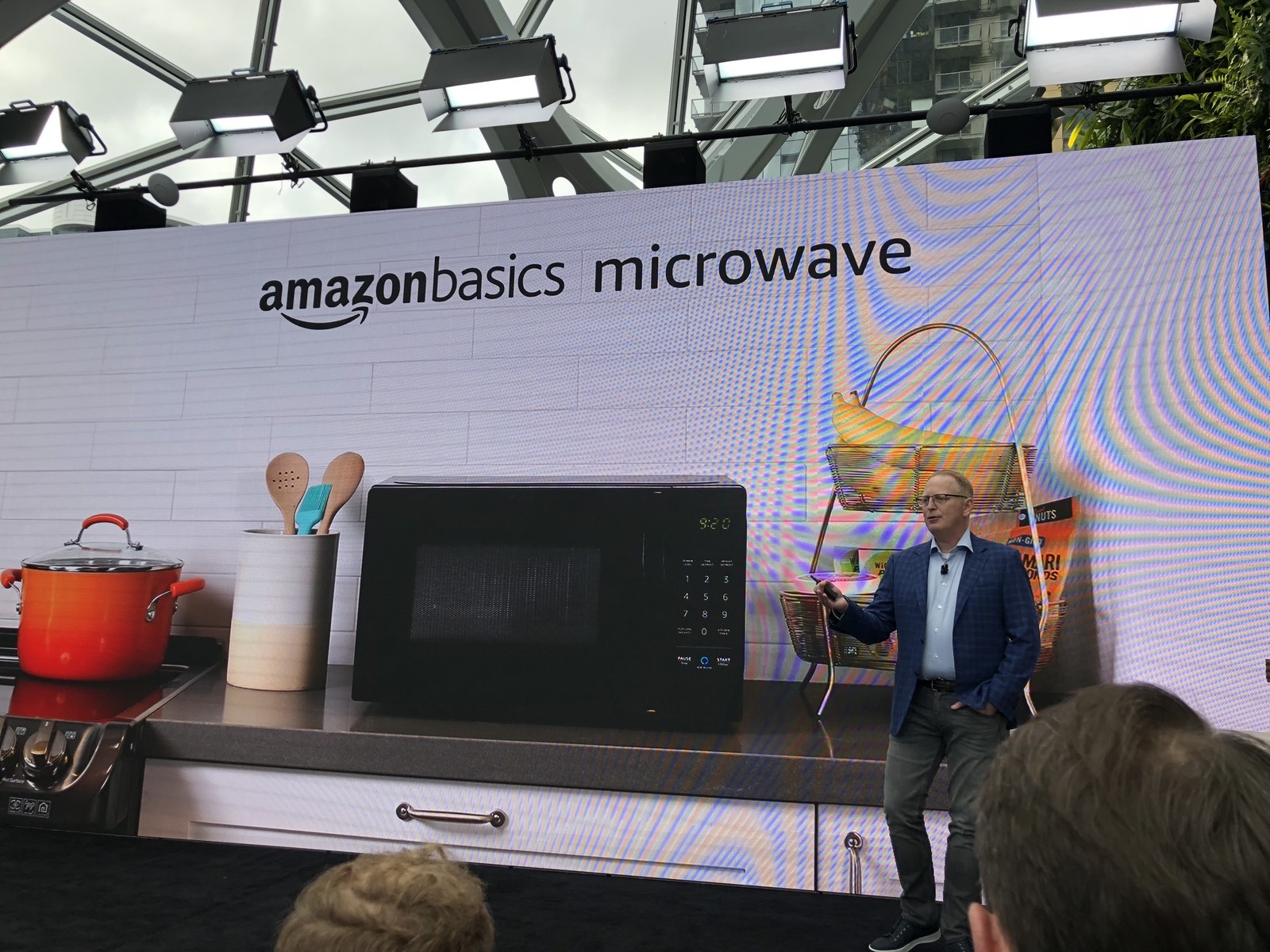 The Alexa-enabled microwave includes quick cook presets, so you can say food names, like "microwave two potatoes" or "popcorn" or "reheat one cup of coffee."
There's an Ask Alexa button that needs to be pressed to activate the paired Echo and respond to voice commands. Once pressed, you can say, "one minute on medium." After the microwave is running, you can tell Alexa to stop the microwave or add more time. It costs $60.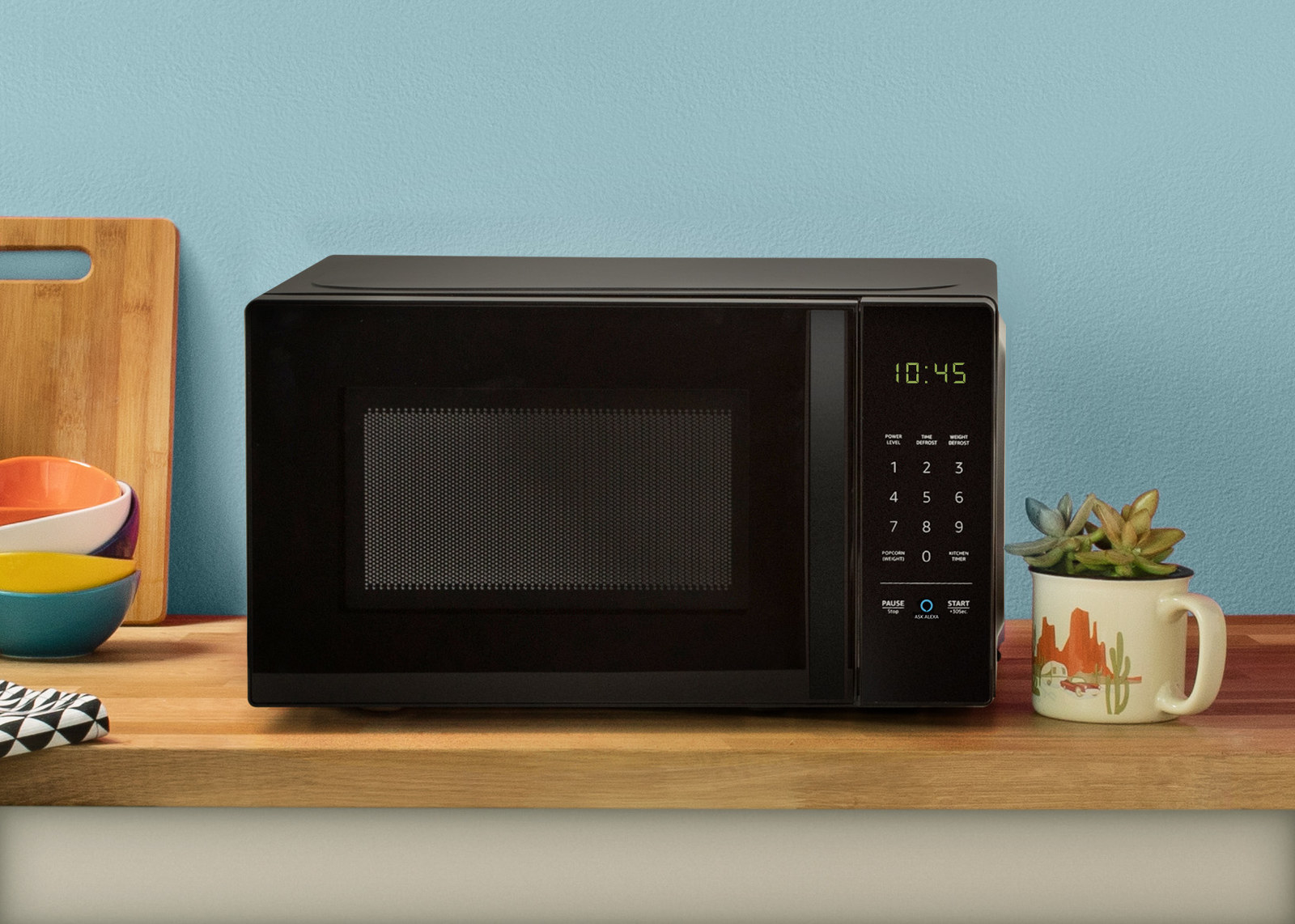 "Frustration-free setup" is an initiative to make setup of Wi-Fi connected smart home devices easier. Amazon's $25 "Smart Plug" is the first device shipping with frustration-free setup.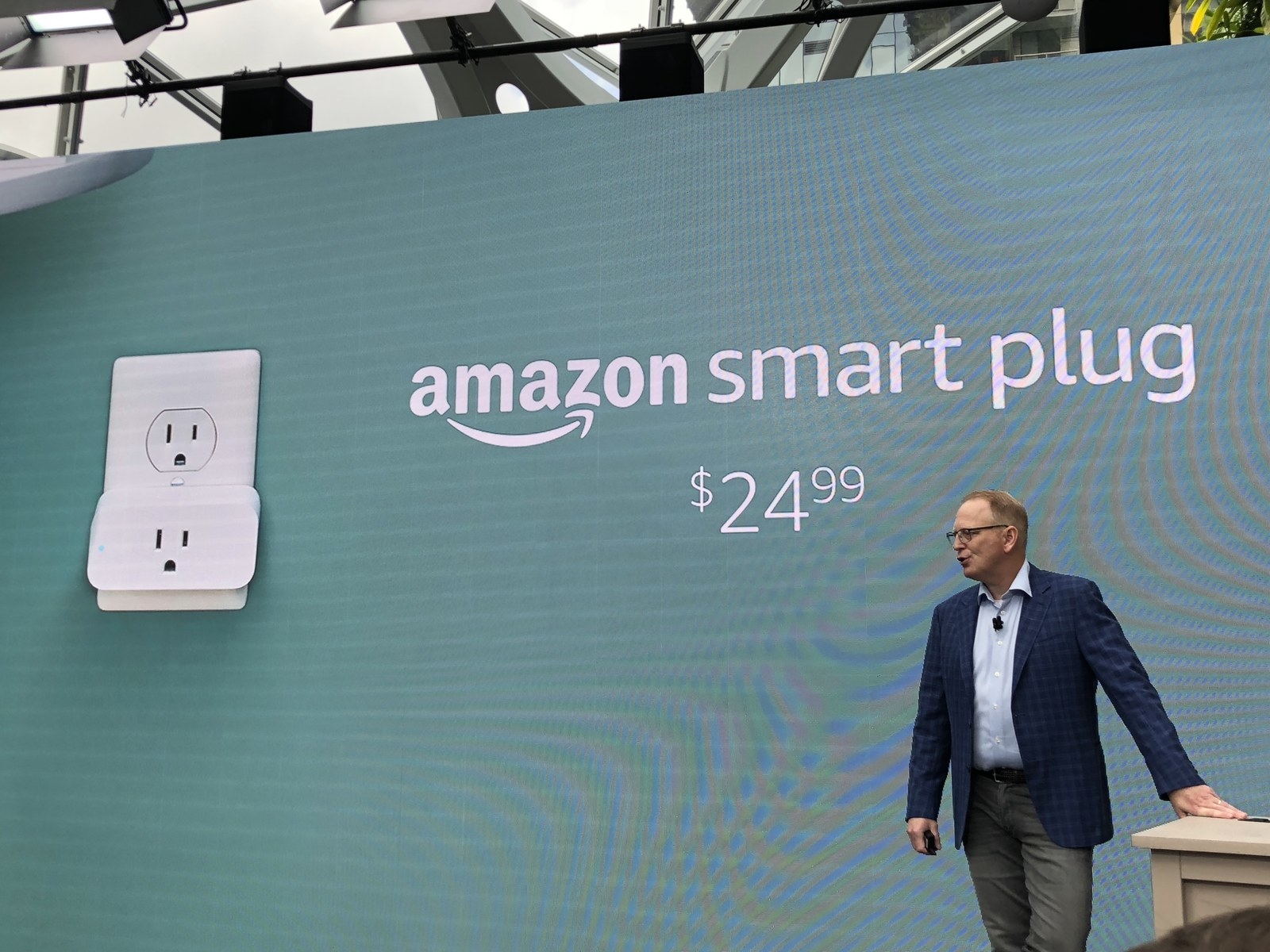 To use the smart plug, you'll need the Alexa app on your phone. It also can be controlled by voice commands using an Echo, Fire TV, Fire tablet, or Sonos One.
There are two parts to this: a Wi-Fi locker, where people can upload their network's Wi-Fi network name and password to the cloud, and Wi-Fi simple setup network, where when the smart device is turned on, it looks for that network stored in the Wi-Fi locker.
Limp showed off the smart plug. He plugged it in, and the Echo on the network automatically shared the network's credentials with the plug, so not set up was required, aside from naming the room the plug was in, which can be done on Echo.
The new Echos are going all-fabric, HomePod style.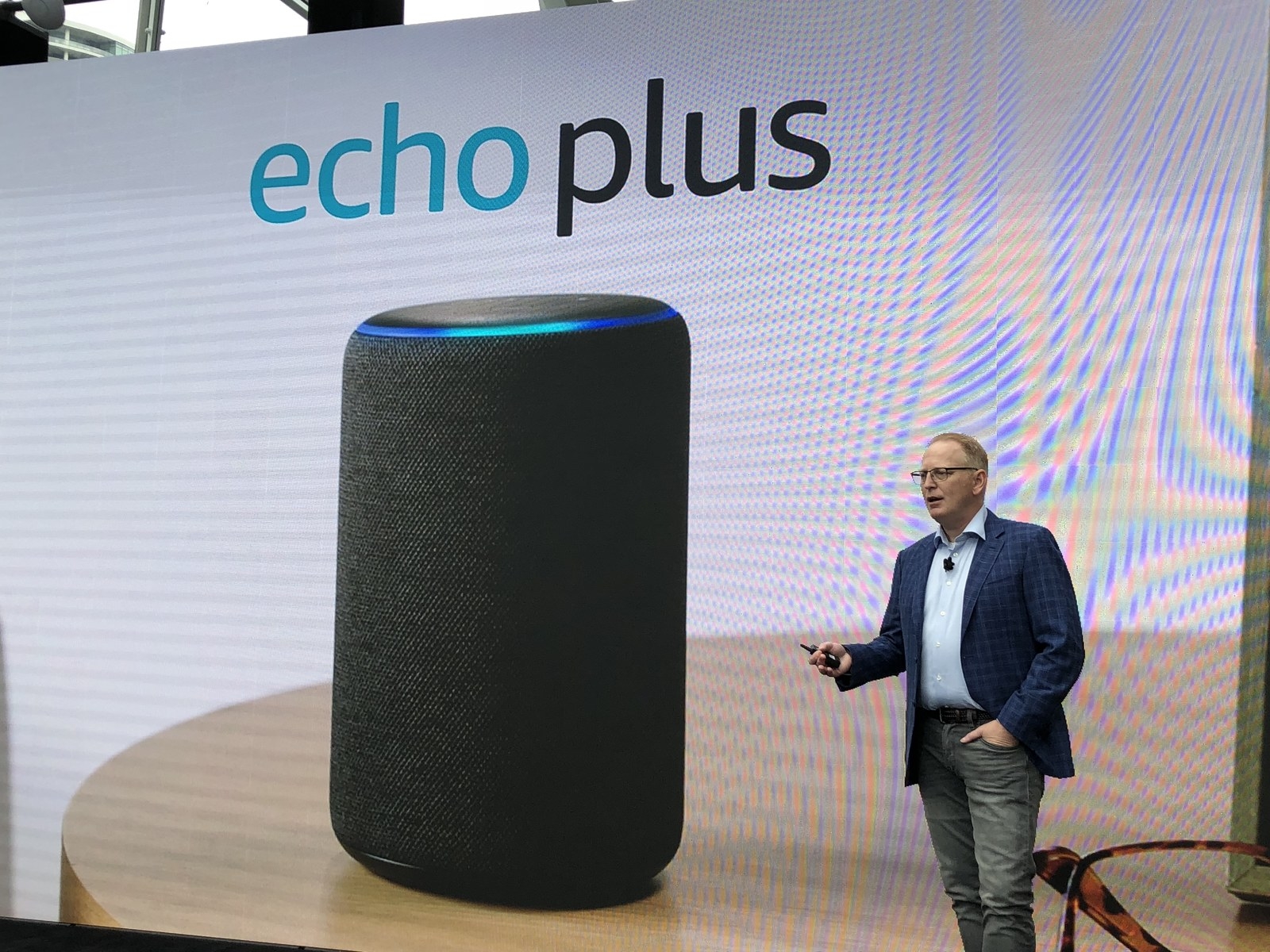 Sooo many Echo audio products: also Echo Link Amp and Echo Link.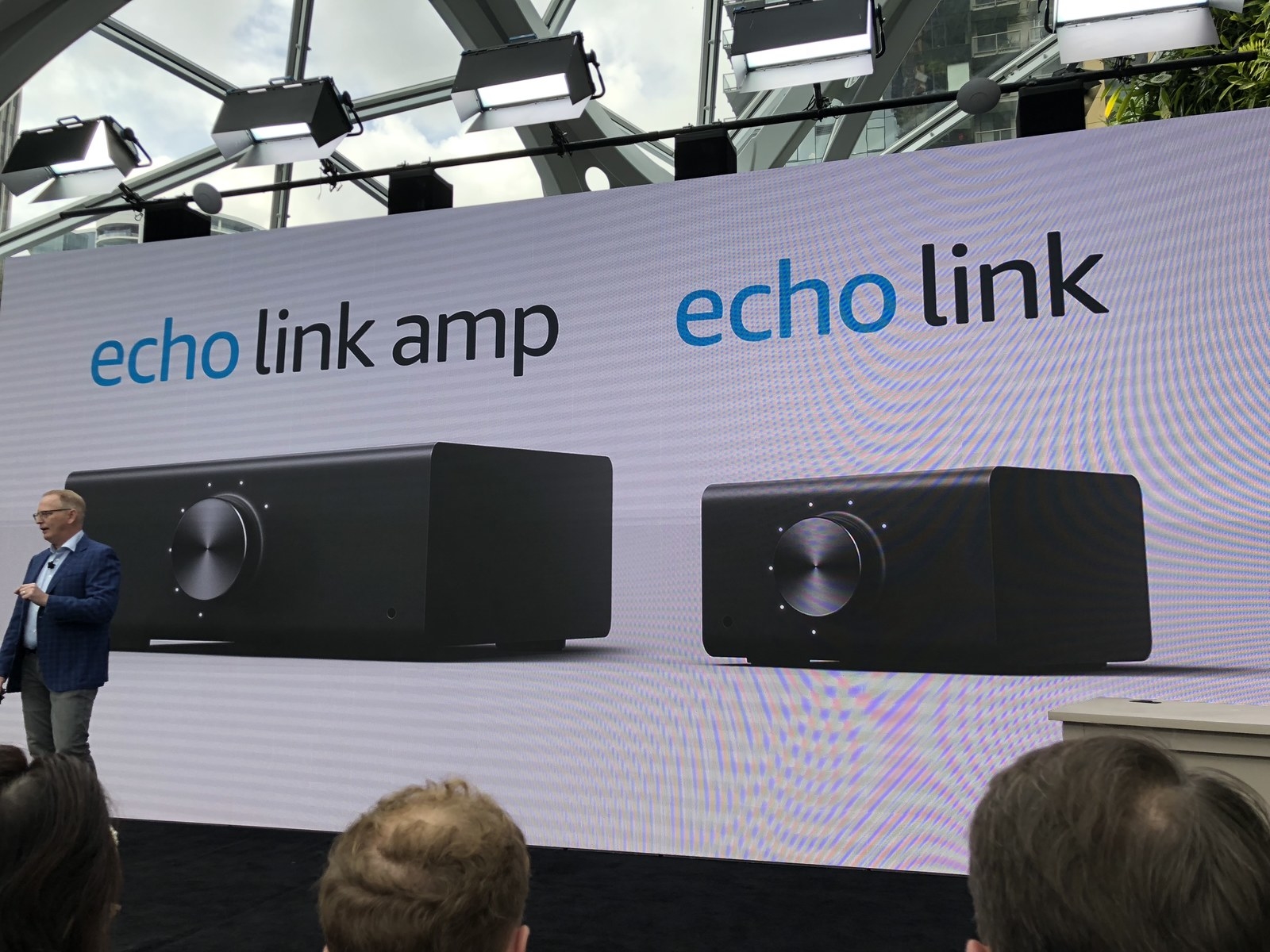 These plug into hi-fidelity speakers I can't afford. The Echo Link connects to a stereo system, and allows that system to play music from streaming services and be controlled with your voice. For example, you could name the Echo Link-enabled audio system "living room" and tell Alexa, "turn up the music in the living room."
The Echo Link Amp is essentially an Echo Link, with an added two-channel amplifier built-in.
Echo Sub! A subwoofer that works with multiple Echoes at once.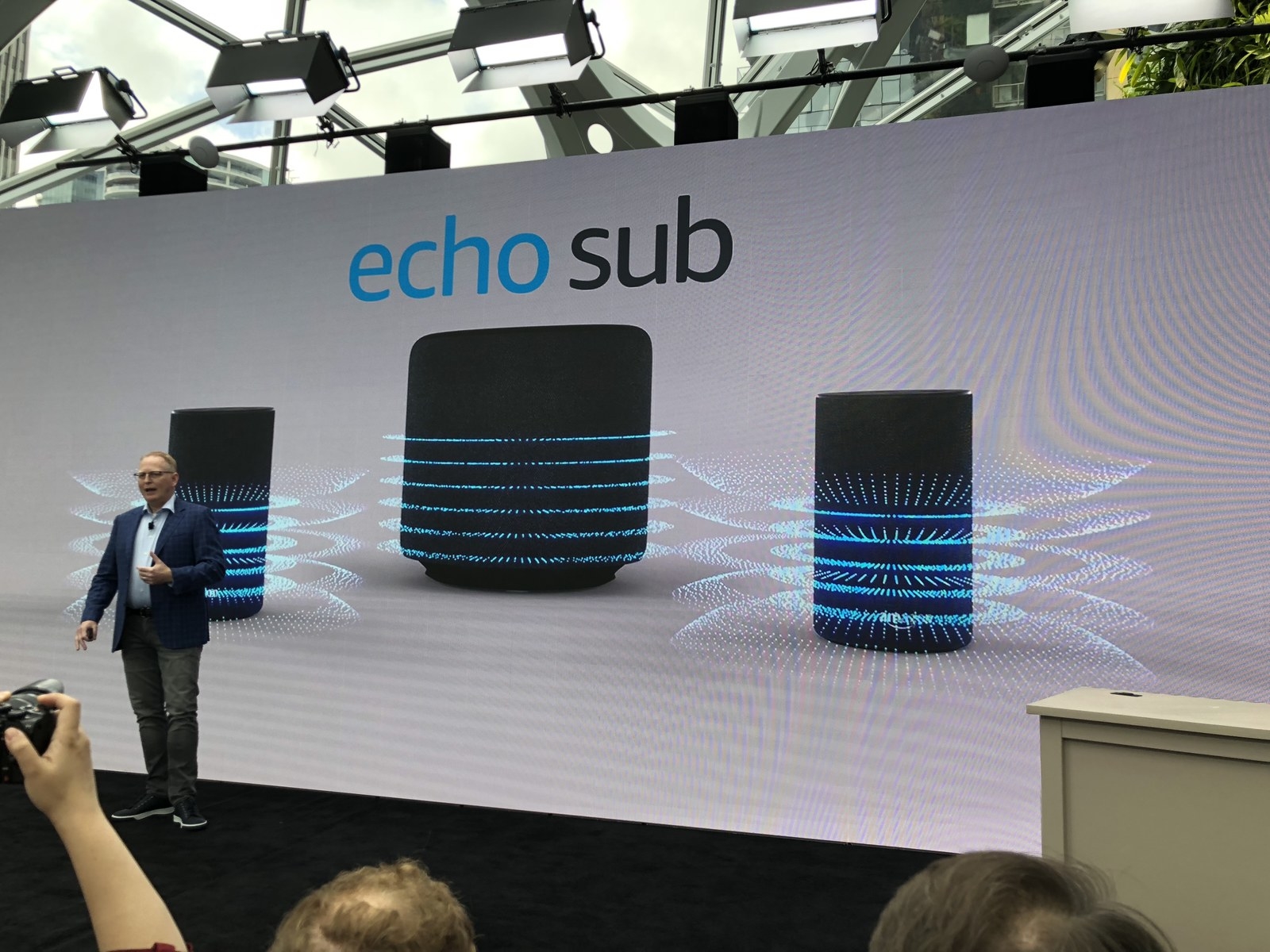 The Echo Sub is a six-inch subwoofer that can connect to an Echo or Echo Plus for immersive audio. It's only compatible with the second-generation Echo (released last year) and Echo Plus (announced today). With Alexa, you can adjust bass, mid-range, and treble with voice commands.
Unlike traditional subwoofers, the Echo Sub works wirelessly — it doesn't need to be physically connected to its speakers (the Echo or Echo Plus) but, of course, will need to be plugged into a power outlet to work.
It's $130 and will be released on October 11, 2018.
There's a new $35 accessory called "Echo Input."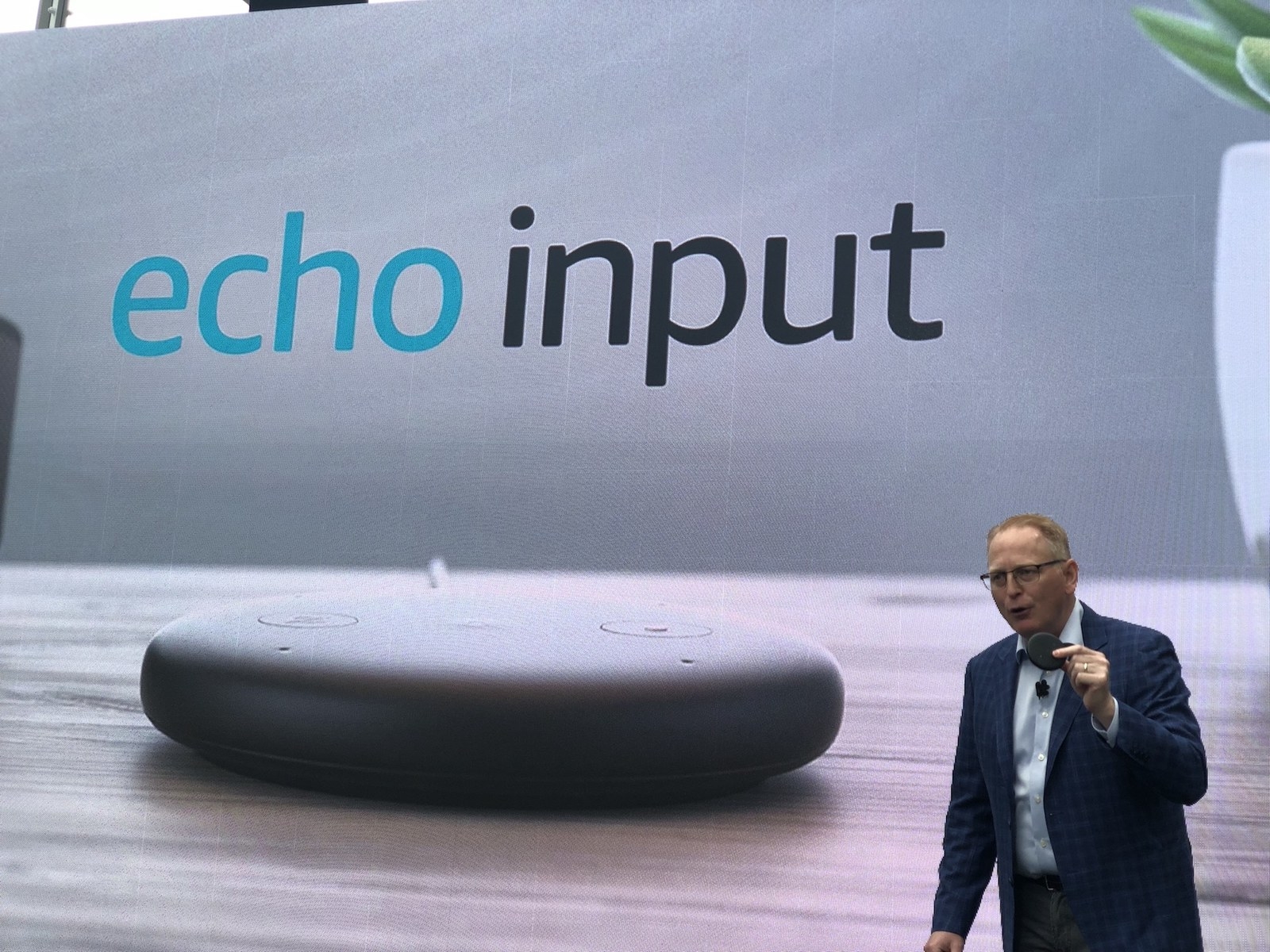 It's the first Echo without a speaker — and it's designed to connect to pre-existing audio systems. It has a microphone, so you can add Alexa to any speaker, like the Chromecast Audio.
Here's the new Echo Dot.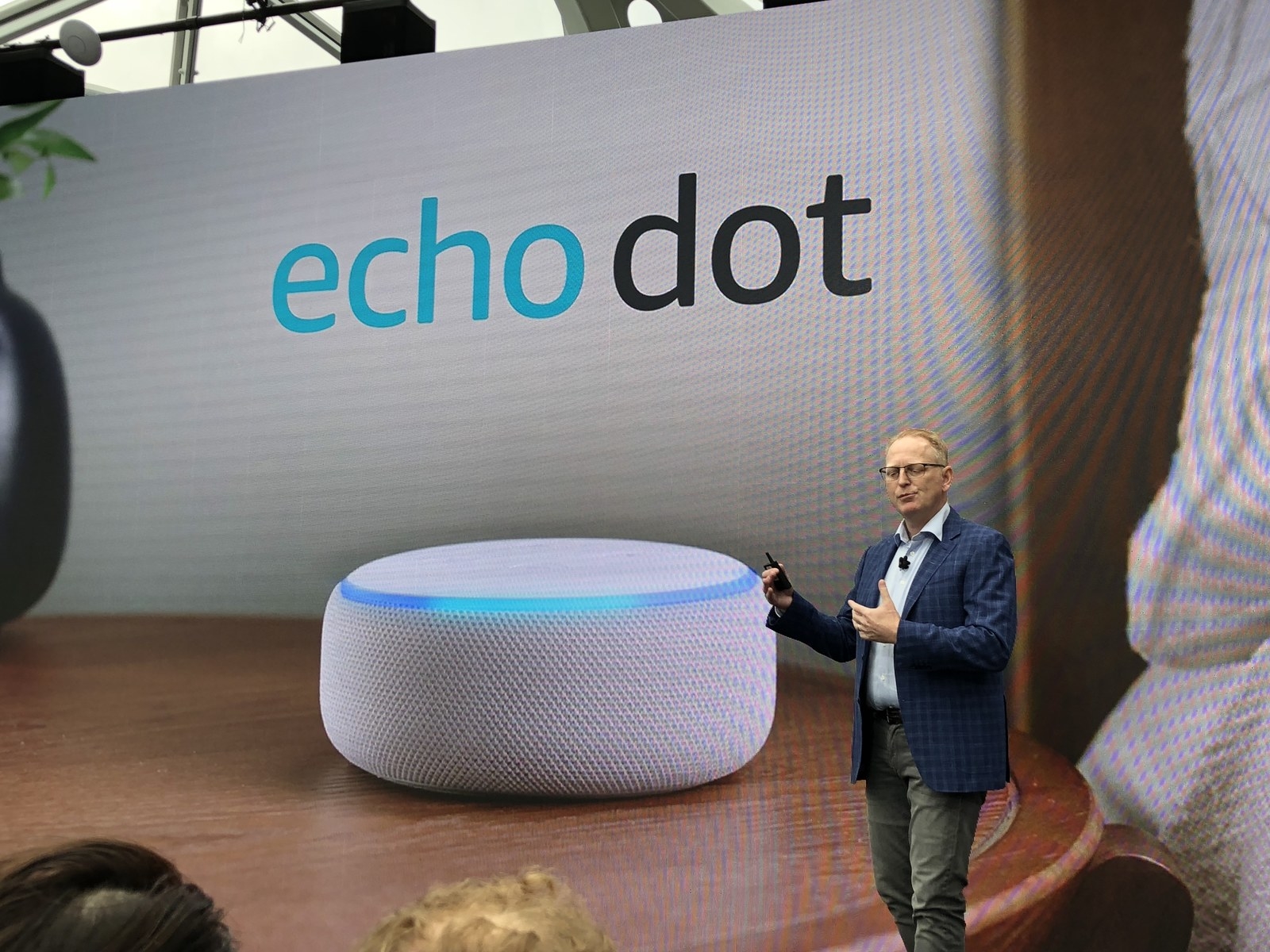 It has 70% louder, clearer sound, and still has audio out. It's $50, can be preordered today, and ships next month. The Dot will be available in charcoal, heather gray, and sandstone.
Here's "Tap to Alexa" on Echo Show. Interact with Alexa without talking to it.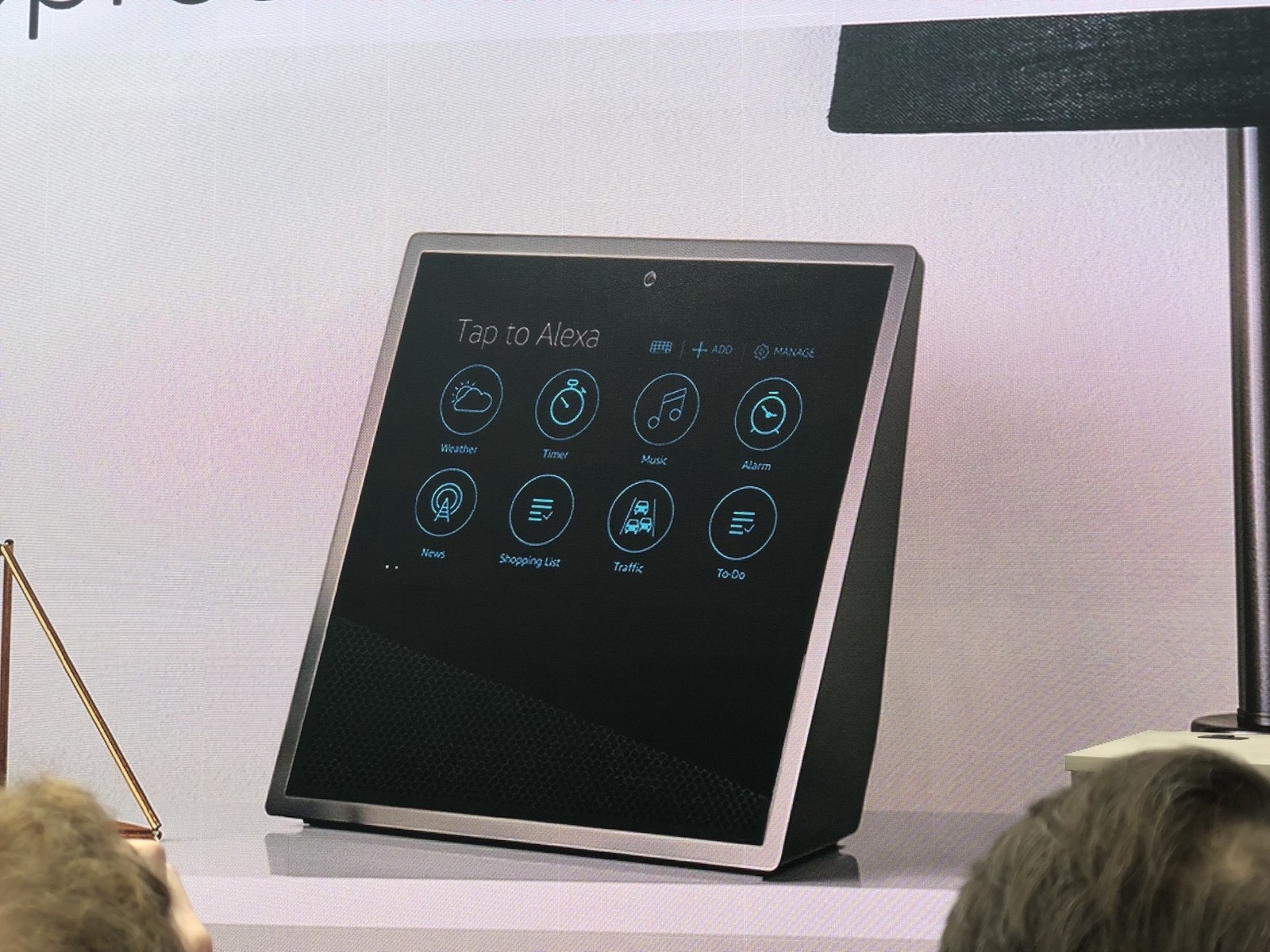 VP of Alexa David Limp takes the stage. Alexa whispers now, if you whisper request lullabies!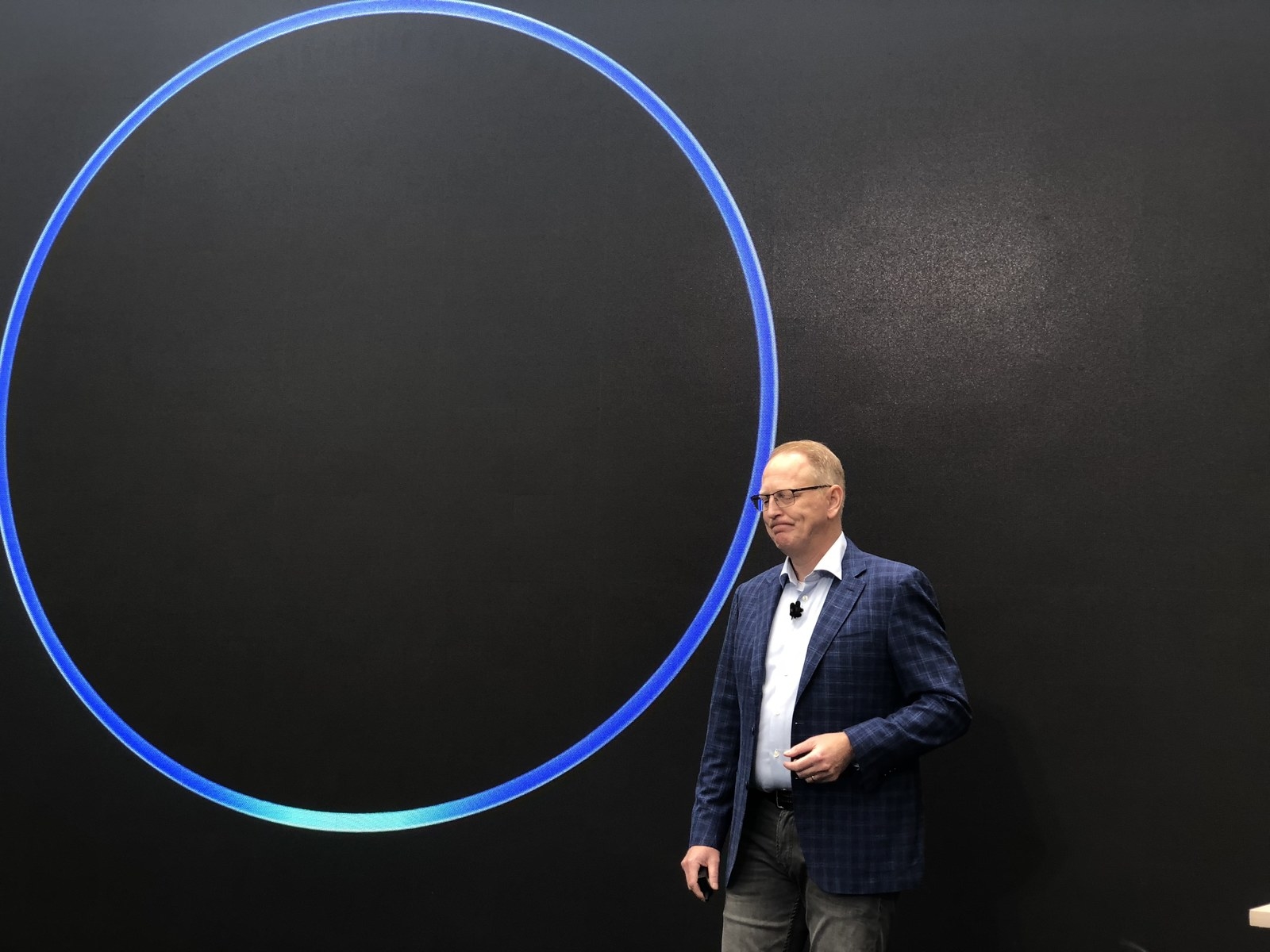 Alexa is more knowledgeable, opinionated, and conscientious since last year's event, said Limp. For example, when you whisper to Alexa, "play a lullaby," Alexa will whisper back.
Amazon accidentally leaked two new products: a subwoofer and a smart plug.
Pocket-lint spotted the "Echo Sub," a subwoofer for Amazon's Alexa-powered Echo speaker, and "Smart Plug," which brings Alexa to any plug-in device.
Spotted: "Alexa, more coffee please" mugs 👀
We're seated — the announcement starts in a few minutes.
The devices are all part of Amazon's ambitions to integrate Alexa everywhere so users can ask questions and buy things with their voices, at any time.
During last year's event, Amazon unveiled the Echo Spot, a little round smart speaker with a screen and video conferencing camera, a second-generation Echo, and the Echo Plus, which is designed to automatically connect to smart home devices.
An estimated 43 million Americans own a smart speaker, NPR and Edison Research reported in July 2018. And according to research from Strategy Analytics, the Google Home Mini, which is powered by the Google Assistant, was the world's best-selling smart speaker during the second quarter of 2018, with 2.3 million units shipped. The Echo Dot, which was last updated in 2016, followed closely behind, with 2.2 million units shipped.