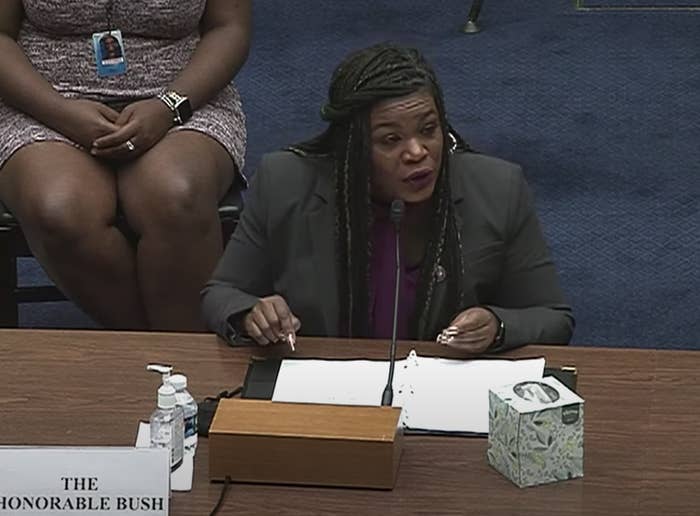 Rep. Cori Bush of Missouri on Thursday shared the story of her abortion, remarking before the House Committee on Oversight and Reform on her personal experience at a time when abortion access has been threatened by momentous anti-abortion legislation at the state level.

"In the summer of 1994, I was a young girl, all of 17 years old and had just graduated high school," Bush said as she opened her testimony. "Like so many Black girls during that time, I was obsessed with fashion and gold jewelry and how I physically showed up in the world."
Bush said she was "very lost" around that time. She said she had been a straight-A student her whole life with dreams of attending college and becoming a nurse, and her father envisioned her becoming attorney general. But high school had been difficult for her, she said, because of discrimination and bullying. Her grades slipped as a result, along with her dream of getting a scholarship to a historically Black college.
"That summer, I was just happy I passed my classes and finished high school," Bush said. Around that time, she went on a church trip with friends to Jackson, Mississippi. During the trip, she said she met an older man around 20 years old.
Bush and the man flirted and talked on the phone. He asked to come over to her room, she said. Bush was with a friend and said he could come by, "imagining that we would talk and laugh like we had done over the phone."
Hours passed and her friend had gone to bed by the time the man came over.
"The next thing I knew he was on top of me, messing with my clothes and not saying anything at all," Bush said. "I was frozen in shock just lying there as his weight pressed down upon me."
When he was done, he pulled up his pants and left without a word, she continued.
"I was confused. I was embarrassed. I was ashamed," Bush said, adding that she asked herself if the rape was because of something she had done.
The young man refused to talk to Bush the next morning. About one month later, she had turned 18 and noticed she had missed her period. Unable to contact the man who she said had raped her, she thought of friends she knew who had gotten birth control and abortions.
"I knew I had options ... So I looked through the Yellow Pages and scheduled an appointment," Bush said, pausing before saying she was nine weeks pregnant at her first appointment. This is three weeks past Texas's six-week abortion ban that went into effect earlier this month.
"How could I, at 18 years old and barely scraping by, support a child on my own?" Bush said she thought at the time. Knowing that the father would not be involved and fearing her parents would kick her out of their home, Bush decided to terminate the pregnancy.
"My abortion happened on a Saturday," she went on. A few other people were in the clinic that day, including one other young Black girl. Bush recalled overhearing clinic staff talking about this Black girl destroying her life because "that's what they do."
"'They' being Black girls like us," Bush said. "Before the procedure, I remember going in for counseling and being told that if I move forward with this pregnancy, my baby will be jacked up because the fetus was already malnourished and underweight. Being told that if I had this baby, I will wind up on food stamps and welfare. I was being talked to like trash."
She said afterward she overheard white girls in the changing area talking about how they were told by clinic staff "how bright their futures were" and how loved their babies would be if they were adopted and "their options and their opportunities were limitless."
"In that moment listening to those girls, I felt anguish, I felt like I had failed," Bush said. When she went home after the procedure she said she had heavy bleeding, nausea, and dizziness. Even more, she felt alone but assured of her decision, knowing it had been the right one for her.
"It was freeing, knowing I had options," she said.
The member of Congress shared her experience once before to an audience at a rally in her hometown of St. Louis, but this was the first time Bush told the full version of the story to the public.
Bush's testimony comes nearly a week after the US House passed the Women's Health Protection Act, a legislative response to Texas's law, known as SB 8. Rep. Carolyn Maloney, the chair of the Committee on Oversight and Reform, held Thursday's hearing to "sound the alarm" on the need to protect and expand abortion rights in the US. The Senate version of the bill is unlikely to pass, with a 60-vote threshold to pass most legislation.
"The right to abortion is rendered meaningless without access," Maloney said in her opening statement to the committee.
Rep. Ayanna Pressley of Massachusetts followed Maloney and expressed gratitude to her colleagues, including Bush, who shared their personal experiences in the name of abortion access.

"I look forward to the day people no longer have to relive their trauma in order to advance justice," Pressley said.

The House bill would promise that medical providers have the legal right to provide abortion services "prior to fetal viability," or despite some state-specific restrictions, such as mandatory waiting periods or counseling requirements. This is a direct reaction to laws like the one in Texas, which limits nearly all abortions after fetal cardiac activity can be detected, usually around the sixth week of pregnancy. The Texas law, and potential similar laws in states like Mississippi, pose a threat to the constitutional right to abortion established by Roe v. Wade.
Reps. Barbara Lee of California, Pramila Jayapal of Washington, Judy Chu of California, and Kat Cammack of Florida were also present on the panel along with Bush.
"I did not suffer from living in a state that does not allow pregnant people to make these choices, and unlike one of my colleagues who was testifying today, I had the privilege of experiencing the world in a post-Roe v. Wade time where abortion was established as a constitutional right," said Jayapal, who also shared the story of her abortion.
"Because of the cruel Texas abortion ban and the other state abortion bans currently being litigated by those unaffected by the outcome, many people may not have the same choice as I did," Jayapal said. "That is unacceptable."
Lee spoke of abortion access before Roe v. Wade, sharing for the first time publicly how she received a "back-alley" abortion as a 16-year-old.
Raised in El Paso, Texas, Lee attended a Catholic school and never received formal sex education. When she moved to California as a teenager, she noticed she'd missed her period. Lee said she was confused and unsure when she became pregnant. She was a successful student and athlete who did not want parenthood to disrupt her life. But abortion was not legal in California at the time, so her mother helped her access an abortion out of the country.
"This was in the mid-1960s when women and girls were told if you didn't have a period, you should take quinine pills, sit in a tub of water, or use a coat hanger if nothing else worked," Lee said. Through one of her mother's friends in El Paso, Lee said she went to a "good and compassionate" doctor at a "back-alley" clinic in Mexico.
"I was one of the lucky ones," Lee said. "A lot of girls and women in my generation didn't make it. They died from unsafe abortions. In the 1960s, unsafe septic abortions were the primary killer, primary killer of African American women. Personal experience shaped my beliefs to fight for people's reproductive freedom."

Along with the lawmakers, feminist advocates including Gloria Steinem, Loretta Ross, cofounder of the Reproductive Justice Movement, and Maleeha Aziz, community organizer of the Texas Equal Access Fund, were also present at the hearing.

"What's happening in Texas is not only a local issue or a women's issue," Steinem said. "It's a step against democracy."
Like Lee, Steinem recalled the reality in the US before Roe v. Wade. She said she fears a return to people only having access to less safe abortions if they are not protected under the law.
Bush said it took her a long time for her to feel like herself again after her abortion.
"To all the Black women and girls who have had abortions and will have abortions, we have nothing to be ashamed of," Bush said. "We live in a society that has failed to legislate love and justice for us, so we deserve better. We demand better. We are worthy of better. That's why I'm here to tell my story. Today I sit before you as that nurse, as that pastor, as that activist, that survivor, that single mom, that Congresswoman, to testify that in the summer of 1994, I was raped, I became pregnant and I chose to have an abortion."