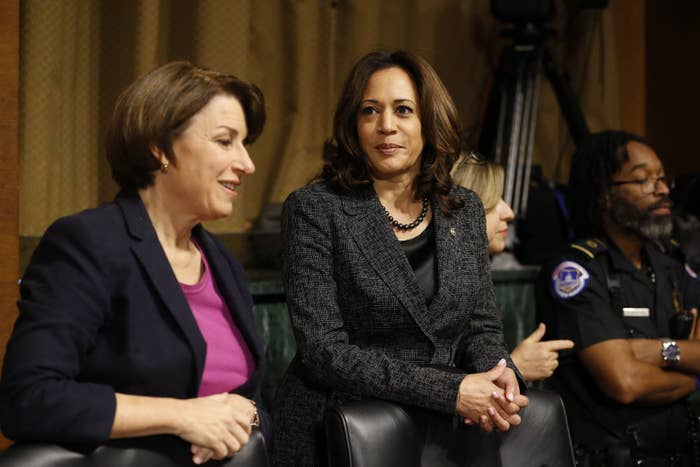 Sens. Kamala Harris and Amy Klobuchar have stood out throughout Brett Kavanaugh's grueling confirmation hearings for questioning that closely fits their growing national profiles: Harris, a sharp, prosecutorial California firebrand, and Klobuchar, an even-handed but effective Midwestern moderate.
Klobuchar and Harris are both former prosecutors — and both have rumored presidential ambitions ahead of the 2020 elections. Both struck rare blows against Kavanaugh in front of a riveted nationwide audience Thursday, during a Senate hearing over Christine Blasey Ford's allegations that Kavanaugh sexually assaulted her when the two were in high school. But they did so in diverging ways.

Harris, a 25-year sex crimes prosecutor and the former California attorney general, has quickly established a reputation for hard-hitting, no-nonsense questions in her short time on the Senate Judiciary Committee. She pressed Kavanaugh Thursday on his failure to take a polygraph test or demand an FBI investigation, a contrast, she said, to his accuser; and on his use of friendships with women to defend himself against Ford's allegations.
Harris finished her allotted five minutes with a one-sentence question: "Did you watch Dr. Ford's testimony?"
"I did not. I plan to," Kavanaugh replied. "I plan to, but I did not. I was preparing mine."
It was a moment that resonated for many who had watched Ford speak that morning — testimony compelling enough that many Republicans initially feared they had lost Kavanaugh's nomination battle.
With Republicans pushing ahead toward an initial vote on Kavanaugh Friday morning, Harris made waves again: she refused to cast a vote. As the committee ran through a roll call of senators' votes, she sat silently and stoically after her name was called.
It was Klobcuhar who spoke on behalf of Harris and Sen. Cory Booker, who also abstained. "They're not answering because this is so unfair, Mr. Chairman."
Moments later, Harris and several other Democrats walked out of the committee, calling the process a "sham."

Klobuchar, known in the Senate as a moderate with remarkably broad approval in swing state Minnesota, was only a few seconds into her questioning Thursday when Kavanaugh interjected to offer her praise, saying he appreciated their prior meeting and Klobuchar's "fair" questioning during his initial confirmation hearings.

But she was also the first Democrat in the hearing Thursday whose questioning caused Kavanaugh to waver. After telling the story of her father's own struggles with alcoholism, Klobuchar asked if Kavanaugh had ever had a night of drinking where he could not remember what had happened — something he has previously and repeatedly denied, and something that could support Ford's recollection of the night she says she was assaulted.
"That's… you're asking about, yeah, blackout," Kavanaugh said. "I don't know — have you?"
Klobuchar was silent for a moment, appearing to balk. "Could you answer the question, Judge? Just so you have — that's not happened? Is that your answer?"
"Yeah, and I'm curious if you have," Kavanaugh shot back.
"I have no drinking problem, Judge," Klobuchar said stoically.
"Nor do I," Kavanaugh answered.
After a 15-minute break, Kavanaugh apologized to Klobuchar from the witness table.
Along with their colleagues Sens. Dianne Feinstein and Mazie Hirono, Klobuchar and Harris also stood out Thursday for who they sat across from during the hearing: a bank of white, male Republicans who ceded their questioning of Ford to a female prosecutor from Arizona.
Harris created a viral moment for herself earlier this month with her gripping questioning of Kavanaugh in his first set of Senate hearings. She needled in on a question about whether Kavanaugh had discussed special counsel Robert Mueller's probe into Russian interference in the 2016 election with members of a law firm founded by the president's personal lawyer — prompting an exhausting eight-minute exchange during which she pressed Kavanaugh, who repeatedly appeared to avoid a direct answer. It prompted pundits to ask, "What, exactly, does Harris have on Kavanaugh?" (To this point, that question has not been publicly answered.)
During that hearing, Klobuchar focused her questions on Kavanaugh's views on presidential power and health care — a far friendlier, and less dramatic, exchange. But for Klobuchar, that was, perhaps, the point.