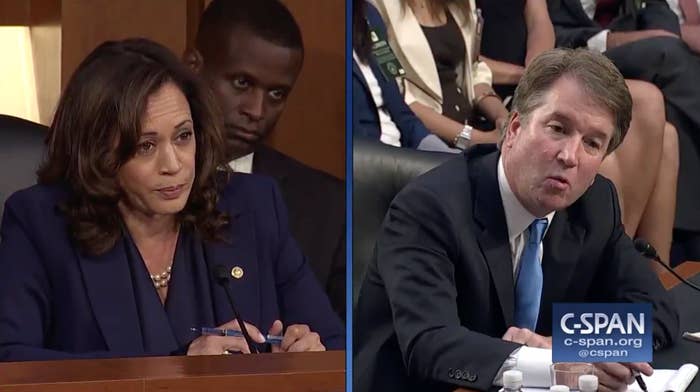 More than 12 hours into Judge Brett Kavanaugh's Supreme Court confirmation hearing Wednesday, Sen. Kamala Harris raised a question about special counsel Robert Mueller's investigation that appeared to take everyone by surprise.
"Have you ever discussed special counsel Mueller or his investigation with anyone?" Harris asked, prompting Kavanaugh to note that the topic is "in the news every day" and that he had discussed it "with other judges."
Then, however, Harris shifted to a far more direct question: "Have you discussed Mueller or his investigation with anyone at Kasowitz Benson and Torres, the law firm found by Marc Kasowitz, President Trump's personal lawyer?"
And though that question amounted to a near accusation that the senator never quite made, Kavanaugh also was unable to give a direct answer — leaving the issue unresolved going into Thursday, what will be the third day of Kavanaugh's confirmation hearing.
Nothing about such a communication between Kavanaugh and a lawyer from the Kasowitz firm has been reported previously, and the White House did not respond to a request for comment on the exchange.

Instead, what happened at the hearing was a nearly eight-minute exchange that continued until Kavanaugh eventually said, "I"m not remembering anything like that."
But, in the interim, the two went back and forth giving each other quizzical looks after each exchange.
On Thursday morning, Sen. Orrin Hatch gave Kavanaugh a chance to clean up his answer, saying that Harris "did not allow [him] to complete his answers" on the question.
"I don't recall any conversations of that kind with anyone at that law firm. I didn't know everyone who might work at that law firm, but I don't recall any conversations of that kind," he said.
I haven't had any inappropriate conversations about that investigation with anyone," Kavanaugh added. "I've never given anyone any hints, forecasts, previews, winks, nothing about my view as a judge or how I would rule as a judge on that or anything related to that, so I thank you for the opportunity to clarify and reassure you on that."
The Wednesday night exchange began down the quizzical-faces path after Kavanaugh did not give a clear or definitive answer to Harris's question.
"Is there a person you're talking about?" Kavanaugh asked.
"I'm asking you a very direct question: yes or no?" Harris replied.

"I'm not sure I know everyone who works at that law firm."
"I don't think you need to; I think you need to know who you talked with."
"I don't think — I'm not remembering, but I'm happy to be refreshed, or if you want to tell me who you're thinking about."
"You have an impeccable memory. ... How can you not remember whether or not you had a conversation about Robert Mueller or his investigation with anyone at that law firm. His investigation has only been going on for so long."
At one point, Sen. Mike Lee objected, saying that "there are a lot of people who work at a law office" and questioning whether Kavanaugh could be presumed to know everyone who works at a given law firm.
During his objection — as has happened throughout the proceedings — a pair of protesters stood up in the audience to object to the Senate's consideration of Kavanaugh's nomination until they were arrested and removed from the room by US Capitol Police.
After the hearing concluded for the night, a Democratic aide said that they "have reason to believe" that a conversation happened and they "are continuing to pursue it."
Harris's staff did not provide any evidence to back up the questioning, but, instead, linked it to questions asked earlier in the day that Kavanaugh declined to answer about his views on executive power — from questions about whether a president can be forced to respond to a subpoena or be indicted while in office to broad questions about whether he can refuse to enforce certain laws if he believes they are unconstitutional.

"Given the nominee's continued evasiveness on executive power and the ongoing special counsel investigation, it was notable the nominee could not provide a simple yes or no on this one," a Harris aide later told BuzzFeed News. "The senator is determined to get answers to all of her questions."
By the end of the day Wednesday, just a little more than two hours after it took place, clips of the exchange posted by C-SPAN were retweeted more than 5,000 times.
UPDATE
This story has been updated with a Thursday morning exchange.