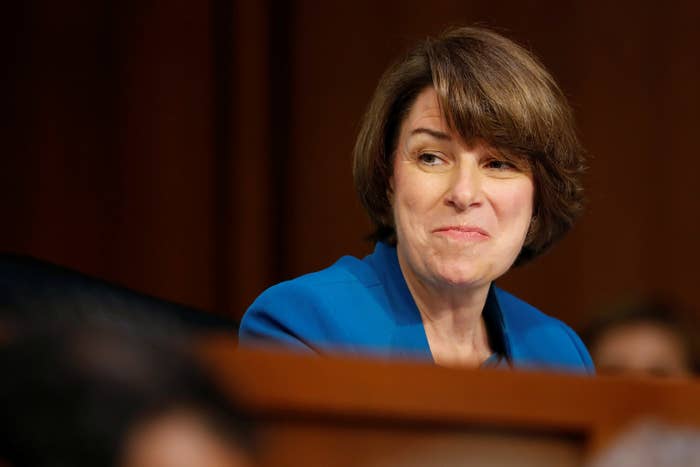 Staring down statewide losses Tuesday from big progressive stars in Florida, Georgia, and Texas, Democrats are suddenly getting more excited about Midwesterners who might appeal to working-class white voters in the 2020 presidential election.
Sen. Sherrod Brown on Tuesday again proved himself the only Democrat in a decade — other than former president Barack Obama — capable of winning statewide in the electoral battleground of Ohio.
And in Minnesota, Sen. Amy Klobuchar, who has been attracting increasing national attention, won reelection in the competitive state by an astonishing 25 points, carrying tens of thousands of voters in rural areas who otherwise went mostly for Republicans.
The brightest statewide spots for Democrats, in fact, were largely in the Midwest, where Democrats won governorships in Michigan, Pennsylvania, and Wisconsin — the three states that handed Trump the presidency in 2016 — and posted impressive margins in Minnesota, a state Trump lost only narrowly.
That has made people like Klobuchar and Brown — who have won consistently in their states with friendly, personable profiles — into potentially appealing 2020 choices for some Democrats.
Klobuchar's resounding victory in Minnesota is "a road map to the future," said Democratic pollster Celinda Lake. "She's an extremely appealing, personable retail politician — very warm, everyone likes her. I think it's the winning formula for anyone to run for president."
Klobuchar, a pragmatic moderate with a reputation for bipartisanship, still has little name recognition outside her state. But her national profile has been rising since the hearings this fall for Supreme Court Justice Brett Kavanaugh, when her even-handed, prosecutorial questioning proved effective. She's made trips to Iowa this fall, the starting point of the presidential primary race.
On Tuesday night, she won 60% of the vote in Minnesota, compared to 34% for the Republican. Another Democratic Minnesota senator, Tina Smith, was also on the ballot, but she won by only 10 points.
"Between the fact that she had such a blowout election and that Iowa is right next door [to Minnesota], I assume she and her team are going to be thinking real hard about getting into this race," said Jim Manley, a longtime Democratic strategist with a history in Minnesota politics.

Democrats were mostly shut out of Ohio on Tuesday night, losing a hard-fought governor's race and both of the House races they had hoped to win. But Brown's six-point victory — although a slimmer margin than some had been forecasting — was a bright spot. There was some 2020 speculation surrounding Brown before the election; it was even louder Wednesday.
"When you're one of the only Democrats in the country who can win in a red state, it's natural to think about it at some point, and after the dust settles from the election, I'm sure that time will come," said a Democrat close to Brown's political team.
But, he cautioned, "It's nothing that's top of mind at the moment."
Brown is "in no way focused on 2020," said the Democrat, who requested anonymity to speak candidly about the senator. Instead, he's focused on setting a path for his party by "making sure that Democrats are talking about their work and the country in a way that is productive and can lead to electoral success in 2020."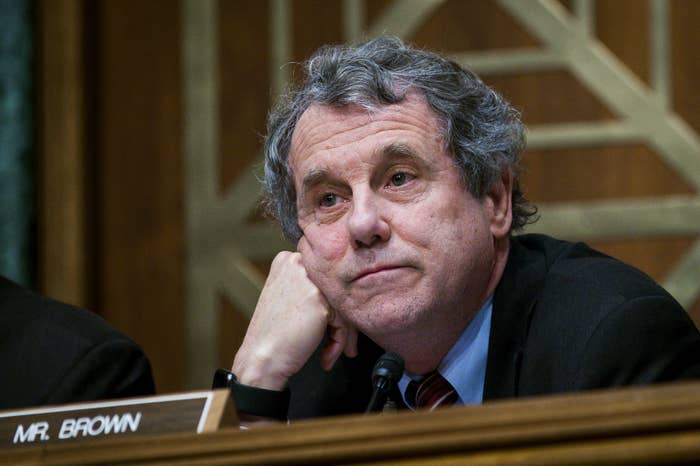 Brown hit that theme hard in his victory speech Tuesday night.
"Let our country — let our nation's citizens, our Democratic Party, my fellow elected officials all over the country — let them all cast their eyes toward the heartland, to the industrial Midwest, to our Great Lakes state," Brown told supporters in Columbus.
"Let them hear what we say. Let them see what we do. And we will show America how we celebrate the dignity of work, how we honor organized labor and all workers — the waitress in Toledo, the nurse in Columbus, the office worker in Dayton, the mine worker in Coshocton. That is the message coming out of Ohio in 2018, and that is the blueprint for America for 2020."
Dayton Mayor Nan Whaley, who worked on Brown's 2012 reelection campaign and is close with him, said Wednesday that she hasn't yet had conversations with him about 2020.
"I would love for Sherrod to run," Whaley, who briefly ran for Ohio governor this year and is viewed as a rising star in the state party, told BuzzFeed News. "I would be the first to get on board with that. I think he understands the issue in the Midwest with the dignity of work."
Earlier this year, Whaley accompanied another 2020 prospect, Los Angeles Mayor Eric Garcetti, as he met with Democrats in Ohio.
"I invite all mayors into the state of Ohio, and certainly I think Eric has a great message, too," Whaley said. "I wanted to see how Eric did in the Midwest, and, frankly, he did quite well. Of course if Sherrod ran, I would be first on board."
Chase Ritenauer, the Democratic mayor of Lorain, an old Lake Erie manufacturing city west of Cleveland where Brown lived when he served in the House, said Brown "owes it to himself and certainly to the party" to seriously consider a White House bid.
"I look at what happened in the Midwest last night," said Ritenauer, who also has worked for Brown's campaigns. "Pennsylvania returned to the Democrats, Michigan, Wisconsin — all states that I think he would really do well in. Ohio just sticks out as the one that's tough for Democrats, and he won it."
Even many Republicans begrudgingly acknowledge that Brown is one of the state's most talented politicians. "It's a US Senate race, plus you're running against fucking Sherrod Brown," one veteran Republican strategist in the state told BuzzFeed News last month when assessing his party's chances in picking up the seat. "The guy's an icon."
The Brown team, filled with loyalists who have been with him for years, printed up T-shirts with the expletive-laced quote and sold them online as a fundraiser.
"I think he is the only thing Dems have in Ohio," that same strategist said Wednesday morning when asked about Brown's presidential prospects. "Makes sense to go to him, but don't know what it brings."
Brown has now won statewide five times in Ohio, between his two terms as secretary of state in the 1980s and his three Senate victories.
His reelection campaign this year stayed away from some of the national issues that defined progressive campaigns — think pre-existing conditions — and focused instead on humanizing Brown in lighthearted TV ads. One featured Brown with his rescue dog, Franklin, and highlighted the senator's work to get tainted dog treats off the shelves. Another poked fun at his often-rumpled appearance by having washing machine factory workers in Ohio say that "Sherrod Brown looks great to us."
Klobuchar, too, holds a similar kind of appeal to voters in her state, where she has consistently been the most popular politician since she first took office. Her ads remind voters that she visits every one of the state's 87 counties at least once a year — not just in election years.
"She works very hard," said Brian Melendez, the former chair of the Minnesota Democratic-Farmer-Labor Party. "Everybody sees her, everybody feels like she's — if not part of the family, she's our hometown politician."
"I would be surprised if she's not thinking" of running for president, Melendez said. "Minnesotans generally do well in Iowa. We're next-door neighbors — to a certain extent, the whole Midwest shares the same political culture."
"Who doesn't love Amy Klobuchar?" said John Anzalone, a longtime Democratic pollster who ran a number of races in the Midwest in 2018. He called both Brown and Klobuchar "relatable" and "genuine."
But Anzalone pointed to another Democrat with broad working-class and Midwestern appeal — and much greater name recognition. "They also love Joe Biden," he said. "Not only because he talks their language, but because of that Obama legacy."
Klobuchar or Brown might have a tough time in a Democratic primary against Biden, another "middle class whisperer," Anzalone said.
Both Klobuchar and Brown have established reputations of bipartisanship in their state; Brown works well with conservative Ohio Sen. Rob Portman, a relationship that gives both an air of pragmatism.
But Brown, despite his victories in increasingly red Ohio, is an unabashedly liberal populist, running on policies that align more closely with someone like Sen. Elizabeth Warren. Klobuchar is known largely as a moderate.
Ahead of the 2020 election, Democrats are likely to face an ideological battle within the party over which ideological path to take.
"The fact that plenty of moderate Democrats won Tuesday shows that there is a model for someone like that in next election — despite all the hype about how progressives have taken over the party," said Manley.

Progressives generally had a poor showing Tuesday night, particularly in the Midwest, losing most of the marquee races that they had said would be proof points of their argument that their policies could win people over in Republican-leaning districts in the middle of the country — like Nebraska and Pennsylvania.
Brown might not have been Beto O'Rourke, but he was the candidate to buck that trend.