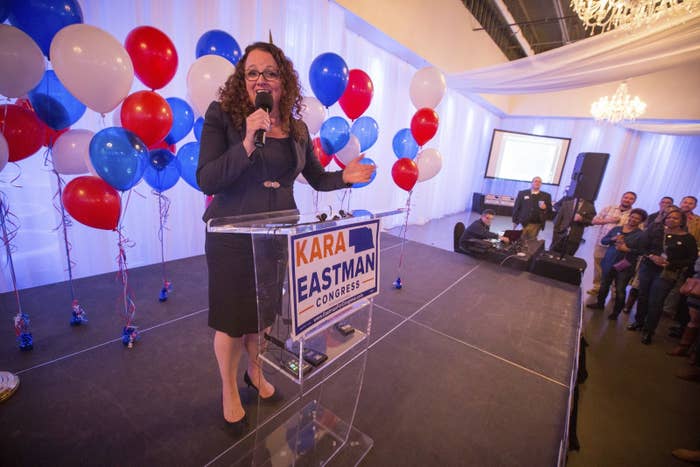 In the wake of 2016, progressive groups argued that candidates should unapologetically run on economic populist policies like Medicare for All and debt-free college in red and purple districts across the country.
On Tuesday night — in Midwestern states like Nebraska, Wisconsin, Pennsylvania, and Kansas — that strategy didn't work.
Progressive stars who had emerged throughout the primary season like Kara Eastman, Randy Bryce, Jess King, and James Thompson all lost their elections.
Since Hillary Clinton's defeat, establishment Democrats and progressive grassroots organizations have battled over the best ideological direction for the party. Progressives became more bullish throughout the primary season as they bested establishment candidates, like in Alexandria Ocasio-Cortez's shocking victory over Rep. Joe Crowley. And in safer districts like Ocasio-Cortez's, progressives will have a new class of stars, like Rashida Tlaib in Michigan.
In battleground districts, however, they won't. And establishment Democrats will be quick to say so in the days ahead of the election.
"If you can't win in these swing districts in this particular moment then you've run into a buzzsaw," Jim Kessler, the cofounder of Third Way (a centrist think tank), told BuzzFeed News of progressives in races like Eastman's in Nebraska. "They're able to win these cobalt blue districts and win an actual seat in low-turnout primaries in red districts, but they're not able to win in general elections where the electorate isn't nearly as liberal or socialist as these candidates are."
In Nebraska, Eastman was one of two progressive insurgent candidates to beat back a candidate endorsed by the Democratic Congressional Campaign Committee in the primaries. She went on to lose to Rep. Don Bacon after running hard to his left on policies like Medicare for All in a Republican-held district that was on the DCCC's red-to-blue list.
Medicare for All and single-payer health care broadly remain pretty untested in battleground general election environments, but the success of Bernie Sanders in 2016 and the national emergence of progressive enthusiasm have pushed the national party toward these ideas. Progressives maintain this year was monumental in advancing their cause on issues like these.
"We have proven a number of points throughout the primaries," Maurice Mitchell, the national director of the Working Families Party told BuzzFeed News in a phone call prior to the election. "We have proven that we could compete anywhere on these ideas."
In Kansas, Ocasio-Cortez and Bernie Sanders echoed that sentiment while stumping for progressive candidates like Thompson, saying that there was room for progressives running further left in Kansas. Thompson decisively lost to Ron Estes on Tuesday night. (In another district, they campaigned for Brent Welder, who lost to a more centrist candidate, Sharice Davids, who went on to beat Republican Rep. Kevin Yoder.)
"We knew that, having Bernie and Alex here, that my opponent would attack me and that's true," Thompson told BuzzFeed News in the days ahead of the election. "It was socialism, socialism, socialism — but that's OK. We showed that there are a lot of people here that support these policies."
Progressive organizations remained positive about the prospects of the movement coalescing behind policies like Medicare for All ahead of the presidential election, and plan on primarying more incumbent Democrats in future election cycles.