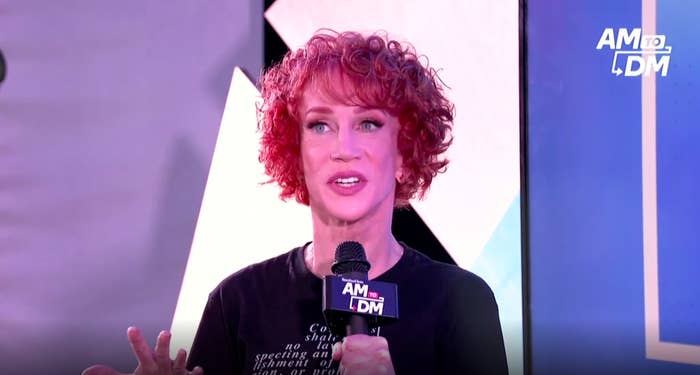 Comedian Kathy Griffin says she's slowly being welcomed back into Hollywood after being "blacklisted" nearly two years ago for a controversial photo showcasing the star posing with a mock severed head of President Trump.
"It's the first yes I have gotten since May 30, 2017, when the photo went live," Griffin told Isaac Fitzgerald and Saeed Jones — hosts of BuzzFeed News' AM to DM at South by Southwest — about her upcoming stand-up special, Kathy Griffin: A Hell of a Story.
The film will chronicle the fallout of everything that happened to Griffin's career when TMZ obtained a leaked photo showing the comedian holding the bloody decapitated head.
Soon afterward, CNN terminated its contract with Griffin to cohost the network's annual New Year's Eve show and she lost a friendship with Anderson Cooper because of the controversy.
Griffin said that she was added to the no-fly list as a result of the photograph and that the Department of Justice was investigating her at one point.

"They were seeing if they could charge me with conspiracy to assassinate the president of the United States, which holds a lifetime sentence," she said.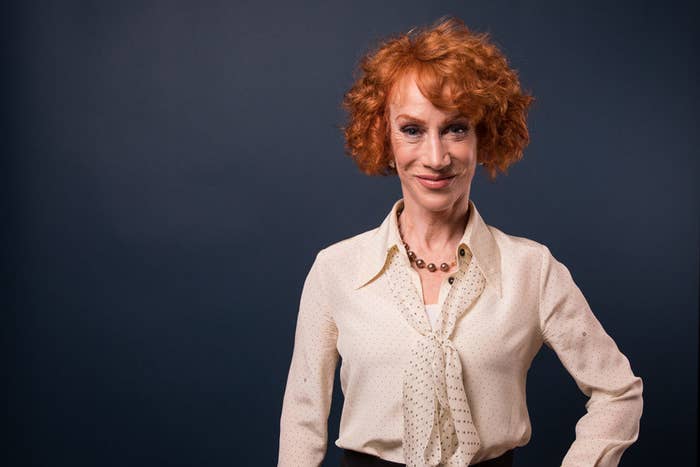 And though the situation is bleak, Griffin said she hopes the "movie is funny more than anything," but added that she was really passionate about people knowing their rights as Americans.
"I was detained at every airport when I went overseas," she said. "And they can take your phone and SIM card, so don't believe the rumors."
In the past, Griffin said the image "went too far" and that "it wasn't funny," but Tyler Shields, the photographer of the controversial photo, defended his work.
Shields called Trump "the social media president."
"He is the most polarizing president we've ever had," Shields said. "With any type of person like that, art is going to be made about them."
Asked if people in Hollywood support her privately, Griffin said, "Yeah, a little bit," adding this embroilment has pushed her to become craftier about how to navigate her career.

"When I started the tour, it was a two-hour show and it ballooned to a three-hour show," she said. "I had to change my whole business model and I started my first mailing list at the ripe age of 57 and a text list and I hired a marketing firm in DC, because Hollywood didn't know what to do with me.
"It's all about figuring out when you can't get into the front door, how to get in a side window or sneak in the dog door, which I've done in Hollywood for years."