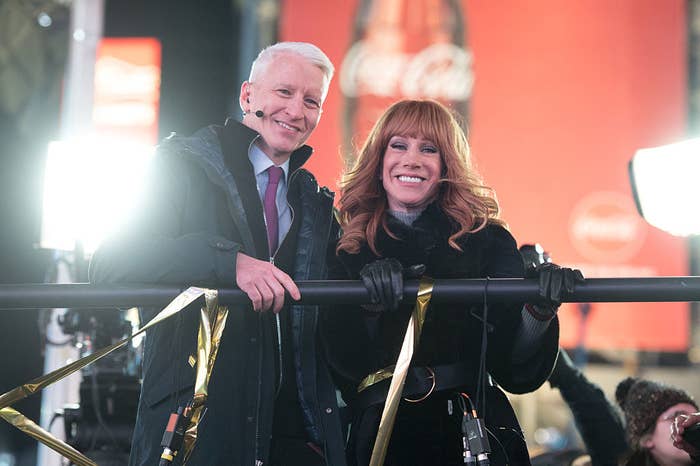 CNN has terminated its agreement with Kathy Griffin to cohost its annual New Year's Eve show, the network announced Wednesday, following the mass outrage at the comedian's photo of her holding a prop severed head of President Donald Trump.
"CNN has terminated our agreement with Kathy Griffin to appear on our New Year's Eve program," the network announced via Twitter.

Reached by phone, a CNN spokesperson had no further comment.
On Tuesday, a CNN spokesperson told BuzzFeed News the network was disgusted and offended by the Griffin photo, and said they were evaluating her role at this year's New Year's Eve festivities.

Anderson Cooper, Griffin's friend with whom she cohosted the New Year's Eve shows, also condemned the photo on Tuesday,
"For the record, I am appalled by the photo shoot Kathy Griffin took part in. It is clearly disgusting and completely inappropriate," Cooper tweeted.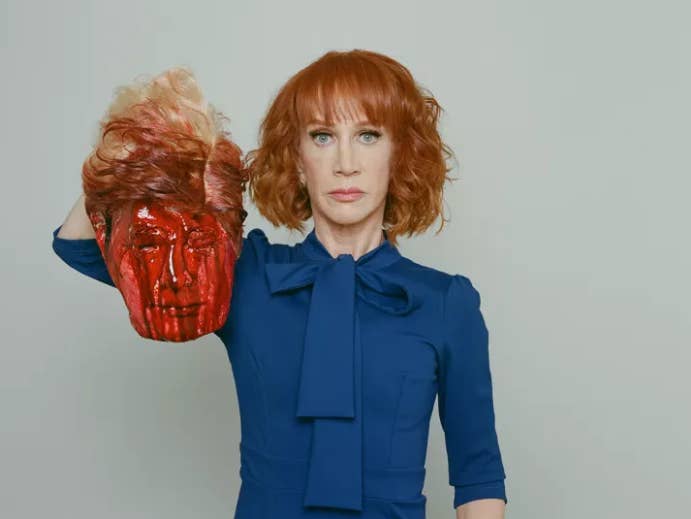 Griffin apologized late Tuesday for posing with a bloodied Trump head during a photo shoot by photographer Tyler Shields.
"I am a comic. I crossed the line. I moved the line and then I crossed it," Griffin said in a video posted on Twitter. "I went way too far. The image is too disturbing. I understand how it offends people. It wasn't funny."

But the picture still attracted widespread outrage among conservatives and liberals alike.
Democratic Sen. Al Franken, a former cast member of Saturday Night Live, said he contacted Griffin on Tuesday and urged her to apologize.
"This was just so wrong-headed, and I told her it was. And then soon after, she made a very fulsome apology and asked — begged for forgiveness," he told MSNBC's Andrea Mitchell.
On Wednesday morning, President Trump himself tweeted about the controversy:
The bathroom stool maker Squatty Potty also distanced itself from Griffin after the scandal, announcing Tuesday it had pulled a recent commercial "as well as other promotional and marketing content featuring Kathy Griffin."
"While we respect an individual's right to express political views, we feel her choice to express those views violently was done in poor taste and does not reflect our company culture or brand identity," said Dan Deceuster, director of e-commerce for Squatty Potty, in a statement to BuzzFeed News.
After Griffin's CNN agreement was terminated, network anchor Jake Tapper wrote these two tweets about the controversy:
A Griffin spokesperson told BuzzFeed News on Wednesday the comedian would not be doing interviews "at this time."

Photographer Tyler Shields, who spoke with BuzzFeed News on Tuesday to defend the artistic merit of the photo, did not respond to requests for comment on Wednesday. He has since deleted the photo from his website, per Griffin's request.