A photo of Kathy Griffin posing with a mock severed head of President Donald Trump sparked intense outrage Tuesday, prompting the comedian to issue an apology hours later.
"I am a comic. I crossed the line. I moved the line and then I crossed it," Griffin said in a video posted on Twitter Tuesday evening. "I went way too far. The image is too disturbing. I understand how it offends people. It wasn't funny.
"[I am] taking down the image. I am going to ask the photographer to take down the image, and I beg for your forgiveness. I went too far. I made a mistake and I was wrong," she said.

The photos were leaked to TMZ, which wrote: "Trump's critics have skewered him for inciting violence with his speech. Did Kathy do the same?"

The photographer behind the controversial picture, Tyler Shields, could not immediately be reached for comment on Griffin's apology Tuesday night, but earlier in the day, he defended the image in an interview with BuzzFeed News as a valid form of artistic expression.
"Trump is the social media president," Shields said. "He is the most polarizing president we've ever had. With any type of person like that, art is going to be made about them.
"I like to make things and let people make up their own minds about it, but I understand with this that some people will praise it and some people will absolutely hate it."
After Griffin posted her apology, the photo was deleted from Shields' website.
Shields, who is known for taking highly sexualized images of celebrities, said he photographed the comedian last week holding the bloodied prop, which he said was custom-made for the shoot.
The pair brainstormed several ideas for their photo shoot, after Griffin, whom he described as a friend, suggested she model for him again, Shields said.
"I said, 'OK, how crazy do you want to get?'" Shields recalled. "And she was like, 'I'm ready and willing to push any or all boundaries. I'm down to get political, to get naked, to do whatever.'"
"I could never have done this photo with anyone else," he said, saying that Griffin was "such a polarizing figure" and was "fearless."
The comedian had originally defended the photo on Twitter, comparing it to Trump's apparent comments about Megyn Kelly's menstrual cycle.

"1/ I caption this "there was blood coming out of his eyes, blood coming out of his...wherever" Also @tylershields great Photog/film maker," she wrote. "2/ OBVIOUSLY, I do not condone ANY violence by my fans or others to anyone, ever! I'm merely mocking the Mocker in Chief."
And in a behind-the-scenes video posted by the artist (then later deleted), she said, "Tyler and I are not afraid to do images that make noise."
Shields said he communicated briefly with the star Tuesday morning to warn her the photos were set to come out.
"She was like, 'I was born ready,'" he said.
But the image was roundly denounced after its release.
On Wednesday morning, Trump responded to the image by saying that Griffin "should be ashamed of herself" and that his youngest son was "having a hard time with this."
Griffin regularly co-hosts New Year's Eve celebrations on CNN with Anderson Cooper. The network said Tuesday it is now reevaluating her role after the controversy.

"We found what she did disgusting and offensive. We are pleased to see she has apologized and asked that the photos be taken down. We are evaluating New Year's Eve and have made no decisions at this point," a CNN spokesperson told BuzzFeed News.

Anderson Cooper also said he was "appalled by the photo" and called it "disgusting."

Many others on social media noted the firestorm that would ensue had a conservative star posed with a left-wing politician's head.
"You sick, disgusting person!" one person wrote on Griffin's Instagram account, which was flooded with negative comments. "Promoting murder is a new low even for liberals like you. You should be investigated. I'm a real American and you make me sick."

"Holding a head that's supposed to be Trump decapitated? Try doing that crap in any other country," wrote another person.
Conservatives and liberals also denounced Griffin on Twitter.
Chelsea Clinton called the image "vile and wrong." In response to a follower, Clinton said she respected Griffin's freedom of speech, but wrote that "it's not funny and not ok."

Former Republican presidential candidate Mitt Romney also called it "repugnant."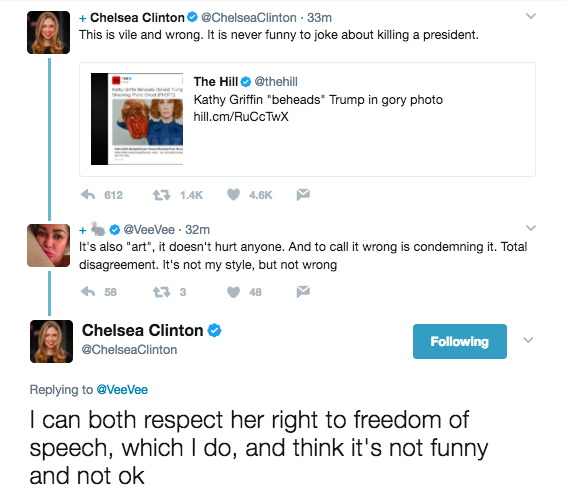 Griffin recently endorsed Squatty Potty in a promotional video for the bathroom stool, but after she posted the image, the company said in a statement that it pulled the commercial "as well as other promotional and marketing content featuring Kathy Griffin."

"While we respect an individual's right to express political views, we feel her choice to express those views violently was done in poor taste and does not reflect our company culture or brand identity," said Dan Deceuster, Director of Ecommerce.
Asked if he would ever photograph a conservative star holding the severed head of Hillary Clinton or Barack Obama, Shields indicated he hadn't considered it.
"For me, personally, that wasn't an image I ever thought about making," he said, saying such a photo didn't interest him and wasn't in line with his beliefs.
"I love the fact that I can make this image," he said. "Fortunately we still live in a world where I have the right to say what I want. A lot of people fought for that right.
"That being said, I really love Kathy and I hope they let me visit her in Guantanamo."