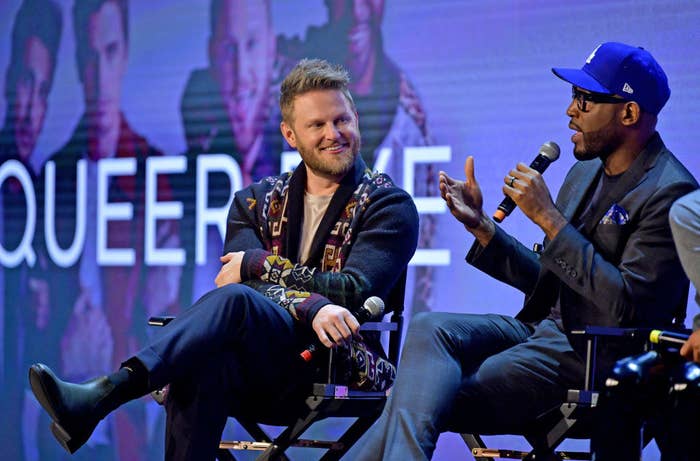 Bobby Berk, one-fifth of the makeover team on Netflix's Queer Eye, blasted ABC in a series of tweets Thursday and came to the defense of his colleague Karamo Brown over the Sean Spicer–Dancing With the Stars controversy.

"Everything around us is constantly too political as it is," said Berk in a series of tweets. "Shame on you ABC for now making this beloved show political by casting one of the biggest liars who has ever been.

"It's called 'Dancing with the STARS' and the fact that you're calling him a star is disgusting," Berk said, referring to Spicer's controversial casting.
But on Friday morning, Berk suddenly deleted the entire thread after it had gone viral.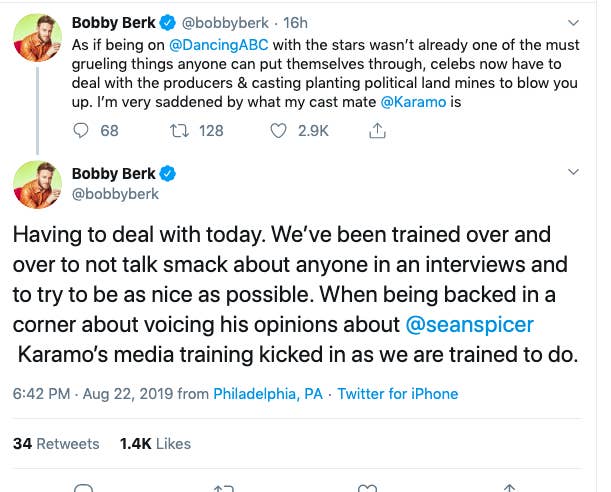 Berk wasn't the only person angry that Spicer would be joining the cast of the long-running ABC dancing series (and earning a reported six figures). Many fans objected to the TV show's offer of a slot to Spicer, given his work lying on behalf of the Trump administration.
But their outrage soon turned to Brown, the star of a show advocating for the LGBTQ community, and his praise for Spicer, who served as the spokesperson for an administration that has attacked LGBTQ rights.
During a red-carpet appearance earlier this week, Brown got roped into the Spicer controversy when he defended the former White House official, calling him a "good guy, really sweet guy."

"People would look at us and think that we're polar opposites," Brown told the outlet. "But I'm a big believer that if you can talk to someone and meet in the middle, you can learn about each other and help each other both grow."
In defending his costar, Berk said that the Queer Eye guys have been "trained over and over" to always be polite and "not talk smack about anyone" during interviews.

Berk said that Brown was "backed in a corner" when it came to talking about Spicer and his costar's "media training kicked in."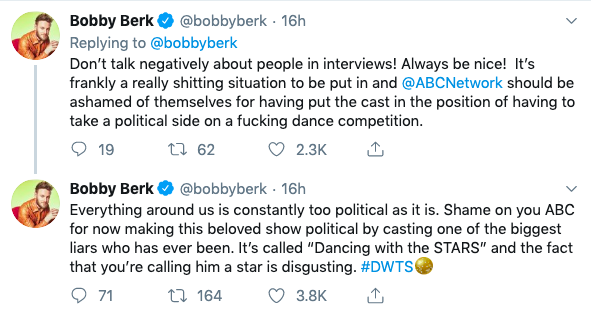 "Don't talk negatively about people in interviews! Always be nice!" he said, right before calling out ABC again.
"It's frankly a really shitting situation to be put in and @ABCNetwork should be ashamed of themselves for having put the cast in the position of having to take a political side on a fucking dance competition."
Brown and Berk's other costars — Jonathan Van Ness, Antoni Porowski, and Tan France — did not immediately respond to requests for comment.
ABC has stood by its decision to cast Spicer, saying in a statement to BuzzFeed News on Wednesday, "We've got a great and diverse cast. We are excited about the season."
Since the backlash against Brown began, the star has been accused of blocking people who expressed dissent toward his favorable comments about Spicer. It seems that Berk blocked at least one Twitter user before deleting his tweets.
Brown has since deleted his entire Twitter account, but he attempted to clarify his comments before the profile was disabled.
"I see you & I hear you," he said in one tweet. "I'm bringing my personal message of love, equity & inclusion to the dance floor.
"I want it to eclipse & triumph over divisiveness and hatred."