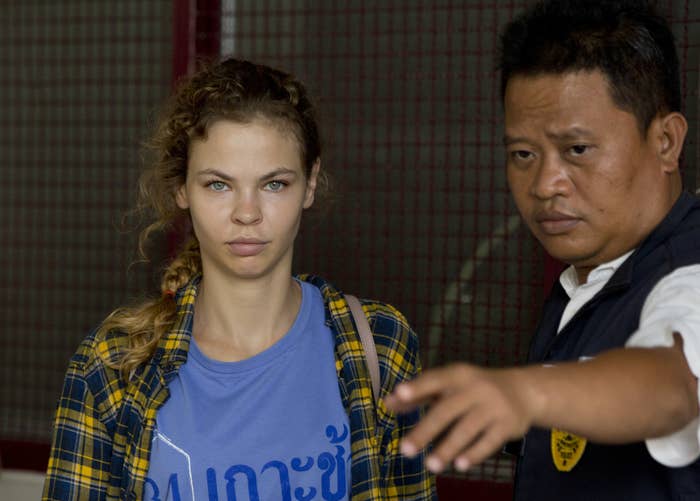 BANGKOK — I went to Thailand this week to try to get to the bottom of a story that seems too crazy to be true. Tabloid fans will recognize it as a tale that somehow manages to incorporate sex, a Russian tycoon, a secret recording made on a yacht, a Thai detention center, and the president of the United States — and much of the saga has been broadcast to the world via Instagram.
Let's be clear: It is unlikely that Anastasia Vashukevich, better known as Nastya Rybka, the Instagram star from Belarus at the center of the drama, has footage that will blow the lid off Russian interference in the US election. There's no evidence that she is the "only witness and missing link" on the issue of Russian meddling, as she's claimed in an effort to get asylum in the US.
But if I've learned anything over the past year, it's that US politics has passed through the looking glass. (Have you heard the one about Stormy Daniels?) So I got on a flight in the hope of figuring out if there was even a small possibility Vashukevich knows what she says she knows.
At first, Vashukevich's friends suggested I accompany them to the detention center to meet her. Then, overwhelmed by a wave of media interest, they postponed for a day in favor of CNN and the New York Times. After that, the Thai police got cold feet about letting any journalists meet Vashukevich at all. But I did learn a lot more about who Vashukevich is, how she landed in that detention cell, and why she decided to film her exploits with a powerful Russian oligarch and his political associates in the first place.
In case you're not caught up on this international mini-scandal, here are the CliffsNotes. Vashukevich is an Instagram star who's made a kind of career of teaching women to seduce rich men — she's written a self-help book on the subject and also teaches classes.
She got swept up in the issue of Russian election meddling because of an investigation carried out by Russian opposition leader Alexey Navalny, who mined her Instagram to show how one of Russia's richest men, Oleg Deripaska, maintains a relationship with longtime Kremlin aide and current deputy prime minister Sergei Prikhodko, including a video posted by Vashukevich of the two men on a yacht. Navalny implied the two men may have been discussing US election meddling, but offered no proof. Deripaska has denied the allegations, and sued Vashukevich for violation of privacy.

Deripaska had business ties with Donald Trump's former campaign manager Paul Manafort, who, according to the Washington Post, offered to brief Deripaska on Trump's campaign after he accepted the Republican nomination in 2016.
Navalny's exposé rocked Russia, and Vashukevich flew to Pattaya, a Thai beach town best known abroad as a sex tourism destination, to take part in an annual workshop for training "huntresses and masters," as Russian pick-up artist and author Alexander Kirillov calls them. She and several others, including Kirillov, who led the workshop, were subsequently arrested by Thai police on charges of working without a permit. Now she and Kirillov are being held at an immigration detention center in Bangkok, awaiting deportation to their home countries.
"Honestly it's really hard to seduce someone in the Russian winter. It can be done but it's difficult."
Vashukevich had been documenting everything on Instagram, and as an open-air police vehicle carried her away, she filmed herself insisting that she held the key to Russian interference in US elections, and would provide the receipts if she were granted asylum in the US. Later, she claimed she had more than 16 hours of tape of Deripaska's interactions, including with unnamed Americans. If she does indeed possess this footage, there's no evidence of it yet. How she intended to be granted protection by the US government was also unclear, as you cannot claim asylum in America unless you're on US soil, including at an embassy.

When I got to Bangkok, I immediately reached out to Vashukevich's friends. Based on what I had read, I expected them to be emissaries of a bizarre sex cult. The reality is much more ordinary — or at least what passes for ordinary in 2018. Kirillov's group's philosophy involves a mix of pick-up artistry in the mold of The Game, self-help–style confidence building, and orgasm tips that sound like they could have been pulled from the pages of Cosmopolitan.
"It's like a lifestyle. It's about full sexual freedom," said Gregory Kogan, a longtime friend of Kirillov who is liaising with police in Pattaya on behalf of the group.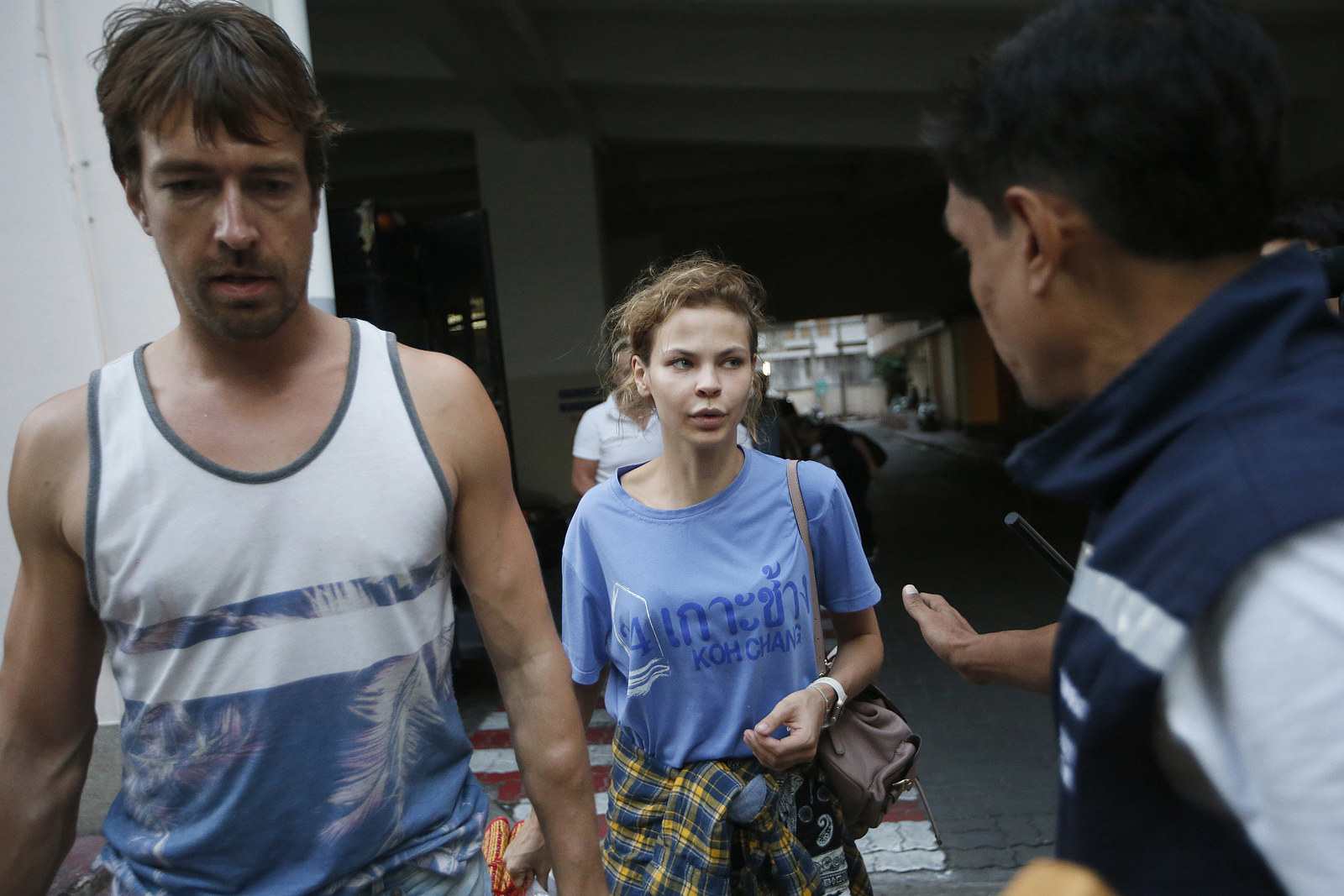 Vashukevich, who is 27 according to a Thai police report, first got involved with Kirillov's group to get better at seducing men, and later decided to focus her attentions on oligarchs, said her friend Misha Skulbeda, a soft-spoken 21-year-old who loves studying English and says Kirillov's classes changed her life. The two women bonded while pulling a sorority-style prank on Navalny, the Russian opposition leader. They and a group of their girl friends showed up at his offices wearing very little clothing and invited pro-government television news crews to film the whole thing. "To be honest, what we really wanted was to have sex with Navalny," Skulbeda recalled. "We saw he was at some meetings and he was fighting all the time, but then we looked closer and I was like, 'hey guys, he's pretty attractive.'" Later, she said, Vashukevich even made a presentation outlining what seduction techniques might make Navalny fall in love. The techniques do not appear to have worked — and it was Navalny's attempt to figure out who the women were that led him to Vashukevich's Instagram account and launched the whole scandal in the first place.
"'You will be great, you will fuck everyone and have sex everywhere in the world.' And then the police came."
Around that time, Vashukevich met Deripaska by joining either a modeling agency or an escort service, depending on who you ask. Everyone I spoke to said she had no real interest in international affairs. But Kirillov encouraged his "pick-up" students to record and photograph their interactions with people they were trying to seduce, so he could pick apart their errors later like a coach after football practice. So when Vashukevich met Deripaska on that yacht, she hit record, her friends said.

Vashukevich kept seeing Deripaska, traveling with him on holidays to Austria and Krasnodar, a city in Russia's south, her friends said, and she kept recording. Those trips were apparently the source of her 16 hours of tape.
Kogan told me that Vashukevich had played him snippets of her recordings, including some conversations that touched on US–Russia policy. But he remembered mostly funny details rather than the substance of the policy discussions. In any case, no one in the group paid too much attention to international affairs, and they questioned whether Vashukevich herself had the background knowledge to deeply examine the recordings for political intrigue.
Kirillov regularly held workshops on "hunting" desirable men and women in Moscow as well as other cities in Russia. Like pick-up artist groups in the US, they attracted mostly young men who were socially awkward and looking to improve their romantic prospects. Every year for about six years, Kirillov ran a training workshop in Pattaya. The sessions largely took place in a conference room, and the group would decamp to bars and parties afterward, mingling with other Russian tourists and expats.
"They have it in Thailand because in Russia it's crazy cold in the winter," Kogan said. "Honestly it's really hard to seduce someone in the Russian winter. It can be done but it's difficult."
A police report I saw makes no mention of the arrests being related to sexual conduct — rather it accuses those arrested, including Kirillov and Vashukevich, as well as several other participants who have since been let go, of working illegally. The group had not had any legal problems during the previous years they had conducted their workshops, participants said. They've taken this as evidence that the arrests were made at the behest of the Kremlin, a charge Thai police and the Russian government have denied. The arrest coincided with a visit by Russian Security Council Secretary Nikolay Patrushev, who worked on an information-swapping agreement between Thai and Russian security services.

The group was wrapping up the training program with a kind of commencement ceremony when the Thai police arrived, Kogan added.
"Alex [Kirillov] said, 'Now I can give you a paper saying you participated in the Thai meeting. You will be great, you will fuck everyone and have sex everywhere in the world,'" Kogan said. "And then the police came."
As I spoke to more of Vashukevich's friends, I started to sympathize with her. Most of the coverage of the case had focused on the fact that she was a self-proclaimed "seductress" bent on nabbing the affections of oligarchs. But she was also a young woman who seemed to have thrust herself into a complicated corruption scandal she did not totally understand, and who had expressed fear of being deported from Thailand.
On Tuesday morning, I went with another friend of Vashukevich, Pavlo Yunko, to the immigration detention center where she and Kirillov were being held. Yunko was nervous. He said he was dealing with the international media frenzy out of affection for Kirillov, and because he speaks perfect English. But there were simply too many journalists who, just like me, were chasing one of the oddest stories of their careers, and Yunko said many of them had mobbed the detention center the day before. They had shouted questions at Vashukevich and Kirillov, which had irritated the Thai police officers. In retaliation, police temporarily banned Yunko and Skulbeda from visiting. Yunko said he didn't know if I'd be allowed in, but that I should give it a shot.
I gathered together my paperwork and stood in the long line to sign up for visitation, rehearsing in my mind my own questions to shout at Vashukevich. When I got to the front of the queue, the officer behind the window took one look at my form and shook his head.
"No, not for Anastasia," he said. "She is a troublemaker."