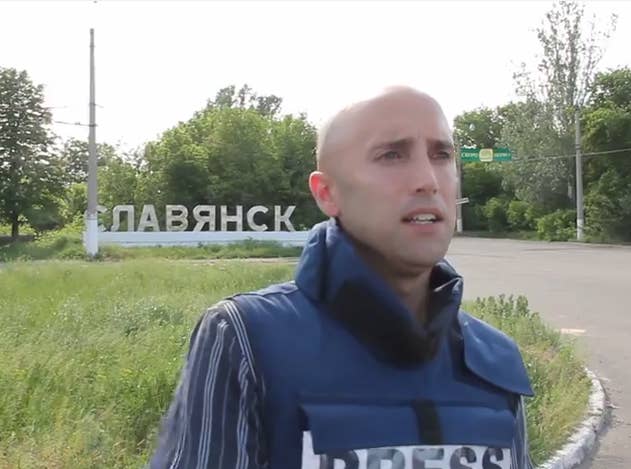 MARIUPOL, Ukraine — It was the bloodiest day yet in eastern Ukraine. On May 9, during Victory Day celebrations in the drab industrial seaside town of Mariupol, dozens of armed militants barricaded themselves inside a police station and exchanged fire with government forces. During the fighting, the building burned down. Pools of blood and singed bodies appeared in the street.
But how many people were killed? Local news reported two deaths. Ukraine's interior minister said 21 people died in the fighting. Human Rights Watch could only confirm seven deaths after visiting all four hospitals where the wounded were taken.
None of that seemed right to Graham Phillips, a roving Ukraine-based British blogger who films guerrilla field reports from the conflict's hot spots for his own YouTube channel and has become a growing star on Kremlin-owned media. So he set out to investigate in the way that has made him a cult micro-celebrity in east Ukraine's crisis: by interviewing angry people on the street for 90 seconds at a time.
Some people told him that more than 100 people had died in the fighting.
The danger, trauma, and paranoia of conflict have made the free flow of information one of the major casualties of eastern Ukraine's crisis. Ukrainian and Russian media alike cheer on different sides while reporting half-truths and rumors as akin to fact. Beyond the information war, journalists increasingly find themselves treated as foot soldiers in the armed conflict. Separatist militia have abducted or assaulted dozens of Ukrainian journalists, as well as several Western reporters (including both Phillips and BuzzFeed's Mike Giglio).
On Tuesday, Kremlin propaganda channel RT, which employs Phillips as a freelancer three days a week, said that Ukraine's national guard detained Phillips at a checkpoint outside Mariupol on suspicion of being a spy. BuzzFeed was unable to confirm the claim with Phillips or Ukraine's interior ministry. (He was released on Wednesday.)
Kiev's interim government has been working to remove Russian TV from the country entirely and increasingly treats Russian state journalists as enemy combatants. On Sunday, a Ukrainian army official posted photographs of two reporters for slavishly pro-Kremlin cable channel LifeNews in handcuffs, claiming they were "accomplices" of pro-Russian "terrorists." Ukraine's security officials said that the journalists, Oleg Sidyakin and Marat Saichenko, had a portable missile launcher in the trunk of their car and confessed to "accompanying terrorists and covering their illegal activity." Dunja Mijatovic, who monitors press freedom for the Organization for Security and Cooperation in Europe, has demanded their release. Pro-Kremlin bloggers tried to start a campaign for their release using the hashtag #SaveOurGuys.
That same environment has allowed a marginal character like Phillips, 35, to become the unlikeliest of stars stringing regularly for RT and guesting frequently on Russian state television. To paraphrase Hunter S. Thompson: When the going gets weird, the weird turn to Russia Today. Phillips' kamikaze nose for danger and vocal support for the rebel cause have made him a cause célèbre in the pro-Putin media and a star on YouTube, where his personal channel has over 6 million views. He posts 25 to 30 videos a day, usually between 20 and 90 seconds in length, where he interviews passersby in his choppy, heavily accented Russian and muses to the camera as he wanders around the conflict's hot spots.
Often, Phillips' wide-eyed delivery and prolificness recall Timothy Treadwell, the hero of Werner Herzog's 2005 documentary Grizzly Man, who obsessively documented his life among bears in the Alaskan wilderness before one of them mauled him to death. He seems unaware — either through gleeful disregard or rookie ignorance — of basic journalistic ethics, objectivity, or production values. He acts as if he has no concerns for his own personal safety, running across fields toward Ukrainian army installations, interviewing rebels as bullets fly overhead, and baiting militia manning rebel checkpoints.
"My father always said to me as a boy, 'You go too far, Graham,'" Phillips told BuzzFeed by phone from Slovyansk, the epicenter of the rebel uprising near Donetsk. "And I know that I do, and I always try again to get away with it, and I feel like I have this self-destruction: I always want to be just pushing, and then I have to make a call sometime — do you backtrack or do you stick it out?"
Though Phillips works separately from RT's team of staff reporters, he is by far the channel's most recognizable figure in the region. He can often be seen throughout eastern Ukraine mingling with staff from RT and pro-Kremlin cable channel LifeNews. RT, however, falls short of embracing him fully. Phillips has received no offer of full-time work. The channel frequently features his videos, but takes pains to point out that he is not a staff correspondent.
"Graham Phillips went to areas where other journalists did not dare to, to bring to the public's attention the stories that undermined the one-sided mainstream media narrative of the events in Ukraine," RT said in a statement to BuzzFeed. "RT has been collaborating with him since April, when Ukraine banned entry for Russian males, and denied access to the country to several RT crews. Mr. Phillips' engagement with RT was always going to be a temporary one."
Phillips' unconventional approach to journalism is partly a reaction against his previous career working for Britain's now-defunct government marketing agency, the Central Office of Information, in London. There, he was one of 700 bureaucrats reviewing government websites and preparing reports for parliament, a life he says "was a little bit out of The Office." He first discovered Ukraine when he attended an England soccer game in the eastern city of Dnipropetrovsk in 2009. Keen, at 30, to give his life a fresh start and struck by the country's "different and otherworldly" women, Phillips moved to Kiev the following year, finding work as an English teacher, then, later, on a television network and as a nightlife writer for an English-language entertainment magazine. That may not have been Hemingway in Paris, but for Phillips, it offered him the chance to pick up threads he felt he had neglected since university, when he faxed in unsolicited articles to The Scotsman. "Ukraine draws people — there's a certain capacity for reinvention here," he said.
Eventually, Phillips began documenting his life and thoughts on a blog, Brit in Ukraine, which he saw as a springboard for his writing career. Entries about prostitutes, students who moonlight as escorts, foreign-bride hunters, and other "sexpats" suggest he enjoyed a second adolescence common among Western expats in Ukraine. Many of them, however, are written with a naive candor that makes him out to be less a conventional sex tourist than a man simply gaping in awe through a window into a new, scuzzy world.
One, "Prostitutes and Me," recounts his experiences with paying for sex in Amsterdam. The first encounter leaves him feeling he and "Natasha" were "like kindred spirits," he writes. "A new high had replaced the drugs, and I exhaled 'I love prostitutes' into an appreciative Amsterdam night." Two subsequent visits to other women, however, are so clinical that he swears off the practice entirely. Beyond that, Phillips' interest in the sex trade seemingly borders on the scientific. Another multi-part series of entries details the history of the River Palace, a floating brothel on the Dnieper River linked to the son of Ukraine's former president, complete with interviews with prostitutes and johns. (Phillips says this was the only time he visited.) "Ukraine speaks to the wildness in me," Phillips said.
By the time mass protests in Kiev against then-President Viktor Yanukovych broke out last December, however, Phillips' time in Ukraine had, by his own admission, "completely flopped." He was unemployed. An e-book he wrote accusing a Ukrainian internet bride of murdering her British husband was withdrawn after her new boyfriend threatened legal action. Another, about an American fruitlessly searching for a Ukrainian bride for 15 years, never came to fruition. A serious relationship with a Ukrainian woman collapsed when Phillips failed to commit to marriage, souring irreparably shortly afterward when he failed to share her embrace of the protest movement.
At the same time, Phillips' online diatribes against the protesters caught the eye of producers at RT, who invited him on to denounce the movement a few times via Skype as a dissenting Western voice. "The way that Ukraine is perceived and portrayed in the media isn't a representation of what I've seen and what I've felt and what I've experienced," Phillips said. "They're portrayed as the nice cuddly country that's been attacked by the big bear of Russia. But what I see is a country that has a lot more problems."
On the advice of an acquaintance, he bought a camera and started documenting the movement in the hope of selling the videos to Storyful, an agency that verifies and re-sells user-generated footage. Though the historical moment largely passed by Phillips, then living in Odessa in southern Ukraine, he decided to branch out further in March after Russia seized the nearby Crimean peninsula.
When RT (then briefly unable to get its reporters over the Ukrainian border) asked him to cover separatist uprisings in Ukraine's east a month later, Phillips already had a tidy sum from his Crimea footage (and a clip in Politico Magazine) under his belt. For the first few days of the turmoil, he was the channel's only reporter in the region. "I was told that I was the water boy who was asked to step into the first 11," he said, using a soccer metaphor.
Phillips sees his work for RT as a platform to grow his web presence foremost. "The big thing for me is my YouTube channel," he said. "They basically let me go off and do my thing." He says that he has no particular connection to or affinity for Russia, though he uses language of "fascists" and the "Kiev junta" that often matches Russian talking points word for word.
"There's this idea that I have this dark line to the Kremlin but it's really not the case," he said. "They've got this terminology that they use but also that matches my own. That is how I feel," he added. When pressed on how exactly he developed his political beliefs, Phillips is evasive, but says that they are based on observations from his time spent living in Ukraine. He has only visited Russia "a couple times" on holiday. "It's very nice," he said.
Soon, Phillips' stock began to rise. He appeared on Russian state television saying he would "die for the truth."
By now, Phillips says, his reports and videos have become so popular that ordinary people in small towns recognize him as "that YouTube guy" in the street. When pro-Kiev activists on Twitter suggested capturing him to earn a $10,000 reward Dnipropetrovsk's governor offered for turning in Russian spies, Kremlin media rushed to hold up the story as an example of Ukrainian barbarism. "Phillips regularly posts evidence of truth that is a thorn in the side of Ukrainian radicals," Russia's state newspaper wrote. Other Ukrainian activist groups have since called for him to be deported for secretly filming Ukrainian national guard positions.
His main source of income remains his YouTube channel, where videos sold through Storyful can fetch thousands of dollars at a time. Since April, he says he has earned about $20,000 through his freelance work — including $2,000 for a clip in Newsweek about his abduction.
One of Phillips' most recent tangles with danger came on Friday, when he was out shooting for his YouTube channel in a field near the town of Kramatorsk. When he tweeted that Ukraine's army had shot at him, RT flashed the news. After he uploaded video of the incident, however, RT ran a correction distancing itself from the reporter and admitting that the video clearly showed him setting off a tripwire flare.
"The journalist's previous record of reporting for RT has already backfired on him," the channel wrote. "It's important to remember that many journalists working in Ukraine — including several of RT's own — have come under attack since the crisis broke out, thus the situation described by Mr. Phillips is not an unlikely one," RT added in a statement to BuzzFeed.
On Tuesday afternoon, RT released audio of Phillips claiming he had been detained by Ukraine's National Guard on suspicion of being a spy.
Konstantin Dolgov, Russia's foreign ministry's human rights ombudsman, told RT that Phillips' alleged detention was "another step de facto made by Ukrainian authorities to curb the activities of unwanted journalists [who] work professionally and show an objective picture, the ugly side of the outrages made by ultranationalists, the results of [Kiev's] punitive operation in the southeast."
Calls to Ukraine's interior ministry went unanswered. Phillips' phone was switched off, and his Twitter account went silent.
"I've been here for over two hours and I've been described, my status, as being detained in terms of I can't leave," Phillips said on the tape. "The dialogue is quite interrogation-oriented."