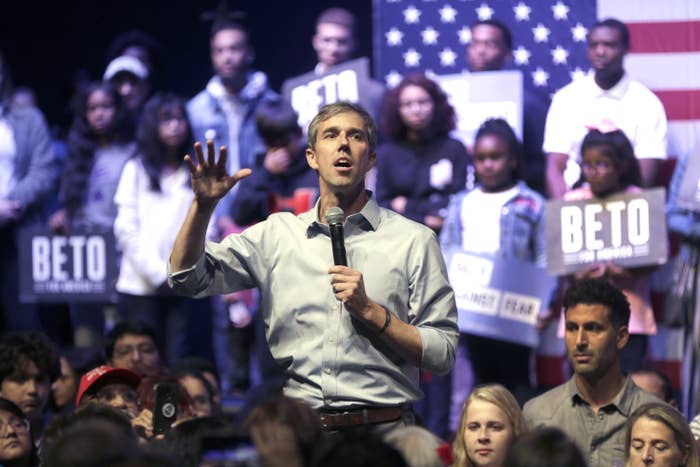 Beto O'Rourke, who began this year as one of the Democratic Party's stars, has ended his presidential campaign.
"Though it is difficult to accept, it is clear to me now that this campaign does not have the means to move forward successfully," he wrote in a Medium post published Friday.

O'Rourke announced the end of his campaign just hours before he was expected to speak at the Liberty and Justice Celebration dinner Friday night in Des Moines. His supporters had been up since 5 a.m., lining the sidewalks outside the arena where the dinner was to take place with hundreds of his trademark black signs.
O'Rourke addressed his campaign's volunteers — many of whom were in shock and crying — in front of 7-foot-high letters that read "No Fear."
"My service will not be as a candidate or a nominee for this party," he told them. "I love you all."
Peggy Crowe, who came to Des Moines from Asheville, North Carolina, for the event, told BuzzFeed News: "I've never been in politics before. Because of him, I felt hope. I'm a better person because of him, directly because of him."

O'Rourke became a national political celebrity on the left after his unsuccessful 2018 Senate race in Texas against Ted Cruz, pushing him to quickly move from a former member of Congress to a top presidential prospect.

He spent much of the winter after his closer-than-expected Senate defeat slowly moving toward a presidential campaign, first with a road trip he documented on Medium and later with a splashy interview with Oprah Winfrey. His entrance into the race was made with a Vanity Fair cover story, which included a portrait shot by Annie Leibovitz.
But his campaign struggled to gain traction into the spring and summer. He was criticized early on for not having a clear enough purpose for his campaign, or a set of policies that set him apart from the large pool of candidates.
Late this summer, after a mass shooting in his hometown of El Paso, O'Rourke refocused his campaign on ending gun violence, pushing for an overhaul of how the US regulates guns.
"When El Paso happened, he found this solid place. He was willing to stand up to everybody," Crowe said Friday night. "I think he has a better chance to make his mark against the gun lobby. He can go down in the history books."
Krystal Reilly, who came to Des Moines from Austin, said through tears: "To hear someone speak so loudly about criminal justice and giving rights to people of color and people who don't love the same or look the same, it was so inspiring. It was very Kennedy-esque, that he just truly felt he could bring people together."

This is a developing story. Check back for updates and follow BuzzFeed News on Twitter.
Molly Hensley-Clancy reported from Des Moines.