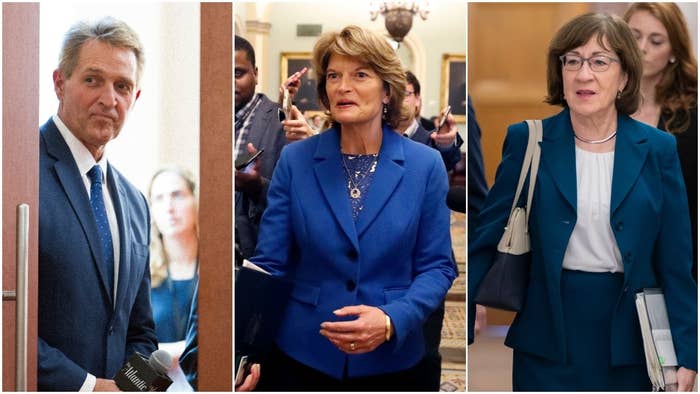 Republican senators on Wednesday criticized President Donald Trump's comments mocking Christine Blasey Ford's testimony that Supreme Court nominee Brett Kavanaugh sexually assaulted her, calling the president's statements "appalling" and "just plain wrong."

The senators — Lisa Murkowski, Susan Collins, and Jeff Flake — could very well cast the votes that determine whether Kavanaugh will assume the empty seat on the nation's highest court. All three have been on the fence about Kavanaugh.
Trump, who had previously called Ford's testimony "credible," reversed his stance during a rally in Mississippi Tuesday, mocking the gaps in Ford's recollection of the alleged assault, which she said took place at a house party when she was 15 and Kavanaugh was 17.
"I had one beer," Trump began, mimicking the voice of Ford as well as the lawyer who questioned her.

"How did you get home? I don't remember. How'd you get there? I don't remember. Where was the place? I don't remember. How many years ago was it? I don't know. I don't know. I don't know. What neighborhood was it in? I don't know. Where was the house? I don't know. Upstairs, downstairs, where was it?" the president said as the crowd laughed and applauded. "But I had one beer. That's the only thing I remember."
Arizona Sen. Flake, who played a key role last week in initiating the FBI investigation into allegations against Kavanaugh, called Trump's comments "appalling" on the Today show.
"There's no time and no place for remarks like that. To discuss something this sensitive at a political rally is just not right. It's just not right. I wish he hadn't done it," Flake told NBC's Today. "It's kind of appalling."

Flake reportedly told CNN later that Trump's comments wouldn't influence his ultimate vote.
Sen. Collins, a Republican from Maine, told reporters that the president's remarks "were just plain wrong."
And Sen. Murkowski, from Alaska, called Trump's remarks about Ford "wholly inappropriate" and "unacceptable."

"I'm taking everything into account," she told reporters.
Majority Leader Mitch McConnell said Monday on the Senate floor that "we'll be voting this week" on Kavanaugh's confirmation. He had initially planned to have the nomination wrapped up early this week, but that was delayed when Flake called for the FBI investigation.
Kavanaugh will need 51 votes from senators to move his confirmation forward. If all Democrats oppose Kavanaugh, it would take just two Republicans to vote against him to sink the nomination.
Sen. Lindsey Graham of South Carolina — a vocal supporter of Kavanaugh's — said Trump's comments were "not helping."
Speaking at the Atlantic Festival, Graham said "president Trump went through a factual rendition that I didn't particularly like."
When asked about Trump's comments, White House press secretary Sarah Sanders said "the president was stating the facts."
BuzzFeed News reached out to the offices of every Republican on the Senate Judiciary Committee, and all four Republican leaders in the Senate on Tuesday night for comment on the president's remarks. While Flake and Collins responded in person to questions about Trump mocking Ford, none of the offices responded to requests for comment.

Senators on the opposite side of the aisle, including Senate Judiciary Committee Ranking Member Dianne Feinstein and Sen. Richard Blumenthal, also condemned the president's remarks as "vile" and "cruel."
"The president's attacks on Dr. Blasey Ford last night were appalling," Feinstein said in a statement. "He sent a clear message to victims of sexual assault that they should not be believed. President Trump's attacks are even more cruel when you consider that Dr. Ford specifically recalled the pain of Brett Kavanaugh and Mark Judge laughing at her."

Speaking to CNN's New Day on Wednesday, Blumenthal said "this vile, mocking attack on a credible, immensely powerful, eloquent survivor of sexual assault is a mark of disrespect and disregard not only for Dr. Blasey Ford, but the entire survivor community."