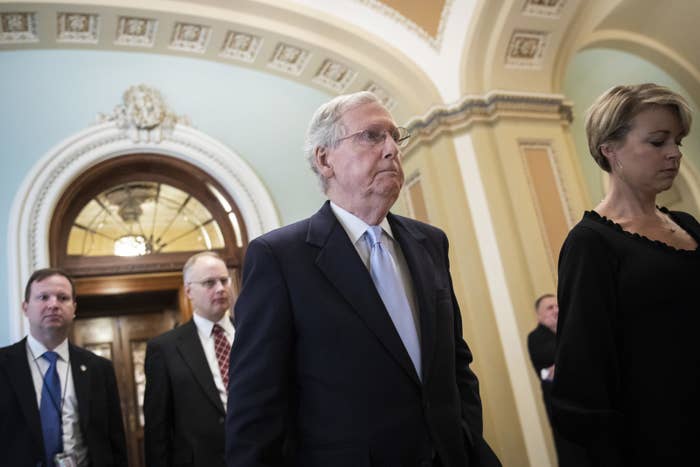 Senate Republicans are planning to vote on confirming Brett Kavanaugh to the Supreme Court by the end of the week, right after the FBI investigation into his past is set to conclude.
Majority Leader Mitch McConnell said Monday on the Senate floor that "we'll be voting this week" on Kavanaugh's confirmation. He had initially planned to have the nomination wrapped up early this week, but that was delayed when Sen. Jeff Flake called for, and won, a one-week delay during which the FBI is investigating sexual harassment complaints against Kavanaugh.
Flake's stand took place last Friday. The FBI was given a maximum of one week to investigate, meaning the background check could be made available to senators as late as this Friday.
Confirmation will require two votes in total. McConnell could schedule a cloture vote Friday or Saturday, which signals the end of debate. From that point on there will be up to 30 hours of debate before a final confirmation vote. Kavanaugh will need 51 votes on each of those to move forward.
Republicans have a thin 51-seat majority in the Senate and Vice President Mike Pence to break a tie. If all Democrats oppose Kavanaugh, it would take just two Republicans to sink the nomination.
Flake had actually announced he would support the Kavanaugh nomination Friday morning before saying the process needed to be slowed down. Even after winning a one-week FBI investigation, Flake told reporters that he is a conservative, like Kavanaugh, and hopes to vote yes on the nomination. But Flake said over the weekend that if Kavanaugh is found to have lied under oath he should not be confirmed. On Monday he said the FBI should investigate all "credible" allegations thoroughly.
"It does no good to have an investigation that gives us more cover," he said at an event in Boston.
Only two other Republicans — Lisa Murkowski and Susan Collins — have not declared their stance.
Earlier Monday, the White House reportedly instructed the FBI to interview anyone it wanted to in relation to the Kavanaugh accusations, and Trump said that he wanted a "comprehensive" investigation.
Last week the Senate Judiciary Committee heard emotional testimony from both Kavanaugh and Christine Blasey Ford, who accused Kavanaugh of sexually assaulting her when they were both in high school. The FBI has also spoken with Deborah Ramirez, who accused Kavanaugh of exposing himself to her at a party when they were classmates at Yale.
It's not clear if the FBI will talk with Julie Swetnick, the third woman who has come forward with allegations against Kavanaugh. The bureau was directed to investigate "current credible allegations" against Kavanaugh, but has discretion on how to interpret that.