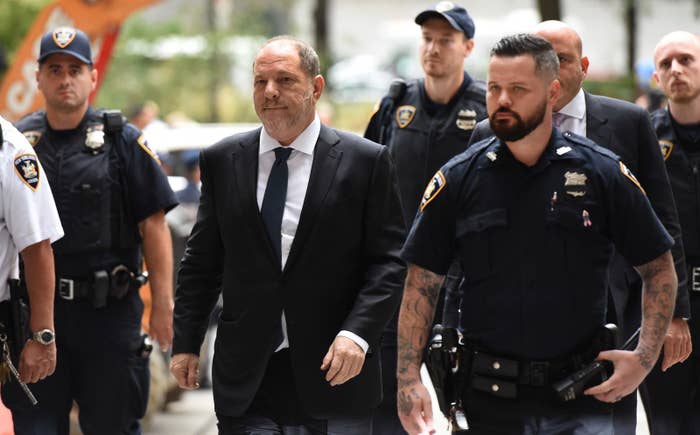 A Manhattan judge dismissed one of the sex crime charges against disgraced movie mogul Harvey Weinstein Thursday, after it was reported that key emails from one of his accusers were not shown to the grand jury that indicted him.
Weinstein was previously charged with six felony sex crimes based on allegations made by three women. In total, more than 75 women have accused Weinstein of sexual abuse.
Weinstein's lawyer, Benjamin Brafman, tried getting the case dismissed, saying that the grand jury that indicted his client did not see emails from one of his accusers, Lucia Evans, that he says proved a consensual intimate relationship.
Evans, who shared her story with the New Yorker last year, accused Weinstein of forcing her to perform oral sex on him in his office in 2004 when she was 21 years old.
According to multiple media reports, Evans repeatedly sent Weinstein emails following the alleged sexual assault that show their relationship was consensual. In some emails she reportedly wrote, "hope to see you sooner than later," and "miss you big guy."

In one email sent in February 2017, Evans reportedly wrote to Weinstein about a scheduling conflict, saying she could not meet him at his hotel.
"I love you, always do. But I hate feeling like a booty call," she wrote, adding a smiling-face emoji.
According to a letter sent by Assistant District Attorney Joan Illuzzi-Orbon last month to Weinstein's lawyers, prosecutors found inconsistencies in Evans' statements.
According to the letter, Evans drafted an email to her fiancé in 2015 recounting the alleged assault. The details written in the email differ from those she told detectives.
Evans told the prosecutor's office that the inconsistencies may be "the product of a flawed memory."
On Thursday, Illuzzi-Orbon said the prosecutor's office would not oppose dropping the charge related to Evans' allegation, insisting that the other charges and the rest of the case remains intact.
"In short, your honor, we are moving full steam ahead," she said.
Evans' attorney, Carrie Goldberg, issued a statement on Thursday saying "the prosecutor's decision to abandon my client ... does not invalidate the truth of her claims. It does speak to a system that needs to be reformed."
"The decision to throw away my client's sexual assault charges says nothing about Weinstein's guilt or innocence, nor does it reflect on Lucia's consistent allegation that she was sexually assaulted with force by Harvey Weinstein," Goldberg said. "It only speaks volumes about the Manhattan DA's office and its mishandling of my client's case."
Speaking to reporters outside the courthouse, Brafman said the case has been "irreparably damaged," adding that he will be seeking a dismissal of the entire case.
Brafman called Thursday's hearing "a very positive development" in the case, adding, "while the crime of sexual assault is certainly serious, to falsely accuse someone of sexual assault is equally serious."