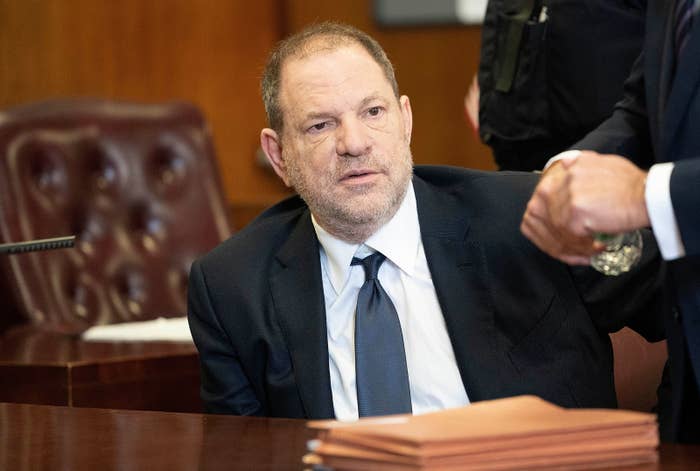 New York prosecutors hit Harvey Weinstein with additional charges in his ongoing sexual assault case — including two that, if he is convicted, carry a maximum sentence of life in prison.
New York County District Attorney Cyrus Vance Jr. announced that the disgraced movie mogul now facing charged for allegedly sexually assaulting a third woman in 2006.
Weinstein, 66, was charged with an additional count of criminal sexual act in the first degree as well as two counts of predatory sexual assault — a felony that carries a minimum sentence of 10 years and a maximum sentence of life in prison.
He was previously charged with rape, a criminal sex act, sex abuse, and sexual misconduct involving two separate women. Weinstein pleaded not guilty in June and was released on $1 million bail.

A week after the new charges were filed, Weinstein was arraigned in court where he pleaded not guilty. He was released on continued bail.
"We are very pleased that the court did not change the existing bail conditions that Mr. Weinstein has scrupulously abided by," Weinstein's lawyer Ben Brafman said in a statement. "The case has not grown stronger for the prosecution. Indeed, since his arrest in May, his defense has grown substantially stronger as we have found overwhelming corroboration well beyond Mr. Weinstein's assertions that support his claim that all sexual encounters were consensual and that he did not rape anyone."
"This indictment is the result of the extraordinary courage exhibited by the survivors who have come forward," Vance said in a statement. "Our investigation continues. If you are a survivor of the predatory abuse with which Mr. Weinstein is charged, there is still time to pursue justice."

Weinstein's lawyer, Ben Brafman, did not immediately respond to requests for comment. But in May, he told reporters that his team believed the initial sex crime charges are "constitutionally flawed."

"We believe that they are not factually supported by the evidence, and we believe that at the end of the process, Mr. Weinstein will be exonerated," Brafman said.
Last year, the New York Times and the New Yorker published articles detailing decades of alleged sexual assault and sexual harassment by Weinstein against multiple women. Since the original reports, more women have come forward with similar allegations against the movie mogul.
The initial criminal complaint against Weinstein details two alleged acts with two women.

The first allegedly happened in 2004, inside Weinstein's West Village home. It was there that Weinstein allegedly forced a woman to "engage in oral sexual conduct, to wit, defendant grabbed the back of informant's head forcing her head downward and forcing her mouth onto his penis," according to the complaint.

Prosecutors say the second incident happened on March 18, 2013, at a hotel in Midtown Manhattan. Weinstein is charged with keeping a woman "physically against her will in a room" and raped her.
Weinstein also faces allegations of assault, including rape, in Los Angeles, Canada, and France, each of which has a different statute of limitations. He has repeatedly denied engaging in nonconsensual acts with women.